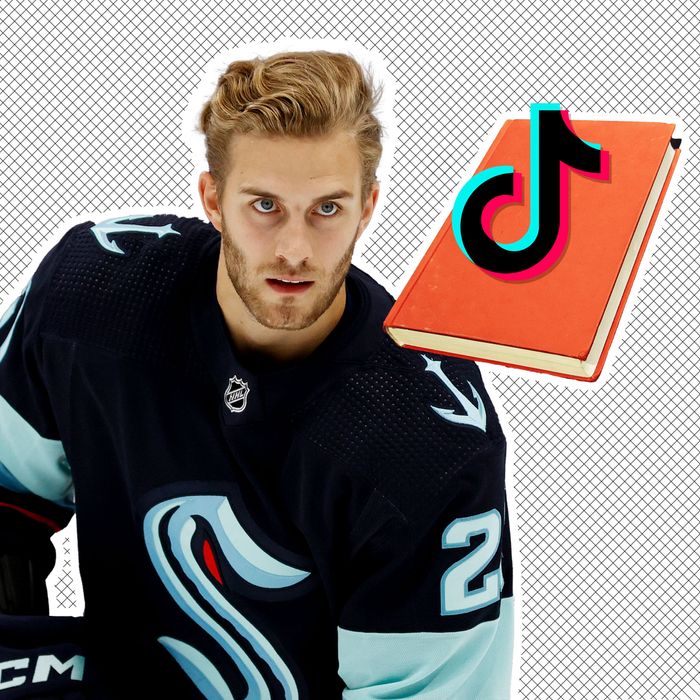 Photo-Illustration: by The Cut; Photos: Getty Images
A smutty drama is building in the sportier corners of BookTok, where lovers of hockey-themed romance novels — a thriving subgenre, did you know? — are clashing with the hockey stars themselves. Over the past few months, Seattle Kraken player Alex Wennberg became a darling of bookish TikTok users who had made him the face of their hockey-romance heroes. But for Wennberg, the fervor has gone too far: In a series of statements posted on Instagram last week, he and his wife, Felicia, said that what began as a joke had crossed the line into inappropriate behavior. "Enough of sexual harassment, and harassment of our character and our relationship," he said in a post. With that, an outbreak of seemingly harmless thirst became an exercise in parasocial relationships and corporate greed. I'm sure you have questions, so let's get to it.
First of all: Hockey-romance novels?
Yes. On BookTok — a community of book-loving TikTok users whose hashtags have generated more than 162 billion views — there exists a subcategory of romance fans devoted to lusty hockey stories. There are more of these than one might initially guess, and based on their Goodreads pages, they're often quite steamy. Recently, this camp has translated its love for these books into a passion for real-life teams, to the delight of the organizations themselves.
Last year, the Seattle Kraken's official TikTok account advertised its players to the community with videos tagging #BookTok, including some of Wennberg, a tall and handsome Swedish forward who also happens to be happily married. In one of the earliest videos of the 28-year-old, he is seen sipping water, and the caption reads, "what is booktok and why do they like wenny so much?" The player quickly became a sensation in the community, with users posting thirsty fan edits and "face claiming" him, i.e., making him the visual representation of certain book characters.
How do Wennberg and his teammates feel about that?
At first, they seemed fine with it. The Kraken's social-media team fully leaned into the romance, changing the account's bio to "mostly booktok" and regularly sharing videos of the players designed to appeal to the community. For example, a now-deleted post featured a slow-motion clip of Wennberg and defenseman Vince Dunn in suits with the caption "When you accidentally become a booktok account & now that's all you can post." The team even invited popular BookTok creator Kierra Lewis to a Stanley Cup playoff game after she went viral in the spring for a video (also deleted) with rather explicit comments about Wennberg. "Baby, I might not got five holes, but I got three," she says in the clip, with a photo of Wennberg in the background. "And since you're so good at assisting, why don't you assist your teammates in scoring in all three of my holes? HELLO." She has been equally effusive about other athletes, but the Kraken paid for her tickets to the playoffs and gave her a jersey with "BookTok" on the back; she showed up at the game with a sign reading, "BookTok sent me #KrackMyBack." Creators and fans like Lewis seem to be sending the Kraken's account a lot of new engagement: Lewis, for example, currently has more than 1 million followers.
So what went wrong?
Last week, Wennberg's wife, Felicia Wennberg, shared a series of Instagram Stories asking fans to stop posting sexualized content and comments about her husband. While she initially went along with the fandom, jokingly calling him "booktok's w*nkb*nk," Felicia explained that the public's lust had gotten out of control. "I feel that women who have experienced catcalling, getting involuntarily filmed in exposed situations (like a groin stretch at their job) should hold ourselves at a higher standard," she wrote over a screenshot of Wennberg stretching on the ice on all fours. "You can be sex positive without exploiting others."
Felicia added that the fans' behavior would be considered inappropriate if it were male fans sexually harassing a female athlete. "I mean no hate on the booktok community, just a little request for people to think twice about their comments/videos or chanting 'krak my back' at humans with feelings," she said.
Alex released a statement on Friday saying social-media users had crossed a line by leaving "vile" comments on his wife's Instagram account, including on photos of their young child. "I'm all for the booktok community to write books and fiction about hockey, but the aggressive language about real-life players is too much. It has turned into daily and weekly comments on our personal social media. This is not something we support or want our child to grow up with. All we ask for is a little respect and common sense moving forward," he said. "We can all take a joke and funny comments, but when it turns personal and into something bigger that affects our family, we need to tell you that we've had enough."
In a follow-up post, Felicia addressed fans who felt her statement had arrived out of the blue. She said that while people were "confused by the timing of my statement," it didn't matter how long ago the content was created because her family still sees it on a regular basis. As a result, she said, "Every game I've been to and talked to fans, I get in my head about not knowing if these are genuine hockey fans or the people who comment that they m@sturbate with his jersey on."
How did that go over?
The Wennbergs' statements and the fact that the Kraken's social-media team removed all BookTok-related content from its TikTok account promptly unleashed a heated discussion across the platform. Many users quickly came to the Wennbergs' defense, some taking issue with Lewis's content directly and telling her so in the comments. While Felicia didn't explicitly name any BookTok creators in her Instagram Stories, her second screenshot appeared to come from Lewis's viral video and showed her name in the comments.
Other people pushed back against the Wennbergs with some leaving comments on Felicia's Instagram posts calling her "insecure" and defending Lewis. Then there are the BookTok members, including Lewis, who have taken issue with how the Kraken seemingly profited from the subcommunity's active users to grow its following and gain more engagement only to dump them when they were no longer of use.
"I've noticed with musicians and sports teams, they like to use BookTok to get clout, get clout, get clout and then they'll skirt to the side of them and move on to the next thing," Lewis says in a video claiming the team's official account had unfollowed her. "I'm not fucking rocking with that. I'm pissed the fuck off."
In a Notes app statement she posted on TikTok, Lewis also took issue with Felicia's inclusion of her name alone, saying it was "unfair" to be singled out "when there were hundreds even maybe thousands of videos on TikTok about him." In multiple videos posted over the weekend, Lewis added that she intended her horny content only as a joke and that she felt the Wennbergs had blown things out of proportion. Lewis denied ever sliding into Wennberg's DMs, as Felicia had claimed BookTok members regularly did. TikTok, Lewis continued, "is the one place where we can just have fun and not really take life seriously. So to see my name being dragged with all these false accusations is fucking blowing my mind." She also claimed to have messaged Felicia on Instagram to apologize but hadn't received a response.
Many of Lewis's followers have come to her support, vowing to "ride at dawn" and assuring the creator they didn't even know the team existed before her content. Others jokingly asked what other team they should support now.
So is all of BookTok standing behind Lewis?
Not exactly. Many other creators with both small and large followings have sought to distance themselves from the controversy, insisting the unabashedly sexual content isn't representative of their community as a whole. However, the overarching opinion across the platform pegs the Kraken as the true villain in this saga.
The team, which has been around only since 2021, fed into the frenzy of hockey-romance fans and seemed to encourage this type of content creation to increase its brand awareness. It wasn't the players dangling themselves in front of BookTok, after all. Yet marketing them as romance-novel heroes purportedly exposed Wennberg and his teammates to sexual harassment as new fans blurred the line between reality and fiction. And when controversy hit, the team's BookTok branding suddenly disappeared.
All in all, it's a good reminder that there are real people behind our parasocial relationships. And that maybe our horniest thoughts are best saved for the group chat.
The Cut reached out to the Seattle Kraken, Felicia Wennberg, and Kierra Lewis for comment. We'll update the story if we hear back.