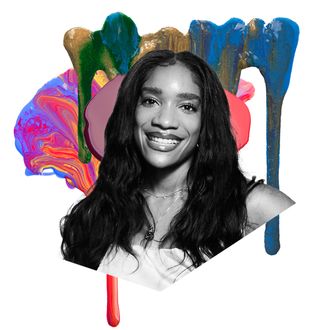 Photo-Illustration: by The Cut; Photo: Rosalind O'Connor
At heart, Elyse Fox is a "creative girl" who enjoys being behind the scenes. But for thousands of millennial and Gen-Z women, she's the face of mental-health care. That's because for six years she's been CEO of Sad Girls Club (SGC), a nonprofit org she founded that works to destigmatize mental illness. The Bronx-born and Brooklyn-raised founder started SGC after releasing a short film about her depression called Conversations With Friends in 2016. The project struck a nerve, and a community formed around it organically. Today, SGC has what Fox calls a "mini-like Tumblr cult following" of over 200,000 people who get access to events, mental-health resources, and programs like Remedy, a one-on-one therapy scholarship program. 
With many Black-owned businesses failing within their first year, Fox has found it challenging to find a community of business owners who can relate to life as a CEO. "I believe only 50 percent of those make it to their fifth year of business. It's very lonely, because there's not many of us," she says. Opportunities like the Jordan Brand's 2023 Women's Collective help cultivate the sisterhood she's been looking for with other women-of-color founders. "It's amazing that ten women that I've never met in my entire life can make me feel so seen and so close in such a short amount of time." 
Since launching, SGC has been recognized by Selena Gomez's Rare Impact Fund and Beyoncé's BeyGOOD Foundation, and was spotlighted in Drake's "What's Next" video. "I'm in the eyes or at least the mouths of the biggest people in the world," Fox says. "It puts a battery in my back to just keep going." She lives in Brooklyn with her 4-year-old son, Basel. Here's how she gets it done.
On her morning routine:
I'm blessed to be able to work from home most days. I have this 4-year-old alarm clock that wakes me up around 7 a.m. I have to accept that as a mom. There's no more sleeping in. Typically it's never a slow morning, but it is fulfilling and beautifully curated. I don't have breakfast — I fast until about noon. One thing that doesn't waiver is my ten-step skin-care routine and ensuring I spend time with my son before I clock in for the day.
On her beauty routine:
I use organic licorice-root toothpaste from Trader Joe's, and then I also make my own toothpaste with a clove, baking soda, and coconut oil mixture, which I learned from TikTok. It gets your teeth white and makes everything extra fresh, but you can't use it every day, or it'll inflame your gums. I'll use Marvis toothpaste when I'm feeling fancy because that's a little pricey.
I've been digging this affordable skin-care brand called Skin Proud. I use the Equilibrium Instant Plumping Eye Mask every day. The Advanced Snail 96 Mucin Power Essence by COSRX is my go-to on mornings when I'm dehydrated. It just snatches me in a way that makes me look like I had a full night's rest. Post-shower, I love Topicals' Slather Exfoliating Body Serum with retinol and AHAs. It's the perfect lightweight lotion that doesn't leave you feeling ashy.
On how her upbringing influences her work and how she parents:
My mom is from St. Kitts, and my dad is from the Bronx. There weren't many conversations about feelings, emotions, or mental health [growing up]. I found out I had depression in my early 20s. It wasn't a fun learning experience; it was really traumatic. I don't want [anyone else] to have their first mental-health dialogue with a parent, a friend, or whomever when they're in their 20s. This conversation should happen at age 2 or 3; teach your children about emotions and how to show them what they mean and their mental health. I know where my family came from and understand that they didn't have that knowledge, but I can't make that same excuse.
On struggling with self-doubt:
The first month that SGC started, Instagram found out about it and created a campaign around mental health, and I was the face of it. We didn't even have a business license or anything in place. The campaign blew up SGC, and with that, it was great because we have the eyes on us, but I also was subjected to a lot of online hate, racism, and sexism.
I still had a regular job at this point, too. I just began to doubt if this is what I needed to be doing right now. I'm coming out of my worst year of depression. There's nothing I can do to defend myself. I just had to figure out what to do to be as healthy as possible while using the internet as safely as possible.
On slowing down:
I manage stress by basically stopping. "If this can wait, I'm going to let it wait." I also reintroduced the lunch break into my schedule, and a 15-minute break to go for a walk. It helps me bring more peace throughout the day and relieve whatever I'm going through, so I'm not carrying it all day. If we're stressed out as a mental-health organization helping other people, then it's counterproductive. We can't stress ourselves out to the point of being overly anxious or overwhelmed for the sake of helping others.
On staying motivated:
I like to schedule something to look forward to, like going out to dinner at the end of the week or planning a little museum date with my son. I give myself these little treats or these benchmarks to work toward. I try to schedule things within my week and days so it doesn't feel so monotonous, and I know there's a way out of the stress for at least a moment.
What brings me the most joy about the job is when I run into someone who knows about SGC, and they come to me, and they share how SGC has affected their lives or how much it's been a support system for them for years. So that always makes it worth it when I'm having a stressful day, and I go out, and people are like, "Hey, this saved my life," and I know it's worth it.
And staying grounded:
I'm Buddhist, so we chant in the mornings and evenings and share gratitude for what we have and want to accomplish and achieve within the world. Not just for ourselves. I like to give thanks for everything I do because no matter how stressful it is and how much work I have, it is a blessing to be in this position to be able to help people in the way that I do.
On her parenting philosophy:
I'm one of those gentle parents. I have been having conversations with him since he was maybe a year and a half. I'm like, "Show me your mad face. What does happy look like to you?" Sometimes his happy face looks the same as his mad face. I'm like, "Look, yesterday you did this face, and this just shows you that there's not one way. You can feel more than one emotion at a time. You don't have to pick one. That's okay, but figure out why you feel both emotions." It's nice that he has that language at this age to say, "I'm upset," instead of having a tantrum and not using his words.
On the people who help her get it done:
As a single mom, it's hard to do much of anything, but if it weren't for my mom, I wouldn't be able to travel as much as I do, to be honest. She's always holding it down whenever I need her, so I'm very grateful. My entire team is incredible. They embody the mission so well that sometimes it doesn't feel like work, but we're getting things done. Muna [Ikedionwu] is a consultant with SGC, but she's also on our board. If she sees anything that is getting in the way, she'll be very vocal about that, and it doesn't matter who or what it is, and I appreciate that from her. You need people like that around you who are a bit more tough, honest, and direct. My best friends, Mitchiko and Helen, always give me light when I need memes and funness.
This interview has been edited and condensed for length and clarity.