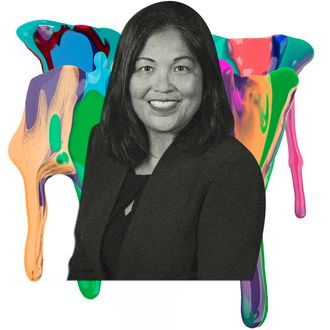 Photo-Illustration: by The Cut; Photo: US Department of Labor/Yulia Reznikov
As the head of the U.S. Department of Labor, acting secretary Julie Su oversees nearly 17,000 civil servants who are tasked with strengthening labor rights. Su, the daughter of Chinese immigrants, has spent her entire career fighting for workers. She started out as a civil-rights lawyer, and her anti-sweatshop work earned her a MacArthur "genius" grant in 2001. She moved into government after 17 years as a litigator. Su served as California's labor commissioner from 2011 to 2018 before becoming the state's labor secretary in Governor Gavin Newsom's administration. Then, in 2021, she was tapped to join the Labor Department as deputy secretary. Su was nominated for the top job following the departure of former Labor secretary Marty Walsh earlier this year. While her confirmation has stalled in the Senate — if confirmed, Su would be the first Asian American secretary in President Biden's cabinet — she's continued to work as acting secretary and focus on notching wins for workers rather than on what the headlines say. Su is also a mother of two college-age daughters, so she's made a point of cultivating an office culture that allows fellow parents to spend time with their kids. When she's not working, she's watching her daughter's basketball games or exploring Washington, D.C. Here's how she gets it done.
On her morning routine:
I am a night person. I work until very late at night. In the morning I usually get up about half an hour before whatever my first meeting is. If my first meeting is at 8:30am, I'll get up around eight. I don't drink coffee. I don't eat breakfast. My habits are not to be emulated, I don't usually eat until the end of the day. I do walk to work. It's a very close walk from where I live to the Department of Labor. This is something I love doing because I've never done it before in my life, being from California.
On (not having) a typical workday: 
No day is the same. Some days I come to the office and I have meetings. The Department of Labor has almost 17,000 staff, so I'll meet with different people within the department depending on what's going on. Sometimes it'll be those who work on enforcement, and we'll talk about child labor or the impact of heat on workers. We also focus a lot on connecting communities to good jobs. At the end of each day, I'll check in with my own advisors. If I'm in the office, I'm usually here till 7 p.m. or 8 p.m. Other days, I travel across the country to meet with community-based organizations or with mayors, city, and state officials. Recently, I was in Pittsburgh with the First Lady. We were at the airport where there's a modernization project. We were talking about Black workers and women workers doing that work; we work hard to make sure that everybody has access to those jobs.
On the start of her career: 
I'm the first lawyer in my family. My mom came to the United States on a cargo ship because she couldn't afford a passenger ticket. Both of my parents worked minimum wage jobs until my mom got a job working for the county of Los Angeles. That was our pathway to the middle class. I grew up translating for my parents. It's a common experience for immigrant children. I went to law school to become a translator in the language of the law for people who were discriminated against, marginalized, and exploited.
I started my career working at a civil-rights organization, fighting alongside low-wage workers like garment workers, restaurant workers, and caregivers. Getting to do work that matters, where you feel like every day you wake up and you get to make a difference in the world, gave me a lot of energy and purpose. I came into government with the same idea that you could really make a difference in people's lives and make government work well and be truly accessible to people. It's stressful, but if you do work that you're passionate about — I have always felt really fulfilled by that.
On the challenges of her role:
One challenge is just staying focused on the mission and on concrete outcomes. In D.C. there's a lot of noise, there's a lot of news, and the real work happens beneath all of that. I really try to keep myself and my team very focused on what we're really here to do, on making a concrete difference in people's lives. We are the agency that exists to support, protect, and be a voice for working people across the country. We have a tremendous opportunity right now. We have a president who has said an economy that works for workers is the best kind of economy that we can build. We need to stay really focused on that and not let setbacks or criticism or people who don't want us to be as ambitious in that mission as we should get in our way.
On unwinding at the end of her day:
I'll walk home when I can. And this is when I eat. I'm used to eating fruit. Fruit is the Asian mom's language of love. When I was growing up, my mom would always peel an orange or cut up fruit for me. I did the same thing for my kids. One just graduated college and one is still in college. Now that they're no longer here, I'll sometimes do that for myself. Then I'll take out my laptop and do the things I need to catch up on from the day. I also try to make it a point to pick up calls from my daughters, no matter what I'm doing. When they're here, we'll try to do something together, but when they're not, I'll spend some time catching up with them. My youngest is on the basketball team, so the other thing that I do when she's in season is I will watch her games.
On exploring the city: 
Washington, D.C. is such a great walking city, and I'm still new enough to it that I love exploring it. I love doing what tourists do. I live within walking distance of the National Mall. I will go to the Lincoln Memorial. Part of it is just to soak it in, and part of it is to think about all the things that have happened throughout history there. The Martin Luther King Jr Memorial is one of my favorites. Seeing the fall is new for me, being from California. I love the fall colors in D.C. I've also made it a point to go to see the cherry blossoms. Having a sense of awe about being here and about what I get to do here has kept me grounded.
On cultivating work-life balance for her staff:
Our job is to make sure that every worker has a safe and healthy work environment. And so I try to create a work culture that is consistent with our values. In the secretary's office, we have a lot of women. We also have a lot of women who are mothers of young children. We're trying to stay true to our values and make sure that people have the ability to go home for bedtime, that we don't have phone calls or fire drills during that time so people can actually have a life outside of work. That is really important to me.
On the people who help her get it done:
You need to surround yourself with people who are gonna make you better. People who are smarter, who are gonna make you dream bigger and who are gonna hold you accountable. I have a village. In my personal life this includes my sister, who is my best friend, and my junior high school best friend, and other women who I've known and worked with. We raise our kids together, we share struggles, we share our successes. Some of them came out when I had my confirmation hearing because they knew it was gonna be hard. They were here for me. And then I have my village at work. None of us does this work alone. We get it done together.
This interview has been edited and condensed for length and clarity.