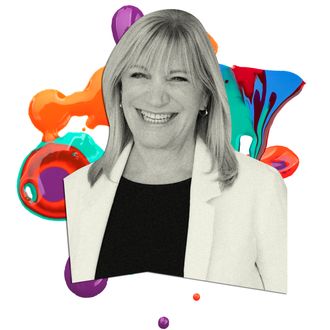 Photo-Illustration: by The Cut; Photo: Karen Harvey Consulting
Karen Harvey has gone from working on the assembly line at her father's antifreeze factory on Long Island to consulting for some of the biggest brands in the fashion industry. Working through her eponymous consulting firm with companies like Adidas, Calvin Klein, David Yurman, Tom Ford, and Tommy Hilfiger, Harvey has established a reputation as a behind-the-scenes brand whisperer. While you may never, in full view, know Harvey has dropped a creative into a label's hands, like connecting up-and-coming designer KidSuper to Stuart Weitzman, you can safely assume she was involved in the process.
"I realized sort of early on that I had this ability to make connections where other people saw disconnects," Harvey said. "I could see that, and I could actually create the path and the strategy for them to get there."
She's helped facilitate previous C-suite placements for Burberry, Kate Spade, and Everlane. While Harvey's work has primarily focused on the executive search, namely, the strategic placement of female leaders in a still male-dominated industry, as well as advisory services for luxury fashion and beauty brands, in recent years she's expanded her professional repertoire. In 2014, she co-founded the Fashion Tech Forum, an annual conference with the goal of connecting leaders in retail, fashion, and technology; speakers have included Tremaine Emory, creative director of Supreme; Diane von Furstenberg, and the late Virgil Abloh. Given all of these accolades, Harvey admits she's never truly let the fruits of her labor sink in. "I crave this desire to experience my own accomplishment," she said, "and it doesn't land for me."
While her schedule is a grueling one, managing clients both in Europe and in the U.S., it's nothing a bit of Zen meditation, yoga, Greek yogurt, and her rescue dog, Hope, can't help mitigate. Harvey lives in Manhattan and Los Angeles with her husband and dog. She has two stepchildren who are both grown and living independently in the world. Here's how she gets it done.
Tell me a little bit about your start in the fashion industry.
My start in fashion actually came a bit late. It came in my 30s, after I was consulting with companies like Nike. In those days, they wanted nothing whatsoever to do with fashion. And in fact, fashion was like the F-word. My work then was about creating these customized programs to help individuals and very brilliant talent find their voice inside companies. And that expanded and extended to working with Nike worldwide as they opened Hong Kong offices and offices in Europe and Amsterdam. From that, word got out there about the work, and Benetton came to us, and that was really the beginning of a place I wanted to be my whole life.
I was passionate about fashion from the time I could watch old movies with my older brother. At 3 years old, I would be watching black-and-white films with him, and I'd frankly be looking at the clothes and the hair and makeup. That was really where my love of fashion started.
When did you decide to make that pivot into fashion?
My first job was working for my father in his antifreeze-tester factory at 14. I was born an empath, so how do I find a career that helps people but also drives my love of the fashion world? I thought I was going to be a special-ed teacher. Then I said, No, I'm gonna be a psychologist. The red thread was always, How can I help? And along the way, you just learn things about yourself. I felt like I had so much curiosity about the world of business, even the business of fashion, way back then. And so what I ended up doing is starting my career in training and development. That was a way to help people develop the skills that they were lacking, moving their careers forward, but also keeping my toe in the business water. I ended up being able to have the privilege of really being inside the walls and the halls and the offices of people with far more experience than I had in my 20s.
I realized sort of early on that I had this ability to make connections where other people saw disconnects or where there were silos in companies and where people couldn't find a way to work together. I could see that, and I could actually create the path and the strategy for them to get there. The training and development work really led me into fashion.
Your first job was at your father's antifreeze factory?
My father was an engineer, and he was also an inventor. His lab was in Westbury. His company was all about disaster testing. He invented a bunch of things I think that didn't succeed, but he invented these antifreeze testers and battery testers for your car way back when. I got working papers for my 14th birthday, so by then it was sort of like, How can I get my three best friends to come to work with me and we can work on the assembly line and earn some money?
Walk me through a typical morning for you.
For many years, probably into my 40s, I was a night owl. I love to write, and I'd love to write at night because everything would be quiet. And then something very much shifted as I entered into my late 40s and early 50s, and I became an early riser. So now I'm up very early in the morning. When I'm in New York, it's around six in the morning. It could even be a little bit earlier. And in L.A., it's no earlier than five because it's impossible. But it's that quiet time where my time is my own.
I became a Zen meditator and practitioner when I was in my 20s, and 40 years later, I'm still practicing. So most days, not all days, but most days we'll start with Zen meditation, or a yoga class, or working out with my trainer around the corner here when I'm in Tribeca.
I'm not a big breakfast person super-early in the morning, but I go to Greece a lot. I don't know if you've ever tried proper Greek yogurt, but it's just this extraordinary thing and so good. There's this great little Greek place right next to me here in Tribeca, and they actually import this Greek yogurt. And when my favorite companion, besides my husband, my rescue dog, Hope, and I go there in the morning, she gets treats and I get my almond cappuccino and a little bit of Greek yogurt with berries and honey.
By then, it's probably 7:30-ish in the morning and then it's kind of rolling calls with my team. I have somebody in Paris who's fantastic, and her day is already halfway underway and we catch up and then whatever project is on, we make sure the strategy is in place for the day. Then I'll typically have my first client call.
So during the day, you're basically constantly on the phone having conversations?
I am, but I really love meeting people in person. But I'm in constant motion. It's why I continue to meditate and practice yoga, because I think sometimes our best ideas and our best thinking come in the space in between everything, the space between our thoughts, the space in between conversations, the space in between the moment we open our eyes and we sit down for that first breath in meditation. Because things are constantly in motion in our world, it's also important for me to have those grounding moments.
You mentioned that you became a Zen meditation practitioner in your 20s. Is that your main way of managing stress?
It's a practice. It's really more about teaching us to be present in a state of stress, not necessarily always mitigating it, although it does help, I have to admit. It's about recognizing the humanity of it all. I just think we deal so much better with everything, whether it's stress, whether it's fear when we can be present with it. It's a constant reminder of being able to breathe through things versus trying to sometimes think our way through them.
What was the driving force behind doing that in your 20s?
I needed it. I felt that that was a time in my life when I was sort of feeling the effects of a rather difficult childhood. I knew I needed to ground myself. I knew I needed some kind of anchor. I had a lot of goals and ambitions, and I felt like there were just things in the way, I wanted to find a way to work on myself and enable myself to recognize what was in the way and deal with it.
You mentioned your rescue, Hope. What kind of dog is she, and who else do you live with and where?
I rescued her a year and a half ago. She's a Chihuahua mix. I always say who rescued who when we rescue a dog. She's incredible. I live with my husband. My two stepkids are both off to incredible lives. I just became a grandmother. It is just incredible. It's something you can't describe until you have it. And my stepdaughter's getting married in December, so John and I are enjoying life and able to be bicoastal and still do the work that we love. It's really pretty great right now.
Now that I know all about your morning routine, what does after work look like for you?
If the yoga didn't happen early in the day, it's likely to happen at least once a week, maybe twice, if I'm lucky, after work. It's always a great way to wind down. We love to cook, we try to cook at least once a week. And I try to catch up with friends, go for a drink, go for an early dinner. But I tend to go to bed pretty early these days.
What time do you typically go to bed?
I'm definitely asleep by 11. The older I've become, the more sleep I realize that I need, and I have fallen in love with sleep.
I'm working at night too. I really see it as we're in the business of really being of service to brands, of service to people whose careers and dreams we're hoping to bridge. Those things require time to really listen, to really learn, to really be interested. It doesn't really always happen during a normal workday.
How do you decide what needs to be prioritized on any given day?
The biggest thing is there are deadlines. Those are sort of obvious things that lead to our priorities. There are critical moments in a project where you're this far from closing the gap between somebody becoming a CEO or a CMO of a brand, and you've got legal matters to address. You've got relocation matters to address, school issues on behalf of these leaders to address, announcement issues, and confidentiality issues. We're always marching toward a conclusion.
It sounds like you have a pretty great team now, but have you ever experienced pushback in your career from somebody who didn't believe in you or didn't see the vision for whatever reason?
The entire reason that I have my own company is because I went to work for this man in 2000 and he fired me five months later. What was so incredible about this was that I felt like I had either been asleep at the switch before or never really come face-to-face with someone who did not want me to have an opinion. When I did express it, it wasn't just about disagreement; it was just like he didn't like it. It was very visceral. And it was one of those things that I tell people in executive search: Everybody should experience getting fired once. For the first time in my life, I realized that I didn't trust anyone but myself to be able to enable my career to happen. It was the first time I became aware that in fact, women, particularly in that industry, their voice can easily be squelched. And I said, whatever happens, I don't wanna kill my soul. I had a vision. I had a way of working and being in the world. I think what is available for us is to say it's not about being right; it's about being able to be ourselves at all costs. I'm not sure I feel free yet, but I'll say I wake up daily feeling free to express myself.
In that same vein, what is a piece of advice you wish someone had given you when you first started in your career?
I wish someone had told me that there are people out there who will not be interested in your point of view.
Do you have an assistant or somebody who manages the flow of everything?
Yes, I do. I have an assistant who's fantastic, but I would say I have people next to me who do the work and help me manage the work. My assistant is wonderful, and I couldn't go anywhere in the world without her. Hope couldn't travel on the plane with me, my schedule could never happen without her, but I think I am an example of it does take a village.
I'm curious if you've ever struggled with self-doubt, and if you did, what was that like and how did you work through it?
The answer is, of course, yes. I struggle with it still today. I believe that we can be confident and doubt ourselves simultaneously. I think self-awareness is key. If we're not aware that we have fear or that we doubt ourselves in any situation, we actually operate from the fear versus holding the fear. Fear is something that we can be aware of and carry with us without it driving us, but if we don't see it, it will drive us and we will likely show up in a way that reflects our fear versus knowing that we have it. It's a very different frame.
What do you see for yourself in the coming years ahead? What ambitions and goals do you still have left for yourself that you'd like to accomplish?
A lot. I think when I take my last breath, I will still have a new idea or a vision for myself.
Has there been a moment that you thought to yourself, Oh, wow, I've made it? 
I've never had that feeling, and I crave it.  I actually crave it. I crave this desire to experience my own accomplishment, which doesn't land for me. There have certainly been moments of gratification and moments that I'm very proud of.
This interview has been edited and condensed for length and clarity.