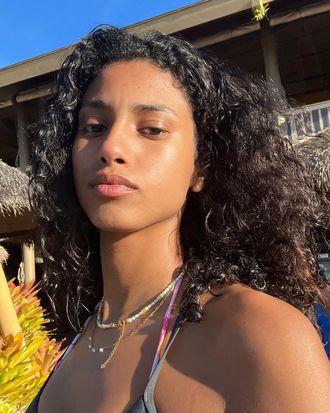 Supermodel Imaan Hammam was 16 years old when she opened Givenchy's spring 2014 show. A decade later, she has fronted major fashion and beauty campaigns and strutted down the runways of the world's most notable designers like Jacquemus, Versace, and Moschino. The model's latest venture? Becoming the newest ambassador for Estée Lauder, a role she says she manifested.
When Hammam was 8, she was shopping in a cosmetics store with her mom and noticed a campaign that made a mark on her. "I saw a huge Estée ad with Liya Kebede, and it was such a moment for me. I remember feeling like, Wow, there are women out there who look like me," Hammam says. When she was watching TV and opening magazines, she didn't see herself represented in the media, but seeing this example with model Kebede proved to her that she could one day be that woman too. And now she's the woman little girls look up to.
Does that come with a bit of pressure? Absolutely, but Hammam has always been keen on looking and feeling her best through self-care practices. She grew up with an Egyptian father and a Moroccan mother, her "natural herb doctor," who would mix Moroccan oils into face masks that Hamman would wear as a young girl. "My mom always made sure we took care of ourselves by using natural products," she says, a habit she's taken into her career. Now that she has access to all the best beauty products, she's still very thoughtful about what she puts on her skin. The model keeps her skin glowing with several tools and all-natural products she swears by.
Here, Hammam's routine:
Whenever she goes to Morocco, she stocks up on black soap; it's a part of the experience for her. It cleanses by unclogging pores and leaves her with a smooth complexion. When she runs out of her batch from Morocco, she stocks up on Amazon.
Another Moroccan ritual she swears by is exfoliating her body with a glove in the shower while steaming. "I scrub my body and the dead skin just starts coming off. It's crazy, but it's the best thing ever because I'll walk out of the shower and feel so clean with the softest and glowiest skin."
She uses Mario Badescu's drying lotion for her occasional breakouts, the beloved salicylic acid–infused lotion that effectively is said to clear breakouts overnight.
Her nightly serum is Estée Lauder's Advanced Night Repair, a cult-classic product that hydrates while deeply penetrating the skin overnight to repair, plump, tighten, and boost collagen.
She'll often use Dr. Dennis Gross's LED mask with both red and blue light to combat breakouts and smooth out her skin's texture.
Hammam also swears by derma-planing, which gently removes fine hairs and dead skin from the top layer of skin. For her, it's satisfying but also helps to reveal the most radiance. "Taking that fuzz off makes such a difference, and when I put on my makeup afterward, it looks completely different and goes on so smooth."
Next, she applies a multiuse aromatic oil that leaves her skin soothed and illuminated. When it's self-care time, she also enjoys massaging this into her skin because of how good it smells.
And, lastly, she applies SPF every day to protect her skin. Estée Lauder's gel formula is lightweight enough to glide onto her skin without a white cast and leaves behind the perfect canvas for makeup.
On her morning routine:
Hammam enjoys detoxing her body in the morning and does so with three major things: a huge glass of water; warm water with lemon (the detoxifier); and her new thing, Mud Water, a morning-ritual coffee alternative with turmeric, reishi, cacao, and more. She can't always promise to get eight hours of sleep, but she ensures consistency in her routine.
On facials:
They're something Hammam makes sure to always have in her schedule. She has been going to Ude Clinic for six years; whenever she has a breakout, she goes there for extractions and to have her skin deeply cleansed. Plus, she goes every year after Fashion Week to make sure all of the makeup residue from walking countless shows is removed from her skin completely.
On her glam-chair nonnegotiables:
Hammam has sat in countless glam chairs backstage at shows and before big photo shoots. The one thing no one can ever touch: her brows: "I don't like them to be plucked or anything. I have one woman in New York who I see, and she just gets it." She's also really careful about her hair, since certain stylists on sets don't know how to care for Black hair properly. Luckily, she's learned how to stand up for herself over the years. "When someone does something wrong, I literally will stand up and say, "Sorry, but this is not going to work," says Hammam.
On how she defines good skin:
 "I have the best skin when I take care of myself. When I take moments in the day to sit with myself, meditate, work out — and even just being in nature. Those things help my skin feel good. We can use all these incredible products, but it really comes from the inside. And you need to love yourself, because that's how you feel the most confident and good in your skin."