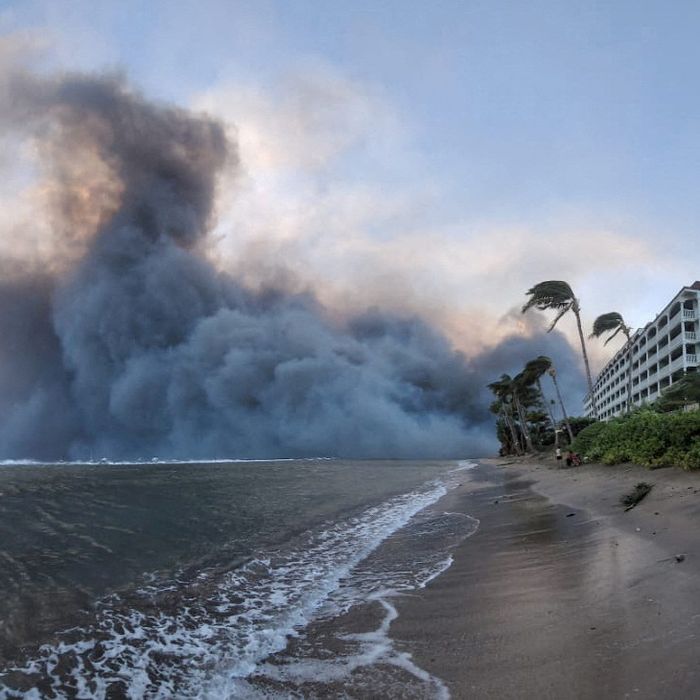 Photo: Dustin Johnson/Handout via Reuters
Roughly one week after devastating wildfires swept through the Hawaiian island of Maui, the death toll has risen to 106, a number that the state's governor anticipates will climb as search and rescue efforts continue. The blazes, which began last Tuesday and were fanned by powerful winds from Hurricane Dora to the southwest, have destroyed homes and led residents to evacuate. They've also decimated the historic town of Lahaina, the former capital of the Hawaiian Kingdom and one of Maui's biggest tourist destinations. More than 46,000 people have left the island so far and tourists have been strongly encouraged to depart; meanwhile, thousands of locals have been displaced and are staying in shelters, hotel rooms, and Airbnb units. "Local people have lost everything," James Tokioka, director of the Department of Business, Economic Development, and Tourism, said, per the Associated Press. "They've lost their house, they've lost their animals."
Firefighters continued to contain the wildfires and battle flare-ups for days after the initial devastation, and the Coast Guard has rescued 14 people, including two children, who jumped into the water to escape the fire and smoke. Per CNN, the fires have wiped out cell-phone service in western Maui, complicating rescue efforts as cadaver dogs search for survivors. The fires have contaminated water supplies in certain areas, and the AP reports that additional coroners are arriving on the island to help sort through remains.
President Biden initially said he ordered "all available federal assets" to help the island, though some survivors have complained that FEMA's response has so far fallen short. Aid groups are mobilizing to provide relief to those displaced by the disaster, one of the deadliest U.S. wildfires in recent years. Here's how to help.
The Maui Food Bank is accepting donations as it provides meals to displaced residents.
Mercy Chefs is on the ground in Maui, providing hot meals to victims, first responders, and others affected by the wildfires. You can donate to their relief fund here.
The Salvation Army's Hawaiian and Pacific Islands Division is also providing food to those in Maui emergency shelters — donate here.
Aloha United Way says donations to the Maui Fire Relief Fund will go directly to Maui United Way, a nonprofit supporting those impacted.
Maui Rapid Response's aid fund is distributing proceeds "to vulnerable Ohana in need, kupuna, persons with physical disabilities, renters and those who have no insurance or are underinsured," per the group's Instagram.
The Hawaii Community Foundation's Maui Strong Fund, which provides resources for disaster recovery, is currently supporting affected communities. You can donate here.
The American Red Cross is soliciting donations to help provide shelter to those evacuating from the disaster.
The Hawaii-based Ama OluKai Foundation, part of the OluKai shoe brand, is soliciting donations to support wildfire victims and will be matching the first $200,000.
The Maui Humane Society is accepting donations and supplies for shelter animals displaced by the wildfires.
This article has been updated.