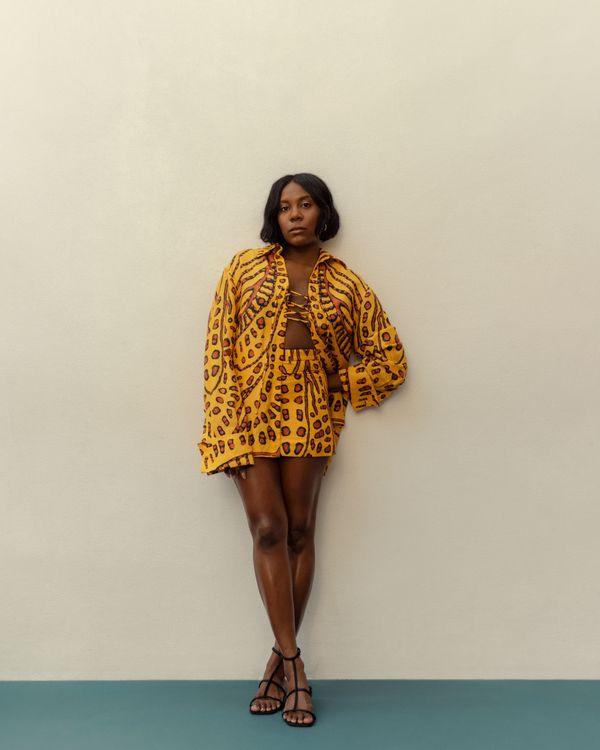 For more of the Cut's favorite fashion, beauty, and home finds, sign up for the weekly Cut Shop Newsletter.
This week's look is for the lazy girls: those of us who would rather be on vacation, don't want to think too much about clothes, and still want to serve a look. In "The Jess Edit," the Cut's fashion director, Jessica Willis, draws upon her three style words — timeless, functional, edgy — to create a look that's low maintenance but high impact. Here's the anatomy of an outfit.
The Hero Piece: The Matching Set
A lot of things make this set work, starting with the micro-miniskirt. We're in the midst of a miniskirt renaissance, and balancing a teeny one with an oversize shirt is the best way to participate if you're worried about your skirt being too mini, Willis says. The longer shirt will keep you mostly covered on the subway or during wind gusts.
The top, made of a breezy linen, can be worn loose and billowy but can be adjusted using the lace-up detail. "You can belt it, wear a cute bra under it, or tie the strings around like a corset to fit your proportions," Willis says. She wears the top slightly open to show a bit of skin.
Consider tonal color combinations
Willis loves how well the grounded, earthy tones like yellow and brown work together: "It's alluring."
Skip busy accessories
The tonal print adds enough, so skip all the extras.
And that goes for shoes, too
Willis keeps the shoes simple but always considers proportion, as with these gladiator sandals from Ferragamo. They pair well with the miniskirt because they don't shorten your leg, but they look just as good with a crocheted dress. Forgo heels so you don't look too dressed up. Willis suggests other flats like good ol' flip-flops or everyone's current shoe obsession, ballet flats.
Bonus tip: Bring along a white tank or tee to rewear the individual pieces in the set
If you're traveling this summer, sets are your friend. This one is versatile enough to mix and match with other pieces you bring along and small enough to fit in your carry-on, Willis says. Her ideal pairings are vintage tees and oversize white Hanes T-shirts with the skirt, while the linen top easily makes for a swimsuit cover-up.
Get the look:
Here are four more sets to get you through the rest of the summer.
For those who want a bold pattern and color palette, consider Marni's collab with No Vacancy. You can mix and match the lightweight linen with equally bold swimwear, and the long sleeves are perfect for tying around your shoulders or waist.
If you prefer to show some skin and have a more streamlined silhouette, this fitted pairing is just as versatile, whether you want to mix and match it with the rest of your vacation wardrobe or layer it over a bikini.
Another easy way to lean into the mini — comfortably — is this airy oversize linen shirt that's perfect for layering over swimwear.
Show some shoulder in this gingham-print set that's perfect for those who tend to steer away from bright colors. The off-the-shoulder top has an airy, billowy silhouette, but you can tuck it in to show off your waistline and the very cute matching miniskirt.