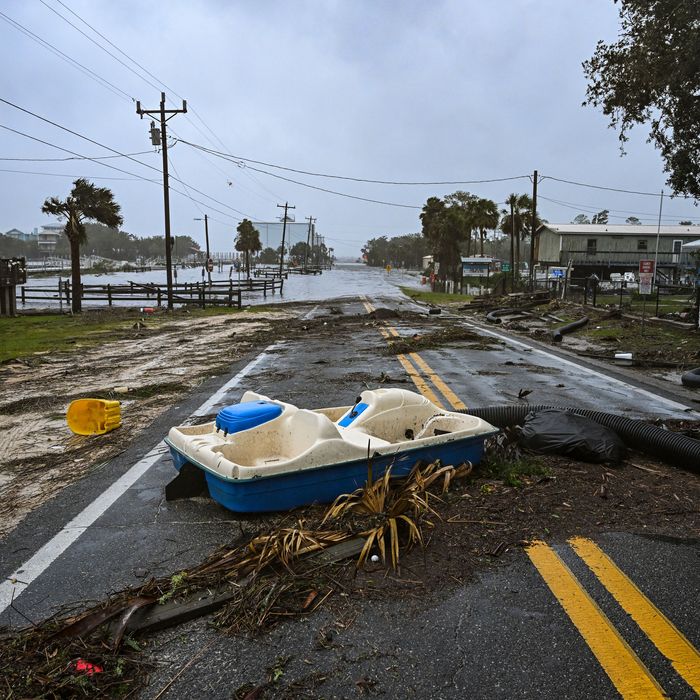 Photo: Chandan Khanna/AFP via Getty Images
On Wednesday, Hurricane Idalia made landfall in Keaton Beach, Florida, and then blew through the Big Bend region of the state, a sparsely populated stretch of fishing and beach towns where the Panhandle meets the peninsula. The Category-3 hurricane brought winds maxing out at 129 miles per hour and caused what the National Weather Service described as a "catastrophic" storm surge, leading to flooding throughout the region, water shortages due to the infrastructure strain, and a power outage that left 246,000 people without electricity. The state's highway patrol reported two deaths from weather-related car crashes, though Governor Ron DeSantis referred to "one unconfirmed fatality" during a press conference.
Idalia then headed up the coast to Georgia, where it took down more power lines and flooded roads, including in downtown Charleston. One man was reportedly killed by a falling tree in Lowndes County. Idalia was downgraded to a Category-1 tropical storm on Wednesday night as it entered South Carolina, where its damage was exacerbated by the supermoon's effect on the tides. Like Georgia, South Carolina had also declared a state of emergency and experienced heavy rain, flash flooding, and one tornado caused by the storm. Idalia went as far as North Carolina before blowing back out to sea on Thursday. Hundreds of thousands of people are still without power. Here's what you can do to help those affected.
American Red Cross has mobilized in Florida, Georgia, and the Carolinas, setting up evacuation shelters, channeling blood sources to local hospitals, and distributing meals and supplies. You can direct your donations to Hurricane Idalia relief in the drop-down menu.
CARE is providing emergency cash and other supplies, prioritizing women, elderly people, and families with young children.
The Salvation Army also deployed emergency-response workers to Florida and Georgia and is operating dozens of mobile feeding units, on top of handing out water, cleaning kits, and baby supplies from a warehouse in Tampa. You can opt to send your donation directly to its Idalia recovery units.
International Medical Corps is accepting donations to support its emergency-response volunteers and health-care providers on the ground in the Southeast.
Big Dog Ranch Rescue, a Florida-based adoption group, is accepting donations to help its efforts rescuing animals in storm-affected areas in all three states. Despite the title, it rescues dogs of all sizes.
Florida Disaster Fund, a private reserve operated by the nonprofit Volunteer Florida Foundation, is waiving all administrative and credit-card fees for donations going toward Idalia recovery. The state's official resource for disaster aid, it distributes money to various service groups that mobilize for disaster response.
Mercy Chefs set up a mobile kitchen in Live Oak, Florida, and is feeding people displaced by the hurricane, search-and-rescue teams, first responders, and volunteers. Other pantries like Feeding Tampa Bay and Second Harvest of the Big Bend are accepting both money and volunteers to help run their sites. Feeding Florida is also taking donations and can direct you to local food banks you can send nonperishables to.
GlobalGiving is raising funds to meet the immediate needs of those affected by the storm: food, fuel, clean water, hygiene products, and shelter. Because it's an international group, it also plans to send long-term recovery aid to Cuba, which was hit by Idalia before Florida and suffered flooding and power outages.