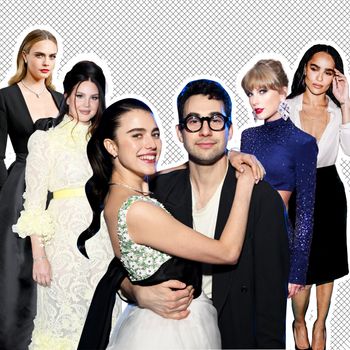 Photo-Illustration: by The Cut; Photos: Getty Images
If you can believe it, there are some people bold enough to get married during this, the Summer of Divorce. Musician Jack Antonoff and actress Margaret Qualley are one such couple: They took the plunge this weekend in New Jersey with Qualley in two pared-back white gowns and Antonoff in what "Page Six" decided was a "classic tux." (There was no bow tie, making the tux not classic at all, but who cares.) A veritable Billboard 100's worth of pop dukes and duchesses, plus a smattering of movie and TV starlets, gathered on the Jersey shore to watch Antonoff and Qualley say their vows. Everyone was invited except for you!
How, exactly, did these two summon such megawattage to the Garden State? Connections, baby! Antonoff — a songwriter, producer, musician, and former partner of Lena Dunham's — is the front man of several bands, including fun. and Bleachers. But he is arguably better known as the brain behind some of the past two decades' greatest bops. He is close with Taylor Swift, having worked with her on many of her albums. Most recently, the two wrote the bulk of Midnights while Qualley was in Panama with Swift's ex, Joe Alwyn, filming a movie. After Swift's breakup with Alwyn, Antonoff is rumored to have reconnected her with Matty Healy, though she does not appear to be holding whatever that was against her collaborator: Swift and her tiny little braid crossed the Hudson for the celebration, her presence at the rehearsal dinner causing such a ruckus outside the restaurant that local Beach Haven police were called to disperse the frenzy.
Qualley, meanwhile, is both an actor and a member of the Pete Davidson ex club. Before she was seen kissing Antonoff at New York City's Milk Bar two years ago, she dated Shia LaBeouf, albeit briefly. She is also an accredited nepo baby: Her mother, Andie MacDowell, breezed into the ceremony in some sensible gladiator sandals.
Thanks to the combined celebrity power of these lovebirds, their wedding looked not unlike a red carpet. Zoë Kravitz and Channing Tatum reportedly spent the entire weekend with Swift. Lana Del Rey, ever the style renegade, wore platform Crocs slides to the reception. Cara Delevingne, Jenna Lyons, Sarah Ramos, and Mae Whitman also joined, plus someone named George Daniel, who is apparently in the same band as Swift's problematic rebound, Healy.
One nice thing about having all those famously talented wedding guests is that you get free entertainment. Del Rey reportedly sang "Margaret," the song she wrote about Qualley and recorded with Antonoff's band, for their first dance. Swift reportedly gave a 15-minute toast at the reception, which does not surprise me even though I do not know her personally. During her speech, she apparently pointed out that she always thanks Antonoff when she wins music awards and he never thanks her.
Though I can only fantasize about what beef Swift might have stirred up during an entire 15 minutes of speaking, one nuptial feud ignited out in the open: Participants in the town's annual fishing competition, the Beach Haven White Marlin Invitational, were absolutely steamed about the havoc the Hollywood elites wrought on their weekend. Apparently, local police had to shut down a few streets to help control the ogling crowds, a massive inconvenience for the White Marlin champions and their fans. "We had to be escorted just to take a photo [with the fish]," one indignant fisherman explained. To cap it all off, they were forced to share their venue with Antonoff and Qualley's guests, who apparently occupied the nightclub area of a place called Bird and Betty's while the fish guys tried to enjoy the restaurant's patio. This was unpleasant enough that one disgruntled angler told "Page Six," in no uncertain terms, "Fuck the wedding."
Anyway, congratulations to Qualley and Antonoff for getting married, having so many famous friends, and having the audacity to piss off a bunch of New Jersey fishermen. Cheers to the happy couple!
This article has been updated.