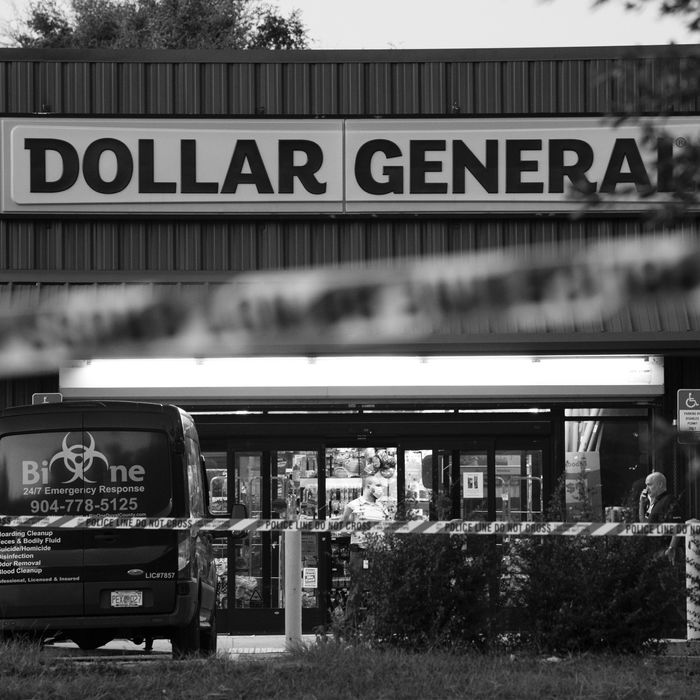 Photo: Sean Rayford/Getty Images
A white gunman wielding an AR-15-style rifle marked with swastikas shot and killed three Black people Saturday at a Jacksonville Dollar General in what is now being investigated as a racially motivated hate crime, the New York Times reports. The killer, identified as 21-year-old Ryan Christopher Palmeter, died by suicide at the scene. "He hated Black people," Jacksonville sheriff T.K. Waters said at a news conference over the weekend, in which he identified the victims as 52-year-old Angela Michelle Carr; 29-year-old Anolt Joseph Laguerre Jr., also known as AJ; and 19-year-old Jerrald De'Shaun Gallion.
Authorities say Palmeter — armed also with a Glock that, along with his rifle, had been legally purchased in Florida — left his parents' house in neighboring Clay County and headed toward Jacksonville at 11:39 a.m.. Shortly after 1 p.m., he fired 11 shots into a car parked outside of a Dollar General, killing Carr. The gunman then entered the store and killed Laguerre, who was shopping with his girlfriend, before chasing customers out into the parking lot. Most of the customers he ordered out of the store were white, according to Waters. Palmeter then returned to the store and shot at Gallion and another woman, who was uninjured. The rampage lasted approximately 11 minutes. Afterwards, authorities say the gunman texted his father and asked him to check his computer, where the family found Palmeter's will, a suicide note, and over 20 pages of racist writings. By the time they called the sheriff's office, the shooting was over.
The Times reports that Palmeter had no criminal record prior to the attack, though he'd undergone a 72-hour involuntary psych hold in 2017 at the age of 15. Police also had received a domestic violence call involving the gunman and his brother back in 2016. Waters, who is Black, says the gunman had written a number of manifestos describing a "disgusting ideology of hate." Prior to Saturday's shooting, Palmeter was seen putting on his tactical vest in the parking lot of Edward Waters University, a nearby historically Black college, before driving off in his gray Honda. A campus security guard reported the sighting to a nearby sheriff's deputy, according to the Times, though no one called 911 or police dispatch.
As of last month, the U.S. had already surpassed over 400 mass shootings in 2023. The Jacksonville attack came in the same weekend that at least seven people were shot at a Boston parade and after a teenager was killed and four other victims were injured in a shooting at a high-school football game in Oklahoma. It is the latest in a spate of racially motivated shootings, including a white-supremacist attack last year at a Buffalo supermarket in a predominantly Black neighborhood that left ten people dead and a 2019 mass shooting in which a gunman targeted Hispanic shoppers at a Walmart in El Paso, Texas, killing 23.
Jacksonville residents held a vigil for the Dollar General victims on Sunday following a ceremony commemorating the victims of Ax Handle Saturday, in which white supremacists beat a majority-Black group of civil rights activists in 1960. Republican Governor Ron DeSantis — who has been rolling back Florida's diversity and inclusion policies and rewriting Black history courses in the state's curriculums — was booed at the vigil, where he gave a speech calling the violence "unacceptable" and said that "targeting people due to their race has no place" in Florida.
"This is really hard to process," Chayvaughn Payne, Carr's 30-year-old son, told the Times of his mother, an Uber driver who had just dropped off a friend at the store before she was killed. "To lose a mother for nothing."