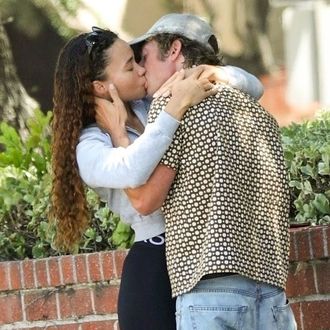 Photo: NINO, LELE/VEGAN / BACKGRID
Thanks to a fresh wave of celebrity split-ups, we are currently playing reluctant witness to an excessive amount of divorced-male behavior. The latest incident: Jeremy Allen White, fictional chef and real-life sweaty man, was papped while wandering around L.A. and making out with model-slash-actress Ashley Moore. TMZ managed to capture extensive video of their morning, which included kissing, hugging, waiting in line for coffee together, and more kissing. Thanks to the tabloid's wall-to-wall coverage, we can construct a pretty good blueprint of this man's smooching style: slouchy, intimate, and with a heavy forward lean. A cheek-stroke here, a full-body hug there, a strategic head tilt to clear his weathered baseball cap from the contact zone — a chef's kiss, my friends!
Unlike some other dudes in the news these days, White is currently single, his wife — Addison Timlin — having filed for divorce in May. A few weeks later, Timlin called herself a "single mom" in a Mother's Day post, which she later edited to read "co-parent," hinting at some kind of acrimony in the split. Still, at the end of July, White and Timlin showed up to one of their daughters' soccer games looking lightly touchy — think hugging and hand-to-head contact. But that was nothing compared to what White had going on with Moore over the weekend.
Who is Moore, you may be wondering? She recently appeared in the TV reboot of I Know What You Did Last Summer, and in 2020, she was seen hanging out with Shia LaBoeuf in what was either a very weird business meeting or a socially distanced first date. It is not clear how she and White met — Raya? The gym? — but they are clearly hitting it off. Perhaps those pecs have found love once again?