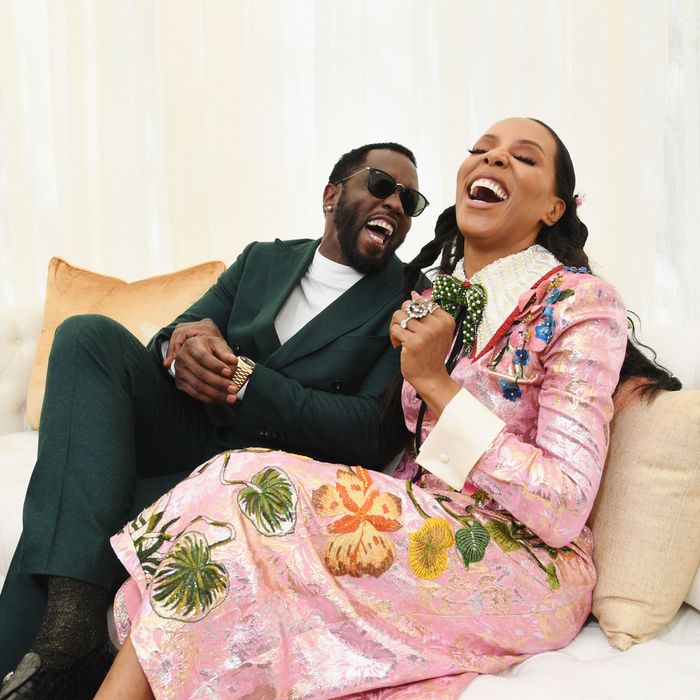 Sean "Diddy" Combs and June Ambrose.
Photo: Kevin Mazur/Getty Images for Roc Nation
June Ambrose wears many hats — literally and figuratively. The costume designer and creative director has been photographed wearing all kinds of bespoke hats of the years, and she even told the Cut back in 2016 that she owns close to 100 of them. She often posts Instagram photos showcasing her collection, which consists of cartoonlike ball caps, top hats, wide-brim bowlers, chapeaus, and lids with bunny ears by New York–based designer Khia Tullae. It's her signature look. And aside from being so on the nose — Ambrose wears many professional hats as well, with a long list of accolades ranging from stylist and designer for high-profile clients like Sean "Diddy" Combs, Jay-Z, and Missy Elliott to published author, entrepreneur, television personality, and, most recently, creative director of Puma — her personal style is a testament to her boundless creativity and fearless approach to fashion.
In the mid-'90s, Ambrose made a name for herself in the hip-hop world by becoming an image architect for artists like Jay-Z and Elliott. She not only designed and styled their looks, but she also helped shape their public persona. As the woman behind some of the genre's most impactful and unexpected style moments, her contributions to hip-hop culture and fashion at large cannot be defined by a single title — she told the Cut that she never wants to "boxed in" as just one thing (i.e., celebrity stylist). Instead, Ambrose's influence stems from the fact that she was always a few steps ahead of the curve. When fashion houses wouldn't lend to her clients, she honed in on her costume-design skills and made the looks herself. When the majority of female chart-toppers had an overtly sexual image, she dressed Elliott in a completely shapeless Michelin Man–inspired outfit for "The Rain" music video. And when hip-hop was mourning the loss of the Notorious B.I.G., Ambrose chose to celebrate his legacy by styling the late rapper's close friend and collaborator Combs in a shiny red suit (instead of something dark and somber) for the "Mo Money Mo Problems" music video. She kept us guessing for decades and was never afraid to challenge the status quo.
Here, Ambrose shares the stories behind some of her most iconic fashion moments and reflects on how her larger-than-life ideas helped shape hip-hop culture.
I know you're a New York girl. How did being raised in this wonderful melting pot of culture and ideas shape who you are?
I discovered so much. The backdrop of where I grew up in the South Bronx is an environment with so much texture, so much character. It has so many stories and storytelling moments. It became the soundtrack of my life, you know? I was afforded the opportunity of being able to focus on being young and creative. My job was to get an education, stay safe, and make it out. And I did. A young girl growing up in the South Bronx, discovering fashion in a big city, and finding her way into midtown Manhattan? It's a great coming-of-age story.
I was my own muse, the character that I wanted to become. I think there's something about a young girl being able to see herself in all these really beautiful, eccentric, expensive experiences in life. I was able to touch it when my mom took us to the city for tours of recording studios. It was the experience of seeing life outside my own confines. Whether you were raised in the city or the suburbs, it's really important to go outside of your neighborhood, go outside of your environment, and see the world. I think that's the reason why I saw things so differently — I wasn't looking through one particular lens.
You're also a former theater kid. How did that environment influence you creatively?
The theater is the reason I went into costume design. When I got a role as an actor, I wanted to understand the character and how to develop that character. I was always very fascinated by films, reference to films, old movies, and the costumes themselves. Because I was so infinitely curious about every aspect behind the scenes and in front of the scenes, it helped me really hone in on my craft and also explore what that was. You have to have talent in order to create costumes and design — I discovered that I had that talent, and it became a superpower. I put acting on the back burner because I realized there was a beautiful art experience in being able to create costumes for characters and be part of the storytelling in that way.
Take me back to your first experience as a stylist. What was your approach?
My first job as a stylist was interesting because I realized that just putting clothes together with other people wasn't enough to tell the story or build up the character. So I knew that I had to really go into my own head of costume design and building and creating things. But secondly, fashion houses weren't necessarily lending to unknowns. They weren't even lending to music people in general. The design houses didn't care about having a relationship with the music industry at the time, and our budget couldn't afford me going into a store and buying clothes. Some of the ideas I had were outside of anything that I could put my hands on. I wanted to be able to control that narrative. I started off as a costume designer, so that's how I approached it. Being able to merchandise and style the looks afterwards was another superpower that become very helpful. With a lot of the work I did, styling really helped sell the look. It helped make it tangible to the consumer and commercialize some of the eccentricities of what I was building.
The titles haunt me because to just group my work into "she's a stylist" doesn't really define my contribution. Creative direction is also something I've been doing since the inception of my career. I found myself in that place of power where I could direct, shift, and shape the narrative. Like when I worked with Missy Elliott at the inception of her career, I worked with Hype Williams to create her visual narrative. I've worked with Jay-Z since the inception of his career. Before he was an artist, he had a record label. And he trusted me to creatively direct artists he was putting out under the Roc-a-Fella label.
When was the first time you felt like you successfully built and developed someone's image?
It's interesting because it was the Backstreet Boys. I've worked with a lot of boy bands. Specifically for the Backstreet Boys, in order for them to really be culturally relevant, I had to give them some urban sensibility. Not in the sense of hip-hop or Black or anything like that — think more city. Something gritty and a little rougher. That image really helped cross them over into a multicultural and multigenerational marketplace.
Let's talk about the looks in Biggie Smalls' "Mo Money Mo Problems" music video featuring Diddy and Mase. What made those shiny red suits so influential?
When Puffy put on that bright shiny suit, that was culture shifting, especially when you think about what hip-hop is and who Biggie was. To me, the concept wasn't so far-fetched. Biggie was flamboyant. So when I was trying to sell this idea to Puff, I was just like, "Biggie wore silk shirts. Why is it so scary to imagine yourself in something shiny?" I would argue things like I was a lawyer at times, but I knew it was the right thing to do. I just felt like it was so much more interesting. That video was so impactful for Puff that he made a song about it. It really took off and everything was shiny after that. [Combs released the song "Shiny Suit Man" — a nod to the flashy fashions embraced by hip-hop artists in the wake of Smalls' death and Tupac Shakur's death just six months prior — in 2001.]
The visuals were so magical and sparkly and fun and cartoonlike, but it didn't compromise the street credibility of the artists. It took them out of their personal personas and into their artistic personas. If what we're doing is entertainment, this is what entertainment and show business looks like. It's funny, it's aspirational, it's provocative. It is not dusty, dirty, depressing, or sad. I've always been a risk-taking disrupter. I think it's very important that we're not so predictable … battle against that current, do things that make people uncomfortable.
You also created one of the greatest music-video moments of all time: Missy Elliott's inflatable suit in "The Rain." What's one thing we don't know about that look?
I think there are moments we don't talk about a lot with that one. It was kind of this ownership of masculinity. It was really powerful. The fact that Missy was a tomboy when, at the time, women in hip-hop were all about oversexualization.
Everything was so intentional. Like Missy wearing the perfect mint-green leather tracksuit sitting on top of the green hill that we shot on a green screen. It was the simple things, too. I loved the Timberlands. Females didn't wear construction boots at the time. I giggled when I came up with the idea of putting the dancers in men's briefs and tank tops. For me, it was us owning it and taking control of the narrative.
Yeah, I love how she wore masculine silhouettes while also embracing all the glitz and glamour.

All the feminine, too. Her dance moves and lyrics were very provocative. They were saucy.
Styling the inflatable suit with glitter-adorned sunglasses is a perfect example of that masculine-feminine juxtaposition. Who made them?
Those were archival Alain Mikli. "The Rain" director Hype Williams actually got Alain Mikli to let them out of his archive. They had never been worn outside of editorial. They were extremely fragile. They came from Christie's … it was a big deal. They really made the look.
One of your most prolific contributions to hip-hop is fostering a collaboration between Missy Elliott and Adidas back in 2004. How did that come about?
I had taken creative license over that IP so many times in these music videos, whether I was remixing it or knocking it off. So I said to Adidas, "Listen, guys, we should partner. We're already there. She's your muse." And the Respect M.E. collaboration was born from that. [Ambrose also creative-directed the partnership, which was one of the first of its kind between a brand and a hip-hop artist.]
What was the significance of that partnership? How has it impacted hip-hop and the fashion industry as a whole?
It was really confirmation that we moved the needle. Not only did we move the needle, but we were in control of consumer goods and could produce them. People started to look at record deals holistically, from a 360-degree point of view. It's not just about the touring and the music because one thing is going to attract another and another. It's kind of a domino effect. If an artist does a collaboration with a fashion brand, then they can do a collaboration with a beauty brand and it all starts to feed into life and style. It took them out of that one particular box of "these are music people." Because when the music people are doing mini-commercials, speaking to the consumer, and moving consumer goods, it's much bigger. I always knew it was bigger than me.
Style is a culture we create by not being afraid to say, "This is swag, this is attitude, this is a voice." Streetwear is a language. It's a culture. And these fashion brands recognize that it's not just something tangible, which is why they're now partnering with the arbiters. I think we will continue to see more of those partnerships, but also more of the building of brands from the arbiters themselves. It's not going to be enough to just do these deals. You see artists wanting to have their own fashion houses. Creative directors and designers like myself, we want more. It's not enough for you to just invite me to your show. I want a seat at the table.
What do you want your legacy to be?
I hope my legacy will be one that the next generation can find inspiration in. My kids are 19 and soon-to-be-22, and one of the proudest moments I had in looking back at my body of work is that my kids found it to be very relevant. They looked at it like art. I have a picture of my son standing in front of a Missy Elliott blowup suit when she was being honored for an MTV Award. I'm so humbled by the image of him standing in front of something I created 20-something years ago. I get goosebumps every time. I close my eyes at night knowing that I did something with great intention and it paid off.