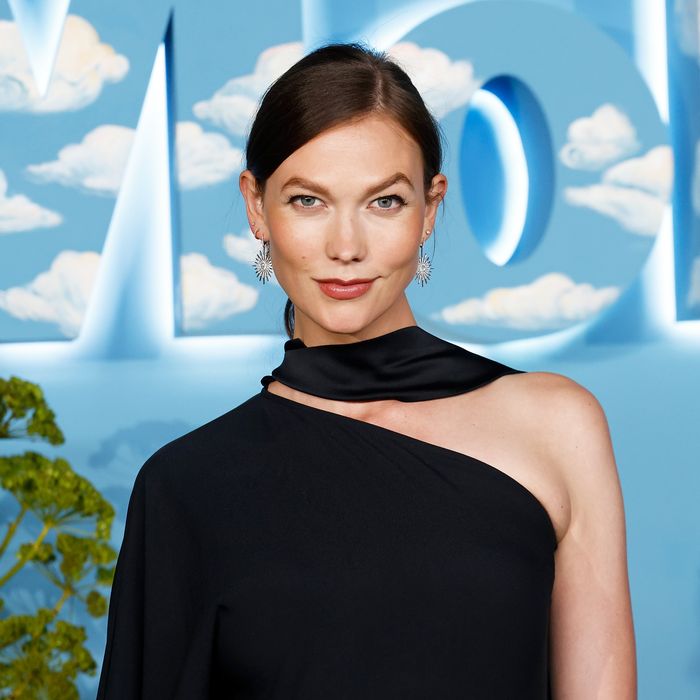 Photo: Taylor Hill/WireImage/Getty Images
As Taylor Swift wraps up the first leg of her Eras Tour, one thing has become clear: The only people not required to sell their souls for a decent ticket are members of her infamous squad. Now that she is yet again single and on tour, the updated squad is dutifully serving its vital role of seeing and being seen in Swift's all-important VIP tent. Phoebe Bridgers made out with Bo Burnham while Keith Urban took a selfie; Gigi Hadid had to hang out with Swift's controversial rebound Matty Healy; and longtime squad member Lena Dunham got a special song dedicated to her. Other Swiftie celebrities — including Channing Tatum, Gayle King, and Selena Gomez — have been seen lip-syncing and throwing up heart signs near the stage.
However, one formerly prominent bestie has been noticeably absent, both from the VIP area and Swift's recent pap walks — so absent that when she did finally show up to an Eras show, she sat in (gasp) general population. Karlie Kloss, formerly a famous close friend of Swift's and presently an in-law of Ivanka Trump's, was seen hanging out in the audience of SoFi Stadium during the last of Swift's L.A. shows, like a non-Swift-associated peasant. What the hell is up?
Kloss, a fellow long-legged "It" girl of the early 2010s, has been a Swift concert staple since 2013, when they appeared onstage together at the Victoria's Secret Fashion Show. Over the next five years, they hugged, kissed, and danced at various music festivals, Fourth of July parties, and of course, in the "Bad Blood" music video. But around 2017, rumors of a falling out started circulating, bolstered largely by perceived subtweets and far-out interpretations of Swift's shady lyrics.
Despite Kloss's repeated but vague assurances that she and Swift are still friends, some concrete evidence does suggest otherwise: Swift was not at either of Kloss's weddings to Joshua Kushner, brother of Jared, the second of which included both Katy Perry (a since-reconciled nemesis of Swift's) and Swift's sworn enemy, Scooter Braun, as guests. A few months later, Kloss popped up on Braun's Instagram, hanging out with him and some friends on a yacht. Though the contents of their text messages and private jets are unknown, Swift and Kloss haven't been seen together publicly since 2018 — though Kloss did appear in the audience during the Reputation tour, that time much closer to the stage. As is often the case in the universe of Swift fandom, Kloss's nosebleed seating could mean everything or nothing. Maybe we will have to wait until 1989 (Taylor's Version) to find out which it is.