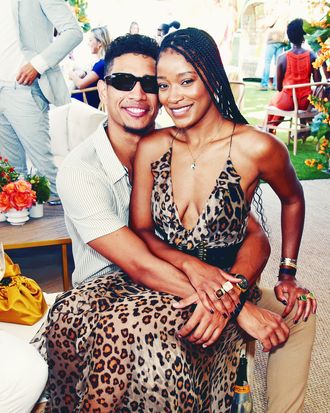 Photo: Gregg DeGuire/Getty Images
If you, like me, have spent the past month wondering whether Keke Palmer is still dating the father of her child, Darius Jackson, neither of us is going to find closure anytime soon. It seemed these two had called it quits after Jackson publicly criticized the outfit Palmer chose to wear to see Usher's Las Vegas residency. Palmer appeared in a winking music video with Mr. Raymond himself afterward, and several outlets claimed the two had moved on. But now, it seems the dynamic between the (former?) couple is considerably less icy: Palmer spent her 30th birthday hanging out with Jackson and their son. Huh!
Over the weekend, Jackson posted a clip of Palmer snuggling their baby on a couch, which was shortly followed by an Instagram Live of the two of them at lunch. In the video, Palmer urges Jackson, who is apparently full of opinions, to share some of his observations about Virgos. "Don't believe the hype," he tells the camera. "My mom's a Virgo, my brother's a Virgo, my best friend's a Virgo, my grandma's a Virgo," he lists, before gesturing at Palmer and hesitantly adding, "My … partner in crime is a Virgo." Palmer chimed in that a Virgo "already has you hooked," though she didn't specify if the Virgo in question is hooked right back. Meanwhile, Palmer posted a birthday photo shoot where a butt-adjacent tattoo of Jackson's birth date was on display.
So … did these two evade the clutches of Breakup Summer or not? Looks like we'll have to wait for Usher's next music video to find out.