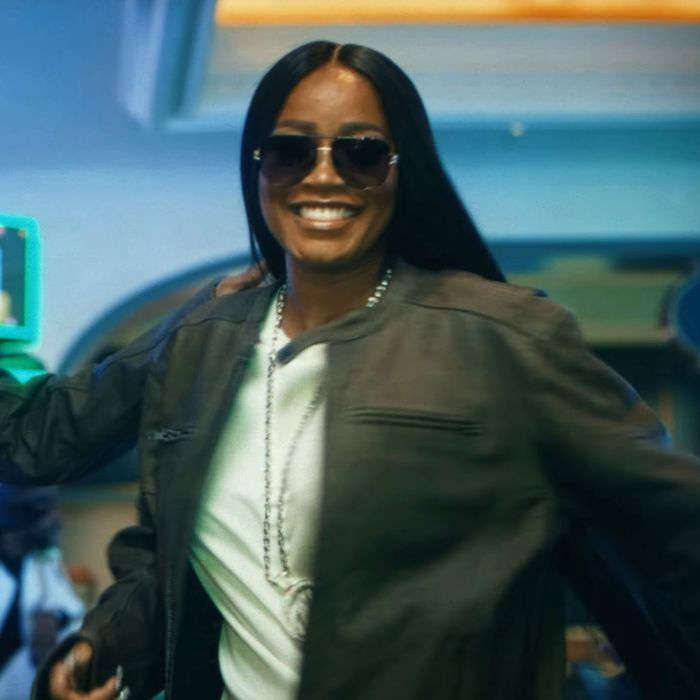 It appears that Darius Jackson, the father of Keke Palmer's son, is learning firsthand what happens when you publicly shame your girlfriend for her clothing choices. A month after Jackson took to Twitter to criticize the outfit Palmer wore while receiving a serenade from Usher in Las Vegas, the new mom has responded via music video. Turns out, when you come for Keke, she always gets the last laugh — and this time she's laughing with Usher.
The video, courtesy of Mr. Raymond himself, accompanied a song about a man pining after a woman with a boyfriend. Do you think the lyrics to this song, "Boyfriend," have anything to do with how Palmer is feeling about her own boyfriend, if he even is that anymore? Let's take a look at the clues. In the video, Palmer seems to play the role of the woman in question, bopping around a casino (likely a nod to Usher's Park MGM residency, the site of the serenade that started it all) and singing along to vintage Usher tracks in the elevator, before changing into a matching outfit and dancing with him.
Nothing explicitly Jackson-related happens until the end of the video, when, after three minutes of flirty choreography, Palmer wakes up in a hotel room and answers her ringing cell phone, informing someone on the other end that she'd slept through the show. "I'm so tired," she moans. "I'm a mother … after all." She then winks directly at the camera — a read of Jackson and the seven words that landed him in scalding water to begin with: "It's the outfit tho … you a mom."
Though neither Palmer nor Jackson has commented on the status of their relationship since the incident, they haven't appeared in public together, and an anonymous source told People right after the music video debuted that Jackson had "moved on." Godspeed to this man!