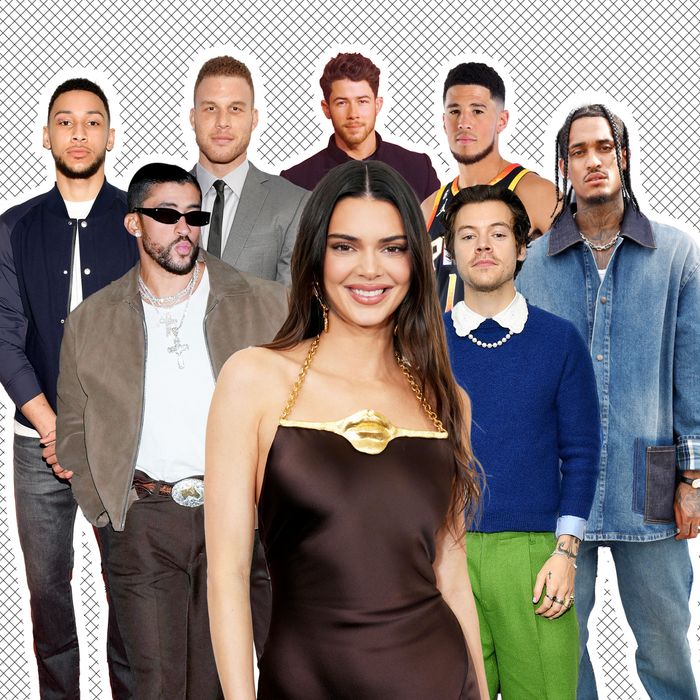 Photo-Illustration: by The Cut; Photos: Getty Images
Last weekend, Kendall Jenner shocked the tabloids by engaging in some behavior she has never before dared to do in public: She hugged her maybe-boyfriend. That's right — she hugged him. At Drake's tour stop at the Kia Forum in Los Angeles, she embraced Bad Bunny, whom she is rumored to be dating, holding his face in her hands. And in full view of photographers! In Jenner's long career of dating other celebrities, there has never been such a public display of affection.
Unlike her famous older sisters, who have made their romantic lives central story lines on the family's reality shows, Jenner has never once debuted a boyfriend on-camera. Instead, she usually sticks to talking about her love of horses or her struggles with anxiety. This has made producers' lives difficult, I imagine: On this past season of The Kardashians, they were forced to drum up interest in Jenner's life by asking her about her impending baby — baby horse, that is.
In 2021, Kardashians producer Farnaz Farjam explained Jenner's reticence to share her romantic life this way: "Kendall's always had this rule — she felt like she had to be with someone for at least a year before she let them be a part of the show, because she doesn't always know what people's intentions are. So that's why we kind of kept her personal life out of it, just because she had a rule."
Perhaps that rule is changing, thanks to Bad Bunny. But Jenner has been able to skate by for years now, sharing much less than her sisters about her relationships. According to the tabloids, the model has dated Harry Styles, Nick Jonas, and a few NBA stars including Jordan Clarkson, Devin Booker, Ben Simmons, and Blake Griffin. What has Jenner said about any of these alleged relationships? Next to nothing. But somehow — perhaps with some help from her momager, Kris Jenner — the tabloids keep finding things to report about these romances. Unfortunately, they are mostly the same things.
When Jenner was spotted on a yacht in St. Barts with Styles in 2016, she declined to comment on the relationship. But an "insider" told People that she was having a very normal time with the pop star. "There has been a lot of flirting, touching, and snuggling going on," the source said. "They have acted like a couple. They look very cozy and happy."
Later that year, Jenner was seen out at one of Drake's parties with Clarkson. Again, she made no mention of this meeting in interviews or on her family's reality show. But an eyewitness revealed the truth anyway. "They definitely had a flirty vibe going on and were very intimate," a source told People. "Jordan was extremely attentive toward her and treated her like his girlfriend."
In the absence of any real information, these "sources" described the best approximation of human romantic behavior they could manage: It's flirty, it's touching, it's girlfriend.
The following year, Jenner was linked to Griffin, who had recently ended his relationship with his fiancée and the mother of his two children, Brynn Cameron. Cameron sued Griffin for palimony, claiming he abandoned her to date Jenner, which, hey — that's interesting! But of course, Jenner never discussed it publicly. Instead, the tabloids were forced to report the same old story about her budding new relationship.
"They're legit. They're a full-on couple," yet another source told Us Weekly. "Kendall has been going to a lot of his games and they have been enjoying time at home when Blake is in town. They're good." Tell me more!
Another eyewitness spotted Jenner and Griffin on a double date with Jenner's sister Kylie and her then-boyfriend, Travis Scott, and dutifully reported the vibes: "Kylie and Kendall were both really loving and cuddly with their boyfriends. Both couples were almost always holding hands or had their arms around each other."
The words of a real person who actually witnessed this date or those of a random sixth-grader trying to imagine what it was like? We cannot say.
Jenner's relationships with Simmons and Booker brought more scintillating insights. Can you guess which alleged boyfriend this source was talking about to People?
"They always have the best time together," the source said. "They are dating and seem happy for now. They have both had a lot of time to see each other."
It's Simmons, duh.
Now that Jenner is fully ensconced in a new, private relationship, the tabloids have revved back up their AI-powered source machines. Jenner and Bad Bunny have reportedly been dating for six months, and during that time period, she has not mentioned him publicly once. So how are we to know the intimate details of their relationship? A People source said it all back in April:
"They are very cute together. Kendall is happy. He is a fun guy. Very much a gentleman and charming. She likes his vibe. He is very chill."
Amazing. At least now she has hugged him in public too.
More keeping up with the kardashians
See All