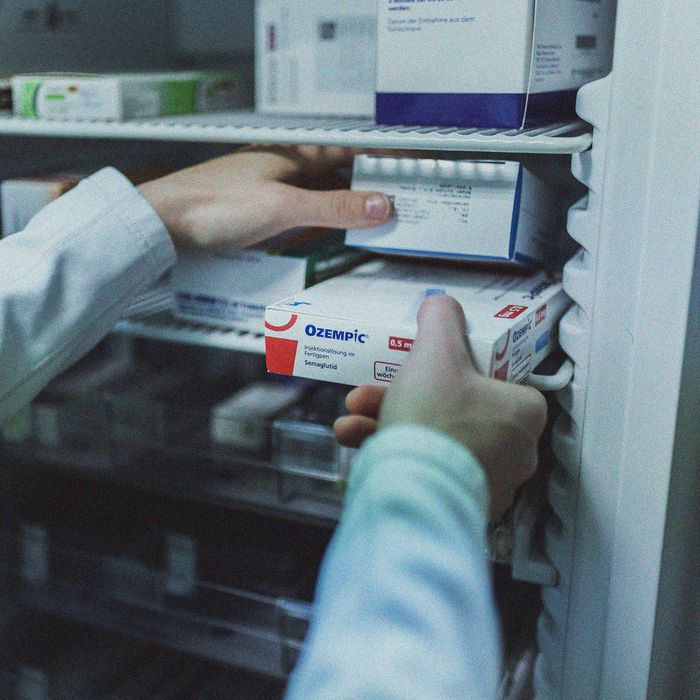 Photo: Florian Gaertner/Photothek via Getty Images
As type-2 diabetes injectables continue to gain traction as au courant weight-loss agents, one Louisiana woman is suing Novo Nordisk and Eli Lilly — the pharmaceutical companies behind Ozempic and Mounjaro, respectively — alleging they failed to warn her about the risk of extreme gastrointestinal injuries, CNN Business reports.
According to a 26-page personal-injury lawsuit filed by her attorneys on Wednesday, 44-year-old Jaclyn Bjorklund claims she experienced "severe vomiting, stomach pain, gastrointestinal burning, being hospitalized for stomach issues on several occasions including visits to the emergency room" and "excessive vomiting" that not only left her "throwing up whole foods hours after eating" but also required her to take "additional medications." The lawsuit says Bjorklund, under the supervision of her doctor, used Ozempic for a year before switching to a Mounjaro prescription in 2023. Her suit accuses Novo Nordisk and Eli Lilly of knowing but failing to disclose the "association" between their GLP-1 receptor agonists — drugs that work on hormones regulating blood sugar and appetite, often aiding weight loss — and GI issues like gastroparesis, which slows or even stops the flow of food through the small intestine, and gastroenteritis, an inflammation of the stomach and intestines. CBS News reports that Bjorkland has "not yet been officially" diagnosed with gastroparesis.
While vomiting and abdominal pain are listed as potential side effects on prescribing information for both Ozempic or Mounjaro, Bjorkland's suit maintains existing warnings are "inadequate." Bjorkland is seeking compensatory and punitive damages for her pain, health-care expenses, medical monitoring, and legal fees. "Her problems are so severe that she's been to the emergency room multiple times, including last weekend," an attorney for Bjorkland told CBS News. "She's actually even thrown up so violently that she's lost teeth."
The Cut has reached out to Novo Nordisk and Eli Lilly for comment and will update if we hear back. In a statement to the Hill, however, Novo Nordisk noted that gastrointestinal issues are "well-known side effects" of semaglutides, but said that because "patient safety is of utmost importance" to the company, it is "continuously monitoring the safety profile" of its products. Eli Lilly also told the outlet that it "actively [engages] in monitoring, evaluating and reporting safety information."