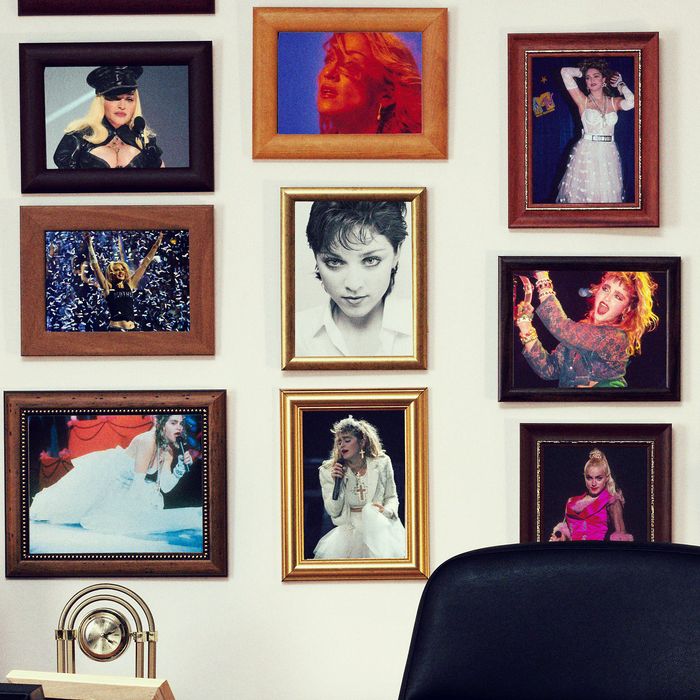 Photo-Illustration: the Cut; Photos Getty Images
In 2007, Stuart Hall, who helped found an academic field called cultural studies, was over it. "I really cannot read another cultural-studies analysis of Madonna or The Sopranos," he said. It was a half-serious jab, but he had a point: There was an unbelievable amount of scholarship on the woman who remains, 40 years after her debut, the foremother of the present-day pop star.
Hall spent his life publishing work that asked people to take stock of their relationships to pop culture; he'd thought a lot about how to write social-minded criticism. Despite his exhaustion, Madonna's career and Hall's vision of a radical cultural-studies field were tightly related. They emerged around the same time, and their collision not only changed academia but took on a vaster life of its own, forging a new ambivalent vocabulary for fans (and armies of internet-culture writers) to think about pop.
Almost as soon as she began releasing music in the early 1980s, Madonna became a target, an inspiration, and a hinge point for cultural criticism, burdened with overwhelming symbolic weight. An entire generation of scholars viewed her as the contradictory embodiment of a distinctly postwar mass culture: inflammatory and traditional, outside and inside, preternaturally mutable, a familiar American protagonist — Horatio Alger, if he slayed — who nevertheless posed a threat to the status quo.
As she celebrates her 65th birthday this year, and approaches a capstone tour scheduled to start in October, she keeps toying with her superfans and winding up her critics. While Marxist, feminist, queer, racial, ethnic, and religious readings of her work multiplied in the '80s and '90s, Madonna practiced, in some fashion, the criticism that she herself was subjected to, recontextualizing popular imagery and symbols, like Marilyn Monroe. Academics argued that she went on to change pop music in part by construing the self as episodic and ruthlessly, unendingly malleable. Politically, the trope cuts both ways: To make oneself has meant to hew to the acceptable and to chafe against it by imagining a different way of life.
This is all very easy to say now that the trench warfare in the Battle of Poptimism is over. But in the '80s, stanning and scholarship were still counterposed. Detractors within and outside the academy resisted the transition, poking fun at scholars for self-indulgence and a perceived lack of rigor.
The best writing about Madonna concedes that she's impossible to resolve. Recently, I cracked open the 30-year-old magnum opus of academic deep dives on her, The Madonna Connection. Published in 1993, it reads like a guidebook to the next three decades of celebrity culture, full of political inkblot tests, limber meaning-making, and histrionic interpretive leaps. It's a fun book, even if at times I felt like I could hear a chorus of phantom '90s scholarly detractors, in their moth-bitten tweed and Coke-bottle glasses, rising to admonish, "Why are you reading this?" In part, I'm interested because Madonna is my first memory, a kind of heritage, an introduction to sensory experience: I'd ride in the back seat of my mom's car and listen to "Holiday" on repeat, those bright '80s vocals recalling the merry chirps of Eisenhower-era bubblegum. To know Madge in the aughts and 2010s was to hear Britney Spears, Beyoncé, Lady Gaga, Rihanna, Nicki Minaj, and Katy Perry trace a genealogy back to her, the Queen of Pop. I wanted to understand how a person becomes an ideogram.
From the beginning, Madonna inspired copycats. When the Virgin Tour stopped in New York City on June 6, 1985, she'd already been famous for well over a year, having told Dick Clark in January 1984 that her New Year's resolution was "to rule the world" and, in September of that year, during a performance of "Like a Virgin" at the first-annual MTV Video Music Awards, having flashed the TV audience in her canonized diaphanous wedding gown. Ahead of the New York concert, Macy's erected a pop-up shop: Madonna Land, the site of a look-alike contest in honor of its namesake. Teenagers in fingerless gloves, leggings, teased side-ponys, and slouchy, off-the-shoulder tops descended on Herald Square in the piss-afflicted summer heat. Over 100 tristate-area girls competed; Andy Warhol served on the judges panel. The winner of two tickets to the Radio City Music Hall concert was an astonished 16-year-old, JeanAnn Difranco (or maybe Gina Difranco; local-news segments used both) of Queens: "I'm very shocked. I'm still in shock. I don't believe it!"
Madonna "is the only one we can look up to nowadays," said another fan at Macy's, a pair of Wayfarers on her nose, a ragged scrunchie lost in her unyielding mound of auburn hair. "She doesn't condemn femininity."
Earlier that spring, she played a flighty, resourceful drifter in Desperately Seeking Susan opposite Rosanna Arquette. "Material Girl" dominated the charts, supplemented by a music video in which Madonna cosplayed as Monroe in pink peau d'ange and diamonds. Her lacy, layered outfits; dye job; and mystical air of Crucifixion–on–the–Lower East Side encouraged imitators like those who entered the look-alike contest at Macy's Herald Square. In a May 27, 1985, cover story for Time magazine, the journalist John Skow observed, "Such getups somehow suggest the '50s, now conceived on the evidence of old Marilyn Monroe movies to have been a quaint and fascinating though slightly tacky time, rich in flirtatious, pre-feminist sexuality." Her art would only get bolder and more confrontational.
That Time cover — the imperial arbiter of American monoculture for much of the 20th century — is now a footnote to a footnote in her life. Madonna would become one of the most-studied, most-written-about figures in U.S. cultural history. The press called her '80s and '90s interlocutors "Madonnologists" and their flowering discipline "Madonna studies." They wrote books and journal articles like "Living to Tell: Madonna's Resurrection of the Fleshly," "Justify My Ideology: Madonna and Traditional Values," and "The Making of Matriarchy: A Comparison of Madonna and Margaret Thatcher." There were academic conferences about Madonna's place in gender studies and media studies and a paper sketching out "a psychoanalytic view on Madonna's music videos" at the University of Leipzig.
Today, it's uncontroversial to position the pop star as a coatrack for American mythmaking, racial and gender politics, identity, and occasionally even the history of capitalism. UC Berkeley has an upcoming lecture course on Minaj, subtitled "The Black Barbie Femmecee & Hip-Hop Feminisms." In 2010, the University of Virginia offered "GaGa for Gaga: Sex, Gender, and Identity." A 2022 class at New York University looked at girlhood, prodigies, entrepreneurship, and whiteness vis-à-vis Taylor Swift's career.
We can follow that trend back to Madonna. Her reception coincided with and was amplified by a sea change at American and British universities in the Reagan-Thatcher '80s that made her a perfect case study. A certain triangular relationship between entertainment, the media, and the academy was forming, marked by one defining question: What's the point of pop?
It started in England when Marxist sociologist Stuart Hall became director of the Centre for Contemporary Cultural Studies at the University of Birmingham in 1969. The cultural-studies approach was founded five years earlier, but it really took off around the time Thatcher was elected and "populism" became salient, contested terrain. Having grown up middle class in Jamaica and encountering metropolitan England in his early 20s, Hall fixated on contradiction, dislocation, feeling inside and outside.
Cultural studies was an expansive mode of interpreting pop culture, allowing Hall to propose that pop wasn't just a corporate pacifier. Instead, it could be an elaborate, ambivalent plait of artifacts that each of us routinely used to understand ourselves, to make meaning, and even to subvert the social order. In other words, projection could be generative, up to a point. For writers interested in subjectivity and rebellion, Madonna's electromotive, Americana-laced iconoclasm — orgies, flaming crosses, pretending to masturbate onstage and risking arrest — was a thrilling place to look.
In 1981, while Madge was darting between Danceteria and the Roxy, recording solo after stints in rock bands and hustling to get her music played in nightclubs, Hall published "Notes on Deconstructing 'the Popular.'" Attempting to define pop culture, he argued that regular working people weren't "cultural dopes" or passive receptors of the culture industry's insipid transmissions. They accepted some aspects of ready-made pop culture, challenged others, and had mixed feelings about much of it, consuming and producing ideas in equal measure. If there was cynical manipulation inherent in pop, there was also latent potential. "The danger arises because we tend to think of cultural forms as whole and coherent: either wholly corrupt or wholly authentic," he wrote. Culture was always in motion; meanings were subject to change and refute one another. "This year's radical symbol or slogan will be neutralized into next year's fashion; the year after, it will be the object of profound cultural nostalgia," Hall said.
Cultural studies was always "working within shouting distance of Marxism," Hall said in 1992. In the '70s and '80s, feminism offered a more textured conception of power relations, a welcome intervention: "As the thief in the night, it broke in; interrupted, made an unseemly noise, seized the time, crapped on the table of cultural studies." Theorists like bell hooks used and recast the cultural-studies framework in their own writing.
What Hall regretted later in life — the reason he didn't want to read "another cultural-studies analysis of Madonna" despite his center's work on soap operas, TV news programs, and popular media — was the retreat of class from scholarship. Being a fan didn't have to mean sacrificing your critical faculties or a sense of history. Hall seemed frustrated that some critics focused well on their narrow slices of pop culture but neglected the social and political rootstocks. Without attending to the conditions that created a cultural artifact, you would lose the plot. "One of the things that cultural studies has taught me is indeed the importance of historical specificity, of the specificity of each cultural configuration and pattern," he noted in 1989. Hall suggested that writers and academics should hold culture and society, theory and real life, in constant tension.
Like Madonna's music and persona, her introduction to the college classroom became a culture-war issue. "Here are four years in which students have an opportunity to immerse themselves in the history of their culture," said the conservative critic Roger Kimball, "and to spend time dealing with things that they are bombarded with every day is a waste of time and money. Madonna is entertainment." The scholars who folded her into their syllabi were largely women like Ann Cvetkovich, who considered herself "a dedicated but somewhat ambivalent follower of Madonna." Her early-'90s class at the University of Texas at Austin situated Madge as part of a larger feminist, intellectual project studying "pop novels, movies of the Forties, [and] fashion magazines." This iteration of cultural studies, then, was about taking women's consumption seriously — a big reason for backlash from the white patriarchal academy.
Many of the academics who contributed to The Madonna Connection occupied similar ambivalent territory. Their interests would later come to define, and be stretched to the limits by, internet criticism. The '90s detractors and their descendants criticized the academic tendency to overanalyze, to reach for meaning, but it's exactly this freedom — a brazen interpretive horsepower — that animates these essays.
Some argue that Madonna discredited the postwar division of gender roles by relaxing binary distinctions altogether, effectively tiptoeing toward a new wave of feminism. "The postmodern is seen as opening endless spaces for the play of multiple selves and meanings," dissolving binaries and hierarchies such that "pleasure is found in the confusion of boundaries," writes Roseann M. Mandziuk.
Other authors address exchanges between the underground and the mainstream and how Madonna co-opted cultural practices from racial and sexual minorities. In an essay on "Vogue," Cindy Patton reframes the appropriation debate altogether: "To the extent that voguing simultaneously enacts and deconstructs race and gender, it might be that in crossing over, the white, middle-class, heterosexual club dancers are being signified on as they reenact the homoerotic and Afro-Latin resolutions of voguing." The music video was an energetic jumble of the dominant culture and subcultural customs, a winking pastiche that both collapsed and asserted difference — kersplat.
Still, others were more skeptical. David Tetzlaff's essay "Metatextual Girl" reads Madonna as the First White Feminist Girlboss, circumscribed by hard-edged market imperatives while flouting the Moral Majority: "The new economic conditions are not compatible with the old idea of the patriarchal feminine, and a new cultural address to the female work force must be created." Madonna: the glam viaduct between a drowsy New Deal order and stir-crazy neoliberal disruption.
If Madonna standardized the script for the reception of — and debates surrounding — pop stars, she also broke and commented on taboos with special impish aplomb. "Whether Madonna is good for feminism (or whether she is a feminist) obscures the discussion," writes E. Deidre Pribram in an essay about Truth or Dare and the Blond Ambition tour. "Rather, we must ask what she can elucidate (inadvertently or otherwise) about what it means to be a feminist in a postmodern era." Part of being postmodern meant a facility with style and surfaces. When she performed "Express Yourself," for example, Madonna's cartoonish, sawtooth Jean Paul Gaultier corset-bra-and-business-suit exaggerated and remixed gender. In the 30 years since, people have still wondered if their favorite pop star is a feminist and examine their style for political cues, but some of the subtext has been stripped from performance. Look to the activist wave of the 2010s and its more earnest pop customer service: Beyoncé's "FEMINIST" sign at the 2014 VMAs, for one, Swift's "You Need to Calm Down" for another, dusting their audiences with wan words of affirmation. But then, Madonna has also pandered plenty.
Her forebears and contemporaries, like David Bowie, Grace Jones, Janet Jackson, Boy George, and Prince, experimented too, trying on allusions and sexual expressions for size — but they weren't enclosed by quite the same membrane of putative conservatism. A white midwestern Catholic schoolgirl with attitude, Madonna Ciccone took a cab to see Times Square and got fired from Dunkin' Donuts for squirting jelly at a customer, later forcing her way into the East Village arts-and-party circuit of the New Wave '80s. Hers was a bootstraps-y American creation myth whose whiteness and traditionalism actually supplied some of its insurgent energy. These tensions, more than anything else, run throughout the scholarship on her.
More recently, people are upset about Madonna's age and appearance. In 2021, the right-wing podcaster Ben Shapiro's trad sister, Abby, posted an image of Madonna, with long platinum middle-parted hair, splayed on a white bed in a tight black bodysuit, fishnets, and red bottoms, next to a photo of a demure Nancy Reagan with her husband, kids, and grandkids: "This is Madonna at 63. This is Nancy Reagan at 64. Trashy living vs. Classic living. Which version of yourself do you want to be?" But Madonna has never clung to a traditional rubric of femininity so much as rebelled against an even gnarlier paradigm.
The changes she wrought, and the fascination she drew, went beyond, or maybe beneath, cultural criticism, drilling down to the real germ of culture: the self and the other. Madonna is serialized and picaresque, and her work makes that porousness explicit. Other artists (the Beatles, Elvis, Prince) also evolved, but few were as self-conscious and cheekily referential when they did. First other pop stars, then everyone else, conceived of their own "eras," "vibes," the episodic teeter-tottering of the self, enshrining the postmodern "image" as the premier marker of identity. Sure, it was good business sense — a parade of novel, marketable selves — but that kind of self-creation has also been sincerely generative for minority groups puzzling through power structures. This is why Hall wanted people to resist the impulse to think of every cultural form as "wholly corrupt or wholly authentic." Madonna illustrated more starkly than anyone in her cohort that pop is ambivalence incarnate.
I finished The Madonna Connection shortly before Madonna's hospitalization in June. This quasi-mythological figure — adored, derided, and mined for meaning — was still just a person. Suddenly the symbolism meant nothing and everything. Nothing — because what does it matter in a crisis? — and everything, because it gave us a paper trail of delight and equivocation, evidence that someone had cared.
A form of discourse that advocates for pop music to be taken as seriously as rock. Pop won, and we're living with the consequences, good and bad.
Styled by Maripol.
It was Hall who coined Thatcherism, a neoliberal economic project but also, for him, a world-altering cultural tremor.
Noted Madonna hater.
Feminism, appropriation, and symbology.
Inspired by Isaac Julien's groundbreaking documentary Looking for Langston.
Beyoncé performed "***Flawless" in front of a larger-than-life "FEMINIST" sign at the 2014 MTV VMAs. The song sampled Chimamanda Ngozi Adichie's "We Should All Be Feminists" speech.
Featuring the lyrics "Why are you mad? / When you could be GLAAD?"
Within a day, someone had dug up an old Village Voice article — which cites Kitty Kelley's Reagan biography — about the former First Lady giving head in the back lots of Old Hollywood. A "throat goat" was crowned.