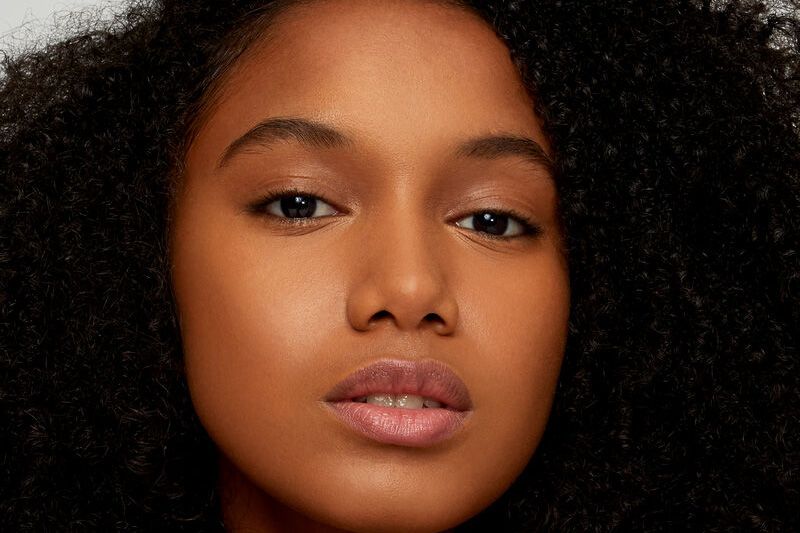 Photo: Clé de Peau Beauté
There are certain things in life that are worth a maximum level of effort. Securing Beyoncé tickets without the help of greedy resellers is one. Finding an apartment that you can afford that also doesn't look like a lightless dungeon is another. But achieving a flawless complexion that's free from any dark spots or pesky breakouts is a task that is often best left to the skinfluencers of the world. The reality is that hormones, pollution, and dirty martinis can all wreck your skin even if you've diligently followed a five-step skin-care routine since you were a teenager. That's why a few targeted makeup products are invaluable to help take your complexion from irritable to immaculate, even if your skin is deciding not to cooperate before that big meeting or first date.
Of course, makeup that barely looks like makeup is easier said than done. And as much as we all wish it were as simple as slathering on a thin layer of tinted moisturizer in ten seconds flat, you also don't need to succumb to an hour-long ordeal in front of your bathroom sink. According to celebrity makeup artist Jo Baker, there is a happy middle ground for those of us who would rather keep our beauty routines as effortless as humanly possible and still end up with skin that strangers envy.
Prep Your Skin
First, it's all about managing your expectations and realizing that your skin should look like, well, skin. "Skin is so different for every single person," Baker says. "For glass skin that we all love, it's about the texture being smooth and healthy versus 'flawless.' It does require more coverage but you can use certain products to achieve that look."
Then it's on to skin prep. If you're in a colder climate, your skin-care products should be heavier with more of a creamy texture to ward off dryness, and for warmer weather, it's wise to veer toward oil-free moisturizers and lighter serums and lotions. "I always take into consideration the type of event they're going to as well — will it be indoor in AC or will it be outdoor in the heat?" she says. Take stock of your day and where you'll be traveling and coordinate your products to match the environment.
Disguise Pigmentation
Whether melasma, age spots, or post-inflammatory hyperpigmentation, dark spots are one of the top skin-care concerns among people of all skin types and tones. Treating these spots is often a long and involved process between patient and dermatologist, but disguising them with makeup to fake a flawless complexion is a relatively straightforward process.
As Baker explains, "If the hyperpigmentation is distracting, say on the upper lip area or by the eye and it's making your eye look really shadowed or sunken on one side, then I would use an orange-based, thick concealer, like Dermablend, and then a full-coverage concealer on top to get that natural, beamy skin texture back. It's a two-step process — one to cover and two to regain skin texture and luminosity."
However, if your hyperpigmentation is more subtle, she says that you can actually embrace the spots by adding in extra freckles with a brow pencil or eyeliner. Remember that "perfect" skin doesn't mean it's free from all pigment, and enhancing some of those darkened areas can give your skin more of an authentic finish. Don't stress — no one is 100 percent unblemished!
Camouflage Breakouts
Even the world's top supermodels get pimples from time to time, so when a particularly ill-timed breakout threatens your smooth, dewy complexion, prep and disguise like Baker readying her celebrity clientele for a red carpet appearance. "I use BAKEUP Daily Wipe Out on everybody," she reveals. "No matter what your skin type is, if you're breaking out or just need a refresher, I start everyone's face by giving them a micellar water wipeout so that I know their skin is pH-balanced. It's amazing for sensitive skin and acne-prone skin."
She follows this gentle cleanse with the Bioderma Sebium Pore Refiner for a boost of moisture that also minimizes excess shine. "When people have breakouts, I really like to use this as the pre-makeup prep because it helps control the oil on the skin's surface, allowing the skin to feel clean, hydrated, prepped, and ready for makeup without any additional excess oil or moisture." To use, apply the cream to your T-zone and around the nose, especially if you tend to get greasy or shiny in those areas. "It really does help to keep the skin fresh and oil-free, and if you have breakouts, it's critical."
Follow your skin prep with your choice of oil-free foundation (if you like evening out the rest of your face, but if not, you can skip this step) and a full-coverage concealer, but only to the spots that need it. "I love the NARS Radiant Creamy Concealer or Charlotte Tilbury Full Coverage Radiant Concealer to get that spot application coverage," Baker says. "It's really about getting the coverage in those areas and not all over the face — just where you need it." Not only will this help your makeup look more natural but also cut down on the time you spend in front of the mirror.
Luminize and Brighten
Once your base is set with foundation and concealer, going back in with blush can help you fake the illusion of healthy, flawless skin. "If someone has problematic skin with acne or hyperpigmentation that makes the skin look blotchy or uneven, once you get that base layer set, you can blot a really nice cream blush on top," Baker says. "You'll get the coverage from the concealer and then you get that light, sheeny, fresh-feeling blush that makes skin feel dewy and not over-caked." She recommends a cream blush like ILIA Multi-Stick Cream Blush (Tenderly is her go-to shade) to keep your complexion dewy and to always apply with a beauty sponge so your concealer stays exactly where you want it. Finish up with a some mascara and a swipe of your favorite tinted lip balm and you're ready to face the day with an enviable makeup look by the time your morning coffee is finished brewing.
This advertising content was produced in collaboration between Vox Creative and our sponsor, without involvement from Vox Media editorial staff.