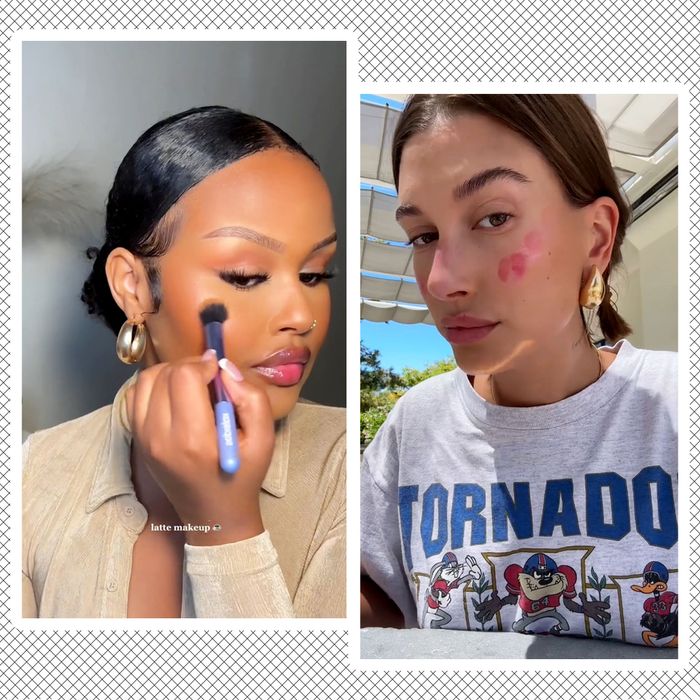 Photo-Illustration: by The Cut; Photos: @haileybieber, @kaadijaa/TikTok
TikTok has undoubtedly become the home of beauty trends. It seemed to peak last year when Hailey Bieber launched her skin-care brand, Rhode, and expressed her desire for yummy skin that resembles a glazed doughnut. "I want someone to want to take a bite out of my skin," Bieber told the Cut a few months ago. "I want you to want to bite me because it looks so delicious that you can't resist." And while we don't endorse cannibalism, it seems TikTok is perpetuating the use of food adjectives to describe skin. The latest: strawberry makeup and latte makeup.
Normally, when I think of strawberries, I immediately picture a blended smoothie, maybe even a dessert, but thanks to TikTok, now I'm thinking of a flushed-out face. And instead of a creamy caramel latte on a chilly fall day, bronzy makeup with brown eyeshadows and a crisp contoured face come to mind — quite the oxymoron. What do these trends even mean?
What Is Strawberry Makeup?
Let's think of a literal strawberry, vibrant red with small seeds. Strawberry makeup isn't far from that: no foundation, a red or natural nude lip, pink flushed cheeks, and faux freckles (that mimic strawberry seeds). For the past few years, blush has made a big comeback on the red carpet and in real life with viral products like Rare Beauty's Liquid Blush and the Patrick Ta Blush Duo. So is strawberry makeup just our newfound obsession with blush rebranded? Or are we so intrigued with the idea of our faces being edible that it just feels right to name a new makeup trend after a fruit? Only last year, "cold-girl makeup" was trending as a similar technique, a flushed-out face with vibrant blush, sans freckles.
To achieve this look, try Freck Beauty's faux-freckle pen, created for those who want to add freckles in a natural, buildable way. To layer on the blush, opt for a highly pigmented powder like Haus Lab's Blush, which gives every skin tone an intensely flushed finish.
What Is Latte Makeup?
This bronzed, golden, or deep-brown look is often used to contour the structure of the face. (Some creators with deeper skin tones have called their attempt at the trend "espresso makeup" since they use deep browns.) Similar to strawberry makeup, this look doesn't feel like anything new. Black girls have long been sitting in makeup chairs requesting "soft glam" makeup, a bronzy look that complements brown and golden complexions.
For latte makeup, reach for your most coffee-color products, like Armani Beauty's Bronzer Drops, or an eyeshadow palette with rich browns, like Makeup by Mario's Master Mattes.
It's also okay for skin just to be skin and makeup just to be makeup. Wanting to layer on the blush is fine without having to nickname it. But that's not enough for TikTok, so in the meantime, we'll just sit back and wait for the next beauty "trend" to come along.