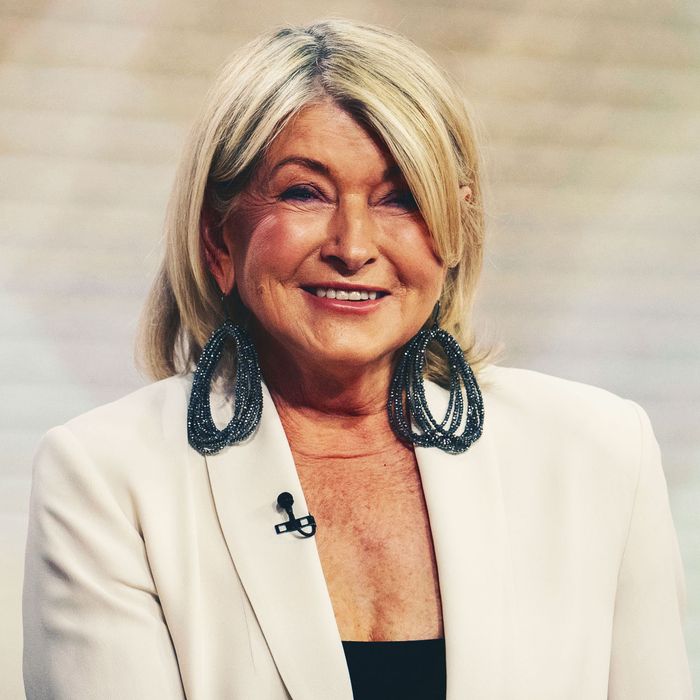 Photo: Nathan Congleton/NBC
Martha Stewart has never hidden her love of life's excesses from us — be it exotic animals, extravagant décor, or lush cocktails — but on Monday, she took things to another, even more ridiculous level when she shared that, while on a cruise from Iceland to Greenland, she and her fellow cruisers "actually captured a small iceberg for our cocktails." She is actually serious, too.
On Instagram, Stewart posted an image of herself on the cruise, cocktail in hand, fjords in the background; another photo showed her fellow cruisers with filled Champagne flutes; and another photo had two huge chunks of ice on a large black cart. Her Instagram followers immediately took issue with both the use of the unusual ingredient and the fact that Stewart was even on a cruise, calling Stewart "tone deaf" and "out of touch."
One person commented, "Martha I love ya. But weren't you just talking about climate change with your wash out on your driveway in NY? Melting icebergs for a cocktail surely won't help. I'm not even going to talk about the boat you're on and how that can't be good for climate change either." Another joked, "If you can't find fresh icebergs for your cocktails store bought is fine."
Swan Hellenic, the cruise company, ironically has a page dedicated to sustainability on its website, where it states that its cruises are some of "the most sustainable choices for anyone looking to explore our beautiful planet." Days before going on the cruise, Stewart told People that she would consider posting one of her now-infamous thirst-trap photos while on the trip, saying, "I'm leaving in a couple of hours to go to Greenland, so I doubt I'm going to be doing any thirst traps there. But, you never can tell. Maybe there'll be a polar bear in the background." Martha, please stick to polar-bear snaps.