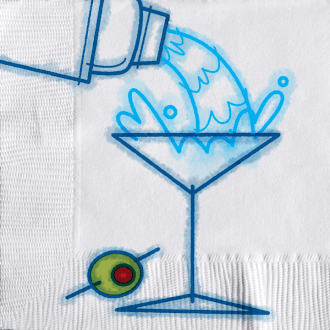 On Tuesday afternoon, hundreds of normally black-clad New Yorkers flocked to Queens in their preppiest pastels for the second session of the U.S. Open Tennis Championships. While the pungent stench of marijuana was said to be wafting over the stadium, Amex cardholders were sequestered into members-only lounges, some of them watering holes for the elite club of invite-only Amex Black Card holders. These secluded golden bubbles allowed them to soak in the day's matches or, as was more often the case, the luxury perks of their hundreds of thousands' worth of Amex expenditures and $5,000 in annual dues.
Unsurprisingly, almost no one seemed to be watching tennis. In one lounge, non-cardholders played glow-in-the-dark tennis on miniature courts, minted their own NFTs, and submitted themselves to cryotherapy, closing their eyes as technicians blowtorched their faces with liquid nitrogen. (I witnessed a child do multiple rounds — "May improve collagen production," a sign informed.) In a members-only lounge with views of Arthur Ashe Stadium, a bar and buffet kept guests too busy to pay attention to the matches.
Clothes
If you didn't come dressed in Ralph Lauren, don't worry — there was a store on-site. In the box seats outside of one lounge, men wearing striped polos and tennis hats rubbed Banana Boat onto their faces and thighs. More than a dozen women appeared to be in on some kind of black-dress-white-sneaker memo, and if you didn't bring a cardigan to tie around your shoulders, why bring one at all? Eight out of ten Honey Deuces.
Celebrity Esteem
The A-list celebrities who had emerged for Coco Gauff's very tense match against Laura Siegemund — the Obamas, Oprah Winfrey, and Anna Wintour, to name a few — were nowhere to be seen. Instead, this seemed to be a strictly C-list turnout: I heard actor Jason Biggs (best known as Jim in American Pie) was in the crowd, as well as ER's Julianna Margulies. I guess if you want to celebrity-watch, don't go to the U.S. Open on a Tuesday afternoon.  Four out of ten Honey Deuces. 
Food and Drink
Platinum and Centurion Card members noshed on dishes curated by chefs Cédric Vongerichten and Michael Solomonov, executive chef–partners of the Centurion Lounges at the Philadelphia International Airport and La Guardia. Because I have never set foot in either, I ate everything offered by these arbiters of luxury-airport food: Mediterranean-style chicken-and-rice, salmon tartare on gem lettuce, roasted maitake mushrooms and pita with a disproportionate amount of Solomonov's creamy and buzzed-about hummus tehina. The cocktail menu included an Aperol spritz–esque Centurion spritz; Lavazza espresso martinis; and, of course, Honey Deuces, the event's signature cocktail of vodka, Chambord, lemonade, and a spear of ball-shaped honeydew melon. Nine out of ten Honey Deuces.
Music
While the ambient lounge music was more or less inaudible, attendees sitting in the box seats listened to the stream of mid-2010s indie tunes between matches, as well as other random tracks, like Janet Jackson's "All for You" and Rihanna's "Please Don't Stop the Music." Ten out of ten Honey Deuces.
Conversation
Lounge after lounge, I was hard-pressed to find anyone discussing tennis. Two men sipping Honey Deuces on a lounge sofa captured the complete lack of interest in the proceedings best when one said, gazing into the stadium, "I'll just sit here and watch whoever." Nearby, two white-clad women drinking Arnold Palmers expounded on the ease of Mounjaro injections. "There's four tubes, and you just—" one explained, pantomiming violently stabbing herself in her left flank. "Ah," the other woman nodded. Seven out of ten Honey Deuces.