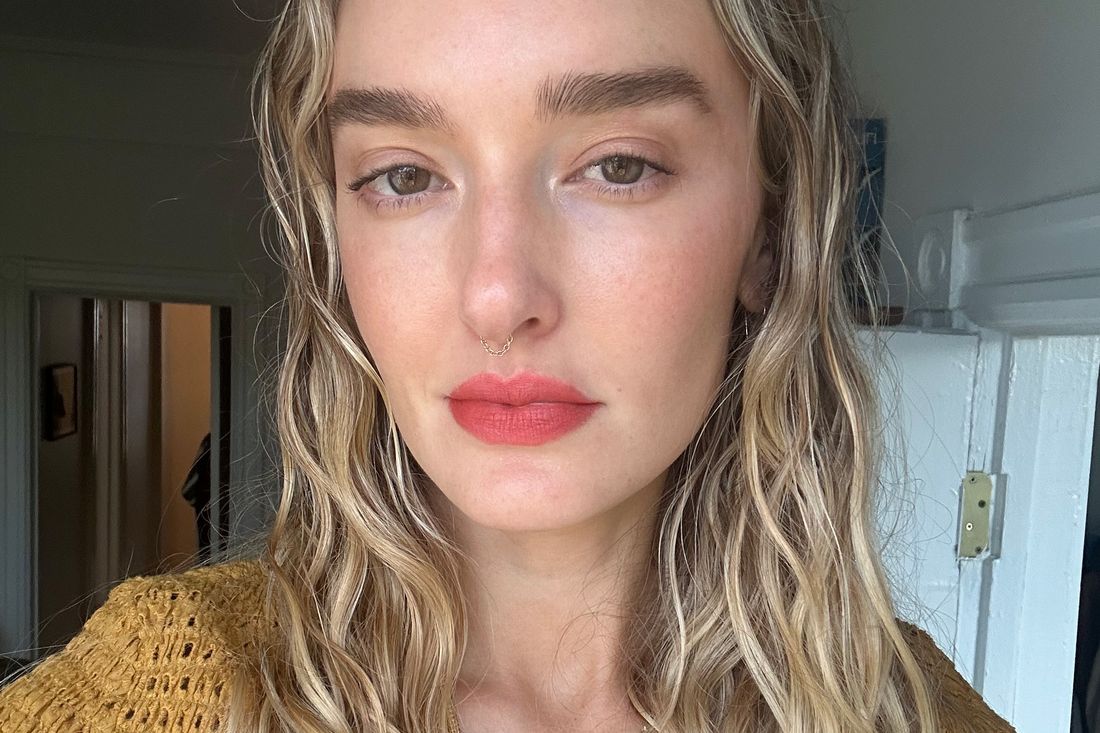 Despite coming of age in the late '90s and early 2000s when a blurred matte complexion was all the rage, I've been a devotee of ultra dewy skin for as long as I can remember. I credit my mother, who to my recollection has worn foundation a grand total of one time (it was my doing, for my sister's wedding), so my general skill set with these types of products was rocky from the beginning. Skin-care above cosmetics was always the emphasis, and if any complexion products were used, I typically stuck with targeted concealer that let my natural dewiness shine through. Now, as a beauty editor for the past decade, I've witnessed the ebb and flow of makeup trends, and I'm well aware that a matte look is making a triumphant return to the fray. Who would I be if I didn't give the new soft matte trend a try, especially given all the enticing new foundation options on the market?
In order to keep my chronically dry skin in check with a matte makeup look, skin prep is essential — you don't want flakey patches popping up halfway through the day. Per celebrity makeup artist Emily Gray's advice, I kicked off my matte journey with a hydrating sheet mask (she swears by Dr. Jart+ Ceramidin Cream Infused Masks), and a hydrating serum, like COSRX Advanced Snail 96 Mucin Power. Then a heavier moisturizer — I went with SkinCeuticals Triple Lipid Restore — to lock in hydration and provide skin with the ideal base for a mattifying foundation. If, however, your skin is on the oiler side, a lightweight moisturizer like Uncommon Beauty Enhanced Daily Water Cream, will keep your foundation from slip-sliding all over your face. And since my skin leans super shiny after I use moisturizer, I spot treated my T-zone and the sides of my mouth with the WARE Beauty PoreBoy Mattifying Pore Minimizer Stick.
Next up is the foundation itself, the Revlon ColorStay Full Cover Foundation, and while I hoped it would be as simple as slathering on a tinted moisturizer (my go-to for special occasions), Gray reveals that there is a bit more finesse involved with a matte product. "There is definitely a specific application technique that I use for matte foundations rather than more dewy ones," she explains. "I prefer using a flat brush, like My KitCo's 0.16 My Smoothing Concealer Brush, to apply the foundation to the face, then following with a dense foundation brush, like Rephr's 17 brush, to buff out."
Matte products do tend to dry more quickly, so time is of the essence. Gray adds that it's best to work in small sections throughout the face to ensure you have plenty of time to blend while it's still pliable. I used a pea-sized amount of product on my cheeks and forehead, and then another two drops for my T-zone and jawline, being sure to buff into my neck for a seamless finish. Luckily, since the formula is more of a liquid rather than overly creamy, it's extremely forgiving when you blend with your brush, even for a foundation novice like me. I also found that since it's more of a full coverage formula, I didn't need any additional coverage for my undereyes with a concealer, but if a breakout were to enter the chat, a similar matte formula would be ideal.
To add more dimension and help my cheekbones pop, I followed up with a powder blush rather than my usual cream formula (Gray suggested sticking with powders so that the matte finish is cohesive for all of your products). The Hermès Rose Hermès Silky Blush Powder in Rose Pommette is the most gorgeous lit from within flush, like you just ran a mile and downed two liters of coconut water without ever breaking a sweat. A quick swipe of my fluffiest brush along the apples of my cheeks and around my temples gave my perpetually pale face some life. Then I went in with the Victoria Beckham Beauty Smoky Eye Brick in Tweed, using the lightest shade to cover my upper lid for a hint of warm clay color — nothing too intense, but ideal for a casual dinner.
This is when I desperately wanted to to add in plenty of highlighter — remember, I'm a devotee to looking like a human lightbulb — but in keeping with the matte theme, I reigned in my instinct and only added a dab of Chanel Beauty Baume Essential Multi-Use Glow Stick to the inner corner of my eyes. I followed that up with the Revlon SoFierce Mascara (after curling my lashes of course) for plenty of length and volume. Finally, a matte lipstick was a must to complete the look, and the Hermès Rouge Hermès, Matte Lipstick in Orange Boîte is my go-to for a lively summer shade. Plus, the formula is surprisingly moisturizing for a matte lipstick.
Since the makeup itself was already super matte, I didn't feel like I needed any sort of setting powder, but Gray suggested I finish with a fixing spray to lock everything into place. "I like melting all the powders together using a hydrating spray," she explains. "This prevents the matte look from being too cakey, dry, and heavy on the skin. I love Catrice's Prime and Fine Multitalent Fixing Spray — it's super lightweight, fine, and quick-drying." She suggests spraying your face until it's fairly wet and fanning with your hands to dry. Then I was ready to walk out the door.
Now, did I love rocking a super matte makeup look for a change? Generally yes, especially for summer days when sweat and grease get the better of me by the evening. I was pleased to find that my skin didn't feel too dry or itchy, even with using mattifying products and lots of powder formulas, but my complexion still ended up looking fairly dewy by the time my dinner was over. That wasn't an issue for me since I like that look, but if you want to maintain the matte look, an extra boost of mattifying powder might be necessary, especially in warm temperatures. Overall, it was fun to play in the matte arena for a change, but I think I'll stick with my go-to glowy makeup for the time being — unless I have an unexpected red carpet to walk and would rather not crack the camera lenses.
This advertising content was produced in collaboration between Vox Creative and our sponsor, without involvement from Vox Media editorial staff.