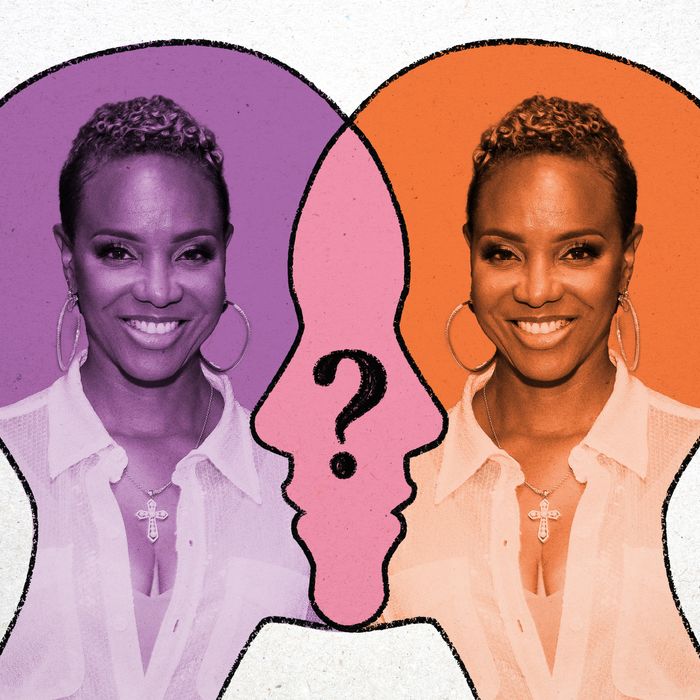 Photo-Illustration: by The Cut; Photo: Getty Images
When it comes to all-time legendary voices — see: the flow on her No. 1 rap song, "Cha Cha Cha," and her verse on Brandy's "I Wanna Be Down" — MC Lyte sits high atop the list. With over 35 years in the game (she released her debut single when she was just 16 years old), a W.E.B. DuBois Medal from Harvard, and two Grammy nominations, she's one of hip-hop's most decorated and recognized trailblazers. And now, the Brooklyn-born MC's latest project celebrates hip-hop's 50th anniversary by giving other seminal women creatives, executives, MCs, and more the chance to tell their stories in the Netflix docuseries Ladies First: A Story of Women in Hip-Hop, which was directed by Culture House Media founder Raeshem Nijhon and produced by Carri Twigg. "We were able to persevere on our separate missions as MCs, DJs, dancers, and graffiti artists, along with society coming into a whole new way of accepting and loving hip-hop to the degree that it's in everything," MC Lyte, one of the docuseries's executive producers, tells me over Zoom. "This project allowed the women in hip-hop to expose who they really are to the audience, what drove them to grab the mic, and what continues to drive them to stay in it and maintain it. Because the truth is — once you're in, it doesn't mean you're gonna stay in. We've seen many stories of people who have come and gone."
Bursting onto the scene with "I Cram to Understand (Sam)" in 1987, MC Lyte's lyrics put a spotlight on critical issues affecting the Black community, including the crack epidemic, misogyny, and racism. The following year, when she released her debut album, she became the first solo woman rapper to put out a studio album. And the firsts just kept on coming, with her being the first solo woman rapper to earn a Grammy nomination in 1993 and the first to have a single go gold that same year. Along with her eight studio albums, MC Lyte has been no stranger to both the big and small screens, as she's starred in over 15 films and acted in over 30 TV series.
This documentary comes at the perfect time in MC Lyte's storied and multifaceted career, as she has so much encouragement and guidance to give after all she's accomplished. And though there's so much to take from Ladies First, it's the way that each powerhouse gives flowers to someone else that feels most heartwarming — and many of those flowers deservingly land at MC Lyte's feet. "It feels fantastic," MC Lyte says about being named as many an MC's influence. "Just how I have shared Salt-N-Pepa, Sha-Rock, and Roxanne Shanté as the women who came before me and that they mean something to me. I know what it means, because no one rolled out of bed rapping. We all had to be inspired by someone, and I'm happy to be the one to give that to some young women who are trying to be heard."
Let's start with your preshow rituals — what's your routine for getting ready to go onstage?
I always check in with my energy and my flexibility from a physical standpoint. If anything feels a little stiff, I know it's because I'm dehydrated. I'm always flying, so it's important I drink enough water. I do that first and then I don't eat too much because I want to be able to flow and not feel tired. I've been performing with the same guys for shows forever. K-Rock and I started together, and I've been with my musical director for 20 years. There's not much we need to discuss besides the length of the show and a quick run-through of what we're going to perform. We're a well-oiled machine at this point. If we're given the time and we're not all coming from different places and sliding onto the stage like it's home plate, we do thank God and express gratitude for the moment. Every opportunity is not promised, so I'm very grateful and I like to stay in that mode.
You're a founder of Sunni Gyrl Entertainment — what's your No. 1 rule in business?
Just one? Because there's quite a few, but I'd say honesty and communication. If they're honest, someone will say to you, "I can't do that" or "I can do that." I remember my friend calling a lack of honesty "the illegitimate advantage," because you know something I don't, but you're asking me to be truthful and forthcoming.
What's your No. 1 rule when it comes to being the boss?
I'd still say honesty and communication, but being a good leader means I also have to be a good follower. I've gotta be able to listen to my team and get beneath the layers. Because a lot of us may talk, but I have to think about whether I'm clearly understanding what you're saying and the subtext of any potential issues. We do have a large team that spreads over the U.S., so it's really important that we get together often and talk out any hindrances there might be. I have to be able to put down the leadership hat and get into the nooks and crannies of what's happening with my team.
Something that really struck me in the documentary was the way so many of the artists are paying it forward. Many of you were the first, but you ensured you weren't the last. What's your rule for opening doors for others? 
This documentary serves as a push and inspiration for new women coming into hip-hop where they can see the stories. For as long as I've been doing it, you really, as an artist, have to take charge of the relationships you build within this industry. Everybody's being pulled this way and that way. But Rapsody and I make the choice to talk. Tierra Whack and I make the choice to talk, along with Lady London and Queen Latifah. Missy and Da Brat. It's a decision you have to make, and alliances are very important within hip-hop. For me, paying it forward has everything to do with that and paying it back. I do an annual show called I Am Woman: An Annual Celebration of Women in Hip-Hop at the Kennedy Center. We just finished the second installment, and I liked the idea of bringing sisterhood to the forefront of hip-hop, because it's needed. Why go through something when someone else has and they can share that experience? Because then you'll have the chance to make a better choice.
Paying it forward goes both ways too. That I give flowers to someone like Sha-Rock, who was the first woman I heard on the microphone. It's as important for her to tell her story in the documentary as it is for Kash Doll, whose entire career has happened with streaming. She has millions and millions of streams, and I don't know that life. And neither do many of us who were around before the internet. All of us can be stronger if each one teaches one.
I know so many people come to you and want to pick your brain. What's your No. 1 rule for giving advice? 
Well, you can only give as much as they can, because sometimes you can talk right through someone. I just try to meet someone where they are, and I only ask a few short questions to let me know if they're in reality. Because if you're here and you're grounded, I may be able to say something that you could really use. And if I feel like they're not, I just give them something that's not too heavy that they can hopefully take and make something with. So I'm really just gauging their level of comprehension.
I loved learning in the documentary that you went to an African-centered school growing up. What's your rule for educating ourselves on our history and where we come from, at a moment when our history is under attack? 
Never stop searching. You need the interest and curiosity, enough that they will move you to go learn. How many of us live in these metropolitan cities but we never go to the museums and visit the libraries? We often never take advantage of what's right here. So I want people to become aware of how our history is being taken away within our school systems. However, the information is still there to be digested, and there's the chance one day that if you don't carry the tradition on, that all will be lost. I was lucky enough to attend a school that really cared about Black history and wanted you to know because they wanted you to be the best human and contributor to society that you could be. And now it feels like the public-school system just churns students out, not even caring if they're able to contribute to society ethically.
We also need to keep communication open within the home. People are working so hard and they're not really having opportunities to talk openly and freely with their kids about everything. I would imagine after a hard day of work and school, many get into the house and either don't want to talk at all, because they've been talking all day, or you specifically want to address a particular topic. That doesn't leave the freedom to just talk about things as they come up. Kids often grow to have an affinity for the things their parents have an affinity for, whether that's music or culture. For example, I happen to know my mother's favorite artist is Al Green, and I listened to him growing up. I know a little bit about Al Green's history because of the love my mother had for him. So in that sense it's parents, too, and older siblings who can really open up that thirst for a child to know their history.
You're involved in so many projects and you've had such an incredible career. What's your No. 1 rule for taking care of yourself and recharging?
When I'm eating, I don't like to talk on the phone. I see people doing that, but I want the time to really taste my food. I want to feel like I've had a meal, and sometimes when you're talking or eating on the run, you don't feel full because you weren't paying attention. So taking care of myself means not only eating the right things and taking a break from social media (because I don't need to catch up with everything that's happening) but also sitting down, eating a meal, and connecting with what I'm putting inside my body. It feels comforting.