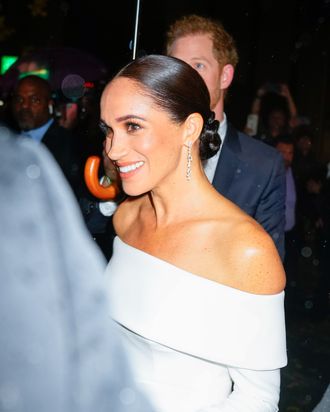 Last summer, Meghan Markle shared a big "secret" with the Cut: "I'm getting back … on Instagram," she teased, exciting her fans and irritating her haters. But over the next few months, the big reveal failed to arrive, and we largely forgot about it — until yesterday. On Thursday, "Page Six" claimed the Duchess of Sussex has potentially been lurking on the platform since approximately last August. According to the tabloid, she may be the owner of a public page with the handle @meghan, hiding in plain sight behind an unassuming profile photo of some pink flowers. The page has zero posts, has been around for a year, and is rapidly accruing followers: About 4,000, when we checked yesterday afternoon; over 35,000 this morning.
Markle, who turns 42 today, reportedly secured the @meghan handle in 2022, ahead of her podcast, Archetypes, dropping on Spotify. Just before going live with the account, however, she supposedly had a change of heart, and a source told "Page Six" that the handle has just been "sitting there" since. But now, the outlet's sources say, her page is "ready to roll out," despite no obvious change to the format that we can see.
Shortly after getting engaged to Prince Harry, Markle deactivated her personal Instagram account, which had more than 3 million followers. She also shuttered her lifestyle blog, the Tig, decisions she told the Cut required "a big adjustment — a huge adjustment to go from that kind of autonomy to a different life." She and Harry then joined Prince William and (now) Princess Kate on their account, @kensingtonroyal, before finally launching @sussexroyal in 2019. They gained 1 million followers within six hours but had to leave the handle behind when they left the royal family in 2020.
We don't know for sure whether @meghan is Markle or some random person now being deluged with notifications. But if Markle is reviving her Instagram presence like she's reportedly reviving the Tig, what might she post about? Would she let us see photos of her and Harry in their matching penguin onesies? Would she share her skin-care routine? Would she reveal the identity of the Montecito Mafia? Right now, only one thing is certain: If @meghan belongs to Markle, then it's notably less embarrassing than her husband's former finsta, @SpikeyMau5.