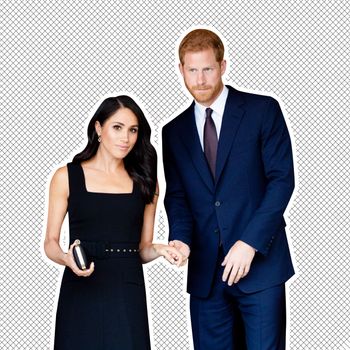 Photo-Illustration: by The Cut; Photo: Getty Images
Ever since Prince Harry and Meghan Markle left the royal family in pursuit of a peaceful California lifestyle, drama has somehow managed to follow them everywhere. From their in-law relations and tenuous remaining royal Windsor connections to their legal pursuits and professional commitments, many things seem to be meeting messy ends. And now, Sussex enemy No. 1, the Daily Mail, is attempting to bring their friend group into the fray, alleging that the demise of one alliance has given rise to a new clique: the "Montecito Mafia."
I'm sorry, what???
Over the weekend, the tabloid published a slew of confusing rumors about Harry and Meghan's social life, including a supposed feud between them and their (formerly?) close friends (?), Victoria and David Beckham. According to the Mail's sources, the Sussexes accused the Beckhams of leaking information about them to the press, leading to a major fallout between the two couples. In this unnamed person's telling, David is said to be "absolutely bloody furious" about the whole ordeal, which is exactly how I would feel if my so-called dear friends suspected that my wife and I, an equally famous and paparazzi-hounded duo, were running to the press with stories about their private life.
While I am hesitant to give much weight to the Mail's account of the social scene out west, I am hoping they are right about one thing: that the powerful alliance of rich neighbors currently padding Meghan's friendship résumé actually goes by the nickname "Montecito Mafia," as one "Hollywood executive" supposedly referred to it. That's a sinister moniker for a bunch of celebrities and celebrity-adjacent businesspeople brunching together, and I absolutely love it.
Who, exactly, belongs to this well-manicured syndicate, you're probably not wondering? Gloria Steinem, allegedly (though she actually lives in Manhattan) and also a "cosmetics tycoon" named Victoria Jackson, whose husband does marketing for celebrity makeup lines. Hollywood power agent and Entourage inspiration Ari Emmanuel, whose talent agency (William Morris Endeavor) signed Markle earlier this year, is also said to be a newcomer to the friend group, along with his wife, Sarah Staudinger, who designed a pink linen pantsuit that Markle wore to a Lakers game in April.
Other known associates of the Sussex familia, according to the Daily Mail: hairstylist Amanda Leone, photographer Misan Harriman, Robert F. Kennedy's daughter Kerry Kennedy, and Markle's Suits co-stars Sarah Rafferty and Abigail Spencer. Oprah and Gayle King are still around — though I am not sure we can confidently count them as mafiosos — plus a few other photographers and writers Markle likes. Meanwhile, certain other members of the group have allegedly been disappeared, so to speak: Katy Perry and Orlando Bloom are said to have "drifted" from the Sussexes, even though they are still their neighbors.
Again, these updates are almost definitely rumors and not accurate reflections of the Sussexes' reality. Still, regardless of who may be floating in and out of Markle's good graces, I cannot stop thinking about the concept of a Montecito Mafia. What do they do, beyond offing unsuspecting paparazzi operating on their turf? Is Gwyneth Paltrow their shadowy overlord? Is her Montecito Airbnb a front for their black-market holistic-oils business? Imagine being invited to a group chat named after a mob. Now that's an offer you should probably refuse.