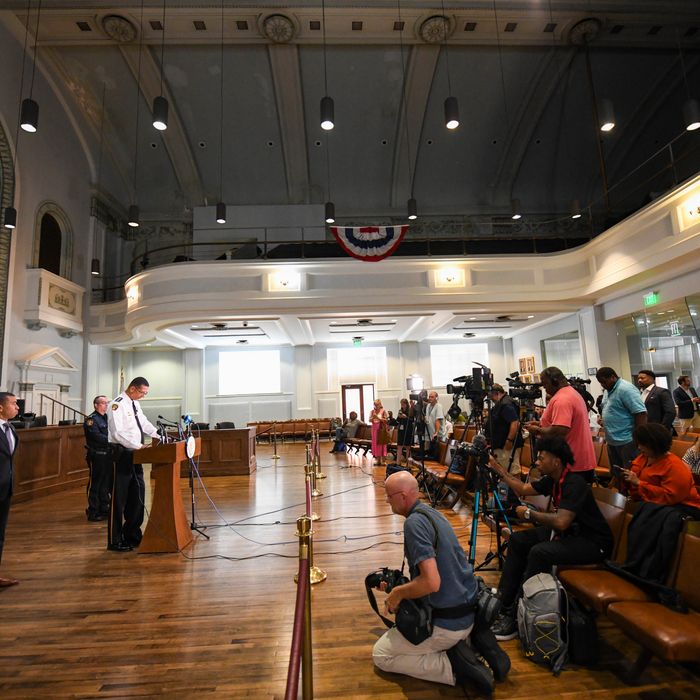 Photo: Julie Bennett/Getty Images
On August 5, Damien Pickett, the Black co-captain of the Harriott II riverboat, was trying to do his job when a group of angry white men attacked him on a dock in Montgomery, Alabama. The men reportedly parked their pontoon boat in the Harriott II's spot, and when Pickett tried to move it, they surrounded him. What began as a verbal dispute quickly escalated into a full-on brawl: Dozens of spectators punched, slapped, and kicked each other, while passengers on the idling Harriott whipped out their phones. Police eventually put an end to the fight, taking several people away in handcuffs. At least two people were taken to the hospital.
A visible racial divide among participants — particularly in a city with a long and often violent history of racism — struck a chord across the country, making the Montgomery brawl a fixture in headlines last week. And given the sheer chaos of the incident, which saw a folding chair smashed over multiple heads, it also got the meme treatment on social media.
Here's what we know about the brawl and where things now stand.
The brawl seemingly broke out over dockside parking.
As the Harriott prepared to end its cruise, it pulled up to the dock, only to find a pontoon boat in its spot. Lauren Spivey, one of 227 guests onboard, told CNN that the boat's captain made an announcement asking the pontoon owners to move it, but no one showed up, leaving the riverboat idling on the water. Pickett and his co-captain "did not want to touch these people's boat, but nobody came forward," Spivey said, so after waiting for 30 to 45 minutes, Pickett and another employee — a 16-year-old white boy — disembarked in a smaller boat and drove to the dock. According to The Guardian, Pickett told police in a written statement that, once they got to the dock, he moved the pontoon "three steps to the right" before two men came rushing toward him. Pickett reportedly said one of the men was cursing and threatening to beat him for touching the boat. That's where most of the recordings of the brawl begin.
The videos show Pickett, in uniform, beginning to untie the pontoon when a white man approaches him. Their conversation isn't audible but looks heated. In his statement, Pickett told police that the men claimed they were in a public parking spot; he said he explained that they were actually in a reserved city spot, telling them that in moving their craft, he was just doing his job. That's when one of them punched him, he wrote in his statement. Videos show that soon, another white man lunged at Pickett, hitting him in the face. The two begin fighting, and suddenly, Pickett is charged by several white men who beat him while pinning him down. "I went to the ground. I think I bit one of them. All I can hear, 'Imma kill you and beat you,'" Pickett wrote in his statement. He said that he "grabbed one of them and just held on for dear life." In a matter of seconds, onlookers intervened, trying to pull the mob off of Pickett. In some footage, one person can be seen diving off the Harriott and into the water, swimming to the dock to help the co-captain. Per the New York Post, he was later identified as 16-year-old Aaren, who, in a Facebook statement, said he merely did what he "was taught to do."
Though the bystanders eventually broke up the fight, the white men who started it just "got back on their little boats down there like nothing happened," Spivey told CNN. "And the whole time the Harriott is still slowly coming in sideways so they can dock." As the riverboat pulled in, crew members and guests leaped onto the dock and joined the fray: Video footage shows many new participants grabbing and hitting whoever they can. At least one person is shoved into the water; one Black man whacks two people, WWE style, with a white folding chair that seemingly came out of nowhere. Since the incident became news, the white chair has taken on a life of its own online, with people making white-chair merch and memes.
A number of arrests have been made, but more are "highly likely."
On Tuesday, police said Pickett and the teen who took him to the dock were the victims of the attack. Montgomery Police Chief Darryl Albert told reporters at a news conference on Wednesday that Allen Todd, Zachary Shipman, and Richard Roberts, three of the white men involved in the fight, had been charged with third-degree assault and were in custody. They all posted bond. The next day, a 21-year-old woman, Mary Todd, was also charged with third-degree assault, while more arrests are "highly likely," Albert said.
Reggie Ray, the man wielding the folding chair, turned himself into the police on Friday and was charged with one misdemeanor count of disorderly conduct. He was reportedly held in the municipal jail before posting bond that evening, and is "in good spirits," according to civil-rights attorney Lee Merritt, who is representing Ray and a few others implicated in the brawl. Meanwhile, a GoFundMe that appears to have been set up by Merritt is raising money to support those "involved in responding to the chaos at the riverfront." So far, it has raised more $260,000 "to offset the cost of certain damages incurred" during the brawl, which the GoFundMe notes was instigated by a "white mob." The money will also be used to help cover "medical bills, lost wages/earnings, professional services, travel, lodging and expenses." It is unclear if money from the GoFundMe was used for Ray's bond.
Police and Pickett say the brawl was not racially motivated.
Although some witnesses, including the mother of the boy who took Pickett to the dock, say they heard a racial slur being used by white men during the fight, police say Pickett told them he doesn't believe the brawl was racially motivated. "We believe what he is saying, and what he is saying is that he does not believe it was racially motivated whatsoever. If more evidence comes forward, if there's more proof that this leaned toward more of a hate crime, we will amend those charges and charge appropriately then."
Still, to many people — whether they view the incident as humorous or serious — the fight is just proof that in Montgomery, race and violence are often inextricable. "We're waiting to see where the investigation leads," the Reverend Rayford Mack, president of the Metro Montgomery NAACP, told the Washington Post. "In this day and time, the question always arises: If that co-captain of the boat had been white, would they have jumped on him then?"
"Knowing Montgomery's history, knowing all the civil rights things that we went through here in the city of Montgomery and what that means to the nation, we were very amped-up to get this right," Albert told CNN.
This post has been updated.