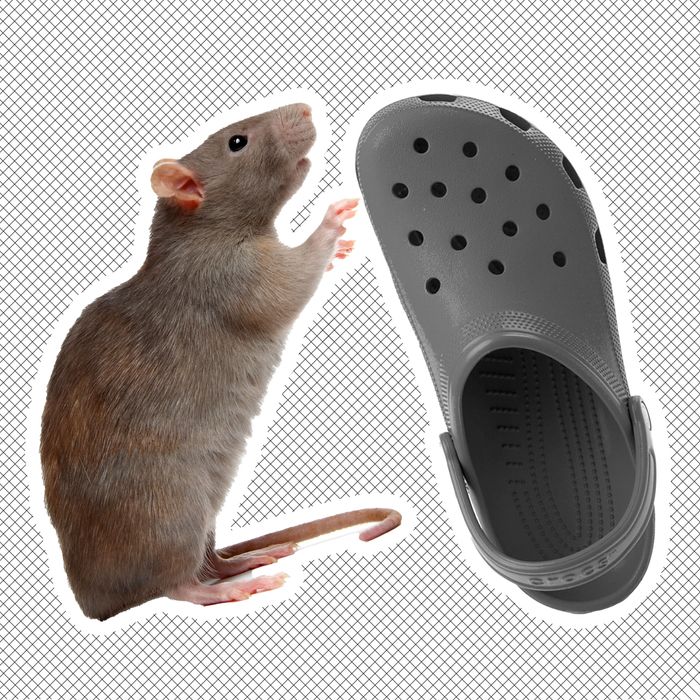 Photo-Illustration: by The Cut; Photos: Getty Images, Crocs
In the past five years, we have been haunted by Crocs popping up in places they shouldn't be. Those hole-riddled slabs of brightly dyed rubber have slithered into prestigious award shows; invaded the soft, vulnerable brain folds of Channing Tatum; and made themselves at home in the haunted house that is Balenciaga's HQ. And yet, the latest place Crocs unexpectedly made their presence known feels deeply appropriate: at an event devoted to rats.
Harlem played host to New York's first-ever Anti-Rat Day over the weekend, where recently crowned rat czar Kathleen Corradi delivered a rousing speech to rally the vermin-exterminating troops while the sanitation department offered demos for various rat-mitigation techniques. "Rats need food, water, and shelter to survive," Corradi proclaimed. "Today, we're going to cut off their food source and reduce their habitat."
That's all well and good, but the most powerful sound bite of the day came from Ruth McDaniels, a local resident who spoke with CBS during the event. McDaniels described "rats the size of Crocs just running up and down the street" in her neighborhood. "Like a Croc shoe?" she repeated, making sure the reporter was crystal clear on what she meant. "An average size 8, running up and down the street."
The accuracy of her simile is astounding. As someone who often finds herself grasping for words that properly communicate the sheer heft of New York's rat population, I am so glad McDaniels hit on such a distinct and vivid descriptor. These rats are not shoe-size, nor are they size-8-regular-shoe-size. They are size-8-Croc-size, comparable only to the freaky hybrid footwear you get when you try to make a breathable rubber clog. Can you think of a better thing to do with Crocs than using them as a ruler for our ever-growing rodents? Me neither.