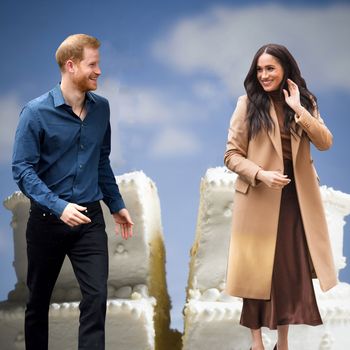 Photo-Illustration: by The Cut; Photos: Getty Images
Lately, the Duke and Duchess of Sussex have engaged in a series of what we in the biz call "whiffs." In May, Prince Harry and Meghan made a big to-do about a Manhattan car chase that ended up being more of a meandering taxi ride uptown. In June, they parted ways with Spotify, having produced only one season of one podcast during their three-year, $20 million deal. (Bill Simmons memorably called them "fucking grifters.") In July, the Daily Mail accused them of feuding with David and Victoria Beckham, of all people. And now, come Breakup Season, these PR and professional missteps have led the tabloids to question whether their marriage is on solid footing.
A source claimed to the dreaded Radar Online last month that Harry and Meghan are "taking time apart" in the wake of all the drama. "They're trying to figure out what hit them," the source alleged. "Harry doesn't fit in Meghan's tacky Tinseltown world." A source close to the Sussexes told "Page Six," however, that any rumors of a separation are bunk: "It's not true. It's literally made up."
In the past week, it seems Montecito's most famous couple has taken it upon themselves to prove just how made up the rumors are with a coordinated PR offensive on multiple fronts. Here is what they want you to know.
They have a fun, flirty relationship
Harry and Meghan coincidentally made the covers of both People and Us Weekly last week with sources close to the couple alleging that their marriage is fine — great, even.
"They're playful and flirty when they're hanging out," a source revealed to People. "They're not into a big scene. They prefer smaller group hangouts at home, karaoke, that sort of thing."
They also like going to dinner: The couple were photographed walking out of Tre Lune in Montecito last Wednesday, and according to People, they also frequently get takeout pizza from Ellen Degeneres's favorite, Bettina.
Karaoke? Pizza? Flirting? Doesn't sound like divorce is on the horizon to me. And in response to naysayers who claim Meghan is too bossy, a source close to the couple observed to People, "Meghan does seem to run the household and make the decisions, but it's not that [Harry] bends for her. It's just a dynamic that works for them, and maybe one that he needs after everything he's been through."
"They're a united front," another source told Us Weekly. "As far as they're concerned, it's Harry and Meghan against the world."
Got that? They are a united front, and behind that united front is a pizza-karaoke party you would be so lucky to be invited to.
They have a lot of exciting new projects in the works
Yes, Harry and Meghan's Spotify deal is over, and yes, they haven't managed to produce anything for Netflix besides a documentary about themselves … but according to sources, that's all about to change. A "Hollywood insider" told People that now that Meghan has signed with WME, the top agency "can actually put them in touch with actual filmmakers and creative people and producers and people who actually know how to make a TV show or a film." Actually.
As if to underscore this insight, The Sun reported this week that Harry and Meghan have optioned a romance novel, Meet Me at the Lake, for their first film adaptation for Netflix. The novel, written by Carley Fortune, was a New York Times best seller and follows a young woman whose mother died in a car accident. According to a source, "The themes of the book gripped the couple."
Also: Harry and Meghan are still hard at work on their philanthropic organization, the Archewell Foundation. Last week, they just so happened to release a video announcing a new venture: They have joined the advisory committee of the Responsible Technology Youth Power Rund, which according to People is a "new philanthropic initiative which has awarded $2 million in grants to youth-led groups working to make the technology ecosystem a more inclusive, equitable and accountable place."
The video is the couple's first official appearance together since the Ms. Foundation Women of Vision Awards in May, which preceded that unfortunate car chase. As you can see, they are now back on track professionally and philanthropically and also totally, actually in synch with one another.
They are not trying to distract you with Meghan's new possible Instagram account
Perhaps the most exciting, attention-stealing development in Sussex world over the past week has been the emergence of a new Instagram account: @meghan. There is no definitive proof that Meghan Markle is behind the account, but it surfaced just before her 42nd birthday on Friday. Now, who cares about divorce rumors when this could be the Duchess's first step toward relaunching The Tig? Markle fans now wait with bated breath for the first post. Hopefully it will be a tribute to her marriage, which is totally, 100 percent fine.
More keeping up with the royals
See All