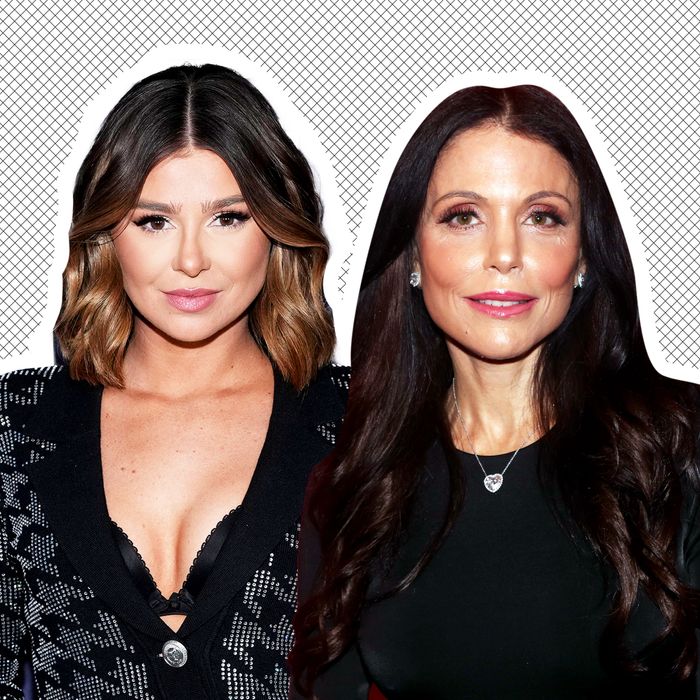 Photo-Illustration: by The Cut; Photos: Getty Images
It's been five months since the world found out that Vanderpump Rules star Tom Sandoval cheated on Ariana Madix, his partner of nine years, with the couple's close friend and co-star Raquel Leviss. News of the affair, soon named "Scandoval," shook the Bravo-verse, its stranglehold on social media roping in even non–Bravo viewers. By the end of the extended season and its three-part reunion in May, a number of things were certain: Sandoval was the villain while Madix and Bravo were the big winners.
Now, Leviss — who recently announced that she would return to using her birth name, Rachel — is finally ready to talk about all of it. For her first interview since checking out of an Arizona facility for "mental health and trauma treatment," as her rep told People, Leviss spoke with fellow Bravolebrity Bethenny Frankel on her podcast, Just B With Bethenny Frankel — a lengthy conversation split into three episodes and released over three days. The last segment dropped on Friday.
Throughout, Frankel — as the self-appointed ambassador for aggrieved reality-TV stars — provided a sympathetic ear, while Leviss seemed more concerned with clearing her name than with taking responsibility for the affair. Although she apologized to Madix, she was adamant that the two were never actually best friends. She used the podcast to distance herself from the rest of the cast, cement Sandoval's reputation as a sleazebag, and call out Bravo for capitalizing on the scandal at her expense. She also shared her plans for season 11. Here, the key takeaways from Leviss's interview, for those who haven't had enough Scandoval to last a lifetime.
Leviss confirmed that she's not returning for the show's 11th season.
Let's get this out of the way now. While there has been some back-and-forth in the tabloids about whether Leviss is returning for the show's next season, she confirmed — maybe intentionally, maybe not — to Frankel that she won't be coming back, even though Bravo asked her to return. The network, she said, wasn't willing to pay her as much as it does Sandoval and Madix, and also refused to cover the mental-health treatment she sought after season ten ended. "I was considering going back if I was going to be paid equally, because I feel like when you pay your employees I think it really shows how much you value them," she said.
She told Frankel that the addictive nature of reality TV initially made her want to return to the series. "You mentioned something about the addiction of doing reality TV and the way that they always dangle that carrot in front of you, like, 'Well, you need to tell your side of the story — otherwise, it's gonna be written for you,'" Leviss told the host. "And that's terrifying. So I almost went back just because of that."
Leviss downplayed her friendships with Madix and Scheana Shay
Bouncing off Frankel's theory that, on reality TV, people tend to form unlikely friendships as a way of creating alliances — "It started back with Survivor," Frankel said — Leviss downplayed her friendship with Madix, saying the two were not as close as the show suggested. Instead, she claimed, they were "acquaintances who became friends through the show." The notion that she betrayed her best friend by hooking up with her best friend's partner is "part of the narrative being written for me," Leviss told Frankel. "It's more salacious that way." She added that she and Madix "never had, like, a deep conversation," though "it's painful to think that I hurt her in this way because that wasn't my intention." But, she emphasized, "we were not best friends."
Her friendship with Scheana Shay, however, was real — though Leviss isn't happy with the way Shay has framed the situation since Scandoval. "She started creating this narrative that she was the sister I never had and like a mother to me," Leviss said. "And that she gave me a place to live when nobody else would, you know, put me up anywhere. That I didn't pay rent, which is not true." Leviss added, "It's just unfortunate that she's trying to create this narrative that I've taken advantage of her when I feel like I did contribute."
Leviss says Sandoval told her his relationship with Madix was over.
"I would not be involved in this affair, secrecy-type of situation if I thought there was longevity in this relationship between Tom and Ariana," Leviss told Frankel. "The people closest to them could see that their relationship has not been what they portray on-camera, and Tom always told me, like, they're a brand; they're an image — they work together to make brand deals, and they are business deals." Still, Leviss said that she never meant to hurt anyone and just "got caught up in something that is way too big for me to handle."
She accuses Bravo of profiting off the scandal while she struggled.
Leviss said she wanted to come on the podcast because of Frankel's recently expressed opinion that networks exploit reality-TV stars. "I just heard what you were saying on TikTok and using my case as an example of exploitation and the way that the network is running to the bank — like, laughing running to the bank with this scandal — and I haven't seen a single penny," she said. "So in that way, I feel like it's not fair. And I feel like a toddler saying it's not fair, but it really isn't. And I feel like I've been portrayed as the ultimate villain, and my mistakes that I made on-camera live on forever."
After the interview dropped, TMZ reported, and Variety confirmed, that Leviss was paid $350,000 for season ten. Lisa Vanderpump told TMZ that Leviss earned $361,000 for the season.
Leviss says Sandoval recorded her without consent.
Leviss doubled down on her prior claim that Sandoval recorded a video of an intimate FaceTime call between the two of them without her consent. She revealed that she and Sandoval FaceTimed "a lot" during their relationship and claimed that one night she "decided to be adventurous and look at the 'adult' section on the TV." She assumed the moment was private but said Sandoval betrayed her trust. Frankel asked the question in a more Frankel way: "You're FaceTiming Tom, you're in New York and Tom is in L.A., and you're masturbating and he's recording you and you don't know you're being recorded?" To which Leviss responded, "Correct." She said she found out that he had recorded the call when Madix — who'd just found out about the affair — sent it to her with the now-infamous accompanying message "You're dead to me."
Leviss claims that after people found out about the affair with Sandoval and filming resumed, she confronted him about the video on-camera; she says he admitted to recording the FaceTime without her consent. But that wasn't included in the episode that aired because, Leviss alleges, Sandoval convinced producers to cut it. "I said to Tom, 'How can I trust you? You filmed me without my consent.' And he admitted to it," she told Frankel. "But then after that scene wrapped, he said, 'Why did you say that? Why did you say that on-camera? You made me look bad.' And I was like, 'Well, because that's what happened.'" According to Leviss, "He ended up boycotting filming the rest of Scandoval so that he could have editing rights to that scene." Bravo told "Page Six" that Sandoval never had any creative or editing control over any part of the show.
Leviss also said that while she once thought she was in love with Sandoval, she has now come to the conclusion that she was "not in love with him" and doesn't believe that he "truly was in love" with her, either.
Leviss says she was "emotionally abused" by her castmates at the reunion.
In the wake of Scandoval, it seemed as though Bravo Nation rallied around Madix and that she capitalized on the moment: She was invited to the White House Correspondents' Dinner; she modeled for Bloomingdale's; she got a spot on Dancing With the Stars. Leviss told Frankel that part of her understands Madix's decision to ride out what Frankel called being "America's sweetheart."
"Good for you, because take advantage of these opportunities while they come your way," Leviss said. "But it is hurtful to me just to think that — my nature is very kind and forgiving and understanding of other people, so the concept of me being the ultimate reality-TV villain just blows my mind." Leviss also felt the way Madix spoke to her at the reunion was "uncalled for." While she didn't specify exactly which of Madix's many scathing comments bothered her most, she was likely referring to Madix calling her "diabolical, demented, disgusting, subhuman." Leviss told Frankel that while she initially felt like she deserved being called out by Madix and the rest of the cast, "after taking some time away and seeing things more objectively, absolutely I was emotionally abused."
Leviss added that she now has a "no-contact policy" with every cast member, though she spoke with Vanderpump on the phone once. And even though she's not heading back to L.A. "anytime soon," she told Frankel she's "taking the steps to start" her own podcast. Hopefully, the podcast will be about the travel she said she's planning or the plants she's nurturing these days — anything other than Scandoval, please.
This post has been updated.