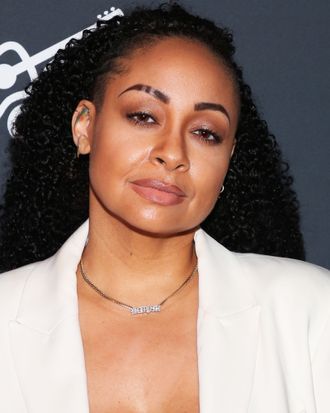 Photo: Paul Archuleta/Getty Images
Thanks to her stylish outfits, signature psychic glare, and seemingly endless joy, Raven Symoné was a Disney Channel favorite while starring on That's So Raven. But behind the scenes, Symoné says she struggled with her body image and body shaming. In Sunday's episode of "Best Podcast Ever with Raven and Miranda" — which the actress hosts with her wife, Miranda Pearman-Maday — Symoné shared that she had two breast reductions and liposuction before she turned 18, hoping the surgeries would help curb public scrutiny of her body.
"My dad suggested strongly that I should get my breasts reduced," she said. "He was like, 'So you don't feel bad, is there anything that you want?' I was like, 'Yeah, if I get lipo, will people stop calling me fat?' So I got a twofer. It was just a mess, just being that young and the pain of it all." She explained that she got the second reduction after a later weight gain left her self-conscious that her breasts were "still too big for others' feelings," she explained.
Symoné got her big break when she was cast in The Cosby Show at just three years old. She went on to land roles in kids' movies and Disney Channel productions before That's So Raven premiered in 2003, a month after she turned 17. Given her long tenure in the limelight, she has also spoken extensively about the toll Hollywood's body standards have taken on her mental health since a young age. In a 2015 episode of The View, for example, Symoné said that even as a 7-year-old on The Cosby Show, her weight was the source of criticism. "I remember not being able to have the bagel," she recalled of the craft services table. "People would be like, 'You can't eat that. You're getting fat!'" She went on to say that she started wearing Spanx at age 14 — sometimes two or three pairs at a time — to achieve the look her industry preferred.
On the podcast, she noted that even a series of cosmetic surgeries didn't stop the commentary. "I still got reamed through social media because I wasn't skinny as everybody else and they still called me fat," she said. "You get that done, and it's still not what everybody wanted to see."