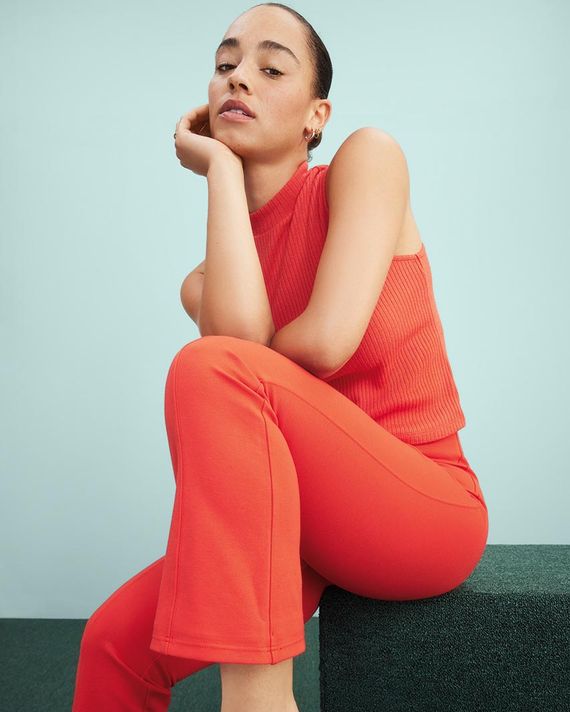 Red is the color of boldness, of confidence, of stopping traffic (both literally and metaphorically), not to mention the defining color of fall 2023, as seen on the runway from designers like Loewe, The Row, and Ferragamo. It's like a statement that screams, "Look at me, I'm here!" But not all of us want to shout our presence from the rooftops every day of the week. Sometimes we want our stylishness to whisper for itself while maintaining an aura of chill.
That's where the art of wearing red comes in — you know, that vibrant shade that's meant for those big moments but doesn't have to be the loudest voice in the room at all times. Yes, a red swing dress or a killer kick-flare pant are serious statement-makers. But don't discount the understated power of a red cardigan or a simple layer-able basic. Subtle pops of red are a secret weapon: A dash of effortlessness with a flicker of fiery genius.
The Classic Cardigan
A classic red cardigan is like that friend who can convince you to do karaoke. It gently nudges you out of your comfort zone without pushing you into a spotlight you're not ready for.
The "Means Business" Blazer
Decidedly crisp and confident, this cropped red blazer is the ultimate unexpected evening layer to wear now with a mani and sandals and later with sharply pointed pumps and trousers.
The Low-Key Fierce Heel
Let's hear it for a little low-key fierceness in the form of a tomato red kitten heel. Transition these to fall with cute socks during the day and sheer tights at night.
The Layer-able Mock Neck
A sleeveless red mock-neck top is a perfect ease-in piece for red phobes. Thanks to the simple silhouette and easy fabric, it gives off a quiet confidence vibe with bottoms like baggy jeans and wide-leg trousers. An alternate route: Sneaking it under a lower neckline for a cheeky peek — think like a heavier-weight round-neck sweater or knit dress.
The Luxe Leather Skirt
Temper the red effect with a deeper garnet hue. The vibe is especially luxe in leather, and lower-key when combined with neutrals like grey and brown.
The Compelling Crop
Whether you're baring a little midriff or coyly layering atop high-waisted bottoms, this draped crop top is, in a word, perfection. Cinch it based on your desired spice level — we recommend hot.
The Ruby Red Bag
They're not Dorothy's slippers, but they capture the vibe in a snazzy 2023 way that still urges us to click our heels.
The Fiery Kick Flare
The bright red kick-flare cropped pant — a piece so confident it practically struts on its own. These pants are the ultimate power move when you need an extra shot of self-assurance in the professional arena. After all, nothing says "I've got this" like entering a room with a touch of fiery flair.
The Confident Coat
Clean, tailored lines ensure a red coat will have timeless appeal. This will be the confident, not overly-statement-y statement piece you'll reach for throughout fall and winter.
The Jaw-Dropping Jumpsuit
Okay, yeah, this one is a showstopper. Reach for it on occasions like a birthday party, holiday fete, or a night when you know you'll "unexpectedly" run into your ex.
The Sweet Swing Dress
A red swing dress lets you lean into your color-loving side wholeheartedly, like this flutter-sleeve mini that's flawless for a night out with friends or for flaunting confidence on a cute date. In either scenario, it's sweet yet sassy.
This advertising content was produced in collaboration between Vox Creative and our sponsor, without involvement from Vox Media editorial staff.