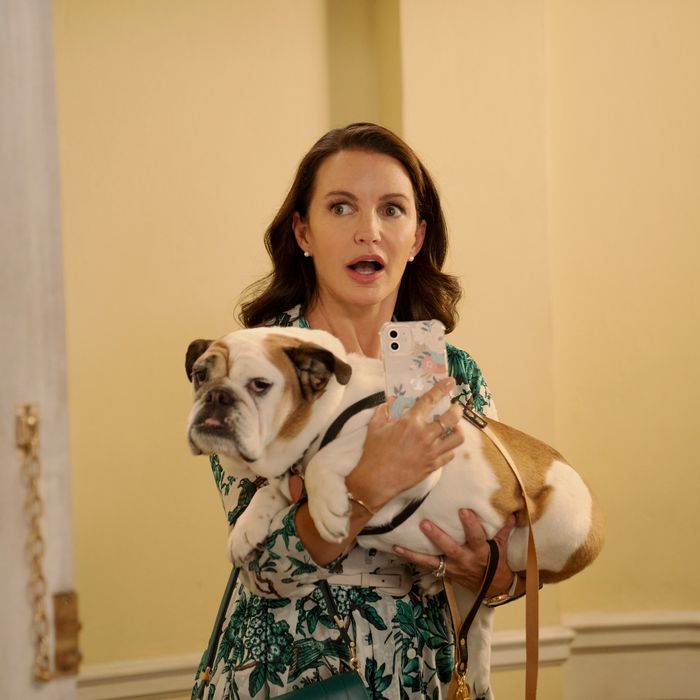 Photo: Craig Blankenhorn/HBO Max
The star of And Just Like That …'s second season isn't Aidan's Matrix jacket, Enid Frick, or even the Kim Cattrall cameo we have yet to see. This year, the real MVP is Charlotte's bulldog, Richard Burton, king of the Goldenblatt castle.
Richard Burton, heir to Sex and the City dog-show champ Elizabeth Taylor, puts up with a lot: Lily's piano rehearsals, Harry ejaculating (or not) on Charlotte's chest, a Valentine's Day photo shoot that required him to wear a top hat and Cupid wings. He has more than earned the Instagram account Charlotte has launched for him, and the decadent gallery-lit oil paintings of both Elizabeth Taylor and Richard Burton are perhaps the most Charlotte way of canonizing her pets.
For showrunner Michael Patrick King, those portraits are a major reveal. Miguel López-Castillo, the production designer, pitched the idea before the season began shooting because he felt Charlotte's apartment needed some original artwork. When King saw the results (credit goes to Brooklyn-based painter Michael Fusco), he decided to unveil the beauties at a party Charlotte and Harry host for Herbert Wexley's comptroller campaign. No one familiar with Charlotte would be surprised to see her consecrate her dogs in such an ornate way, so it takes a newcomer like Giuseppe, Anthony's studly love interest, to point out the absurdity on display.
"I didn't want to burn them off as a drive-by where you don't even really focus on them," King says. "They're so silly, and so Upper East Side–lady."
As And Just Like That … continues, Richard Burton has become Charlotte's sidekick, his pitch-perfect expressiveness adding some Disney charm to the adult fare in the series. If you're wondering what has happened to Charlotte's first baby, King confirms that, sadly, too much time would have passed for Elizabeth Taylor to still be alive in 2023. (He imagines she died "very beautifully in a Burberry dog bed in a warm pantry.") But it wasn't immediately obvious to the showrunner that Richard Burton would be her successor — King and his team auditioned many dogs, eventually landing on the idea that Charlotte should have a full-grown rescue with the countenance of an old man. Upon meeting the English bulldog now featured in the show, everything else clicked: Of course she would name her second dog Richard Burton, after the actor who married and divorced Elizabeth Taylor twice.
"Richard Burton is the Daniel Day-Lewis of dogs," King says, declining to reveal the name of the pup who portrays this important character, lest he betray the actor's Method ways. (López-Castillo did spill one detail: Off-screen, Richard Burton is actually female.) Anytime the Goldenblatt clan are on the call sheet, so is Richard Burton. To encourage the dog to bond with Kristin Davis and her brood, his trainer advised that no one else interact with him. King has never so much as petted the pooch.
"It's almost like, 'Don't look at Ms. Ross,'" King says, referring to Diana, who over the years has reportedly instructed her staff to avoid eye contact. "When Kristin is speaking, the dog is naturally looking at her or following the energy of what's happening in the scene. Kristin is never happier than when that dog is on the set."
During production, the creatives find ways to incorporate him into various sequences, even filming specific Richard Burton coverage. Case in point: Charlotte walking the dog in this season's third episode while Miranda calls her from Los Angeles panicking about Brady's breakup drama. After learning it was going to rain that day, King dispatched costume designer Molly Rogers to find a last-minute raincoat and booties. Rogers returned with a vibrant yellow slicker and royal-blue shoes — a fabulous look for a canine that has what King calls a permanent "over it" face. "He tolerated us," Rogers says of dressing Richard Burton. In the scene's wide shots, Charlotte's phone chatter is background noise. Your eyes go straight to the dog's fashionable ensemble and lumbering, comical gait.
Cartoonish or not, Richard Burton is no mere joke. Neither was Elizabeth Taylor, named after the Hollywood luminary who, like Charlotte, converted to Judaism. (The fictional Elizabeth Taylor was originally meant to be a Yorkshire terrier — a York with a Yorkie, you see — but a trainer advised King that Yorkies aren't expressive enough, so she became a Cavalier King Charles spaniel instead.) Over time, Richard Burton has become more of an emotional support dog for Charlotte, with whom he initially was not very affectionate.
"Like all Sex and the City relationships, eventually true love happened and Richard Burton recognized that Charlotte York Goldenblatt is the love of his life," King says. "That dog becomes almost her most loving, accepting family member, which is what happens in real life. Dogs love you unconditionally. Whereas Charlotte feels like she has to perform a certain way for the kids or Harry, she doesn't have a real issue with Richard Burton." See, for example, Richard Burton curled up with Charlotte on the couch, watching The Drew Barrymore Show while her adolescent children grow more disinterested in having her around.
And then there's the Instagram page. Richard Burton's account, which Charlotte says has roughly 1,500 followers, reveals images of him posing amid a bed of rose petals with the Valentine's Day caption "Cupid's got nothing on me." (Where's that gallery print?) In another photo, cut from the show, Mr. Burton stands in a heart-shaped box of chocolates. You can see the fittings for his glamour shots on the series' official costume Instagram.
By King's account, the Burton-York relationship doesn't end when cameras stop rolling, which is probably why the joys of acting with Richard Burton are so palpable for the audience. "The dog loves Kristin, so if her voice raises or she enters a room, Richard will look at her," he says. "You just wait and something magical will happen. That bulldog face is what makes it so great."
For more, join us for the And Just Like That Club …, our subscriber-exclusive newsletter dissecting and obsessing over all the minutiae of the new season. Existing subscribers can visit this page to sign up. If you're not a subscriber yet, click here to get started.