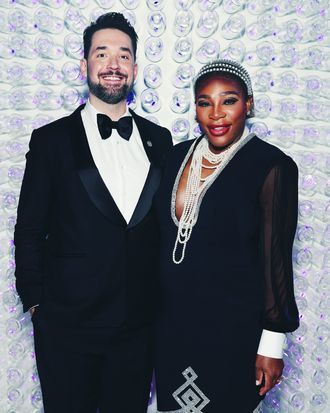 Photo: Cindy Ord/Getty Images
It's been a big week for little Leos. Serena Williams and Alexis Ohanian recently welcomed their second daughter, Adira River, according to photos and videos shared on their TikTok and Instagram accounts on Tuesday. While Williams kept her TikTok caption short and sweet — "welcome my beautiful angel" — Ohanian shared a bit more on Instagram. "I'm grateful to report our house is teaming with love: a happy & healthy newborn girl and happy & healthy mama," he wrote under a carousel of photos of the family with the baby.
Addressing his wife, Ohanian added that Williams had "now given me another incomparable gift — you're the GMOAT." (That presumably translates to "the greatest mother of all time.") Even the couple's first daughter, 5-year-old Alexis Olympia Ohanian, Jr., made an Instagram announcement: "My sister and me," she — or whoever runs her account — captioned a photo of herself holding her new tennis partner in her lap.
Williams announced her second pregnancy on the Met Gala's beige carpet in May, arriving draped in Gucci tulle and pearls, with a noticeable baby bump. In a cheeky Instagram caption that evening, she wrote that she "was so excited when Anna Wintour invited the 3 of us to the Met Gala." News of Adira River's arrival comes about a year after Williams retired from tennis, a decision she made in part because she wanted to grow her family. Congratulations to the GOAT on achieving her goals once again.