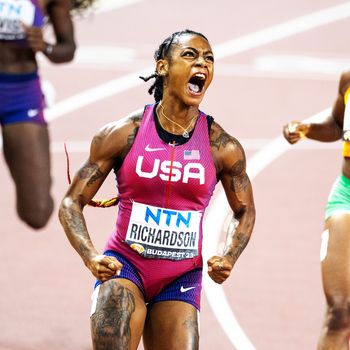 Photo: Tim Clayton/Corbis via Getty Images
Sha'Carri Richardson made history on Monday when she sprinted the women's 100-meter in 10.65 seconds at the track-and-field world championships in Budapest. She beat Jamaican favorites Shericka Jackson and Shelly-Ann Fraser-Pryce in an upset and cemented her status as the fastest woman in the world.
Her historic run felt like a comeback: Richardson didn't advance out of the 100-meter heats at the U.S. championships in 2022, and the year before that, the U.S. Anti-Doping Agency and USA Track & Field barred her from competing at the Tokyo Olympics over cannabis use. But Richardson sees it differently. "I'm not back. I'm better, and I'll continue to be better," Richardson said after Monday's race. "It's surreal. I think in the morning I'll probably feel it."
In 2021, Richardson — with her luscious orange wig and extra-long coffin-cut nails — won the 100-meter at the U.S. Olympic Track and Field Trials. She also won the hearts of the media and the public, her skills on the track (and her personal style off it) making her a favorite going into the Tokyo Olympics. But two weeks before Tokyo, the U.S. Anti-Doping Agency said she tested positive for using marijuana and suspended her for a month. Despite apologizing and publicly taking accountability, she didn't get to compete in the Games: The USATF could've tapped her for the 4x100-meter relay, which took place after her suspension ended, but it opted not to.
The incident underscored the Games' unfair standards for Black athletes and left many wondering whether marijuana should even be on the list of banned substances for athletes. Still, Richardson told reporters in May that she used the time in between to "make peace" and mature. "It just was me that was standing in my way. Now I'm with myself."
Richardson is already eyeing the biggest athletic stage in the world: the 2024 Paris Olympics. According to Olympics.com, she wrote on her since-expired Instagram Story: "Paris 2024, history will be made."