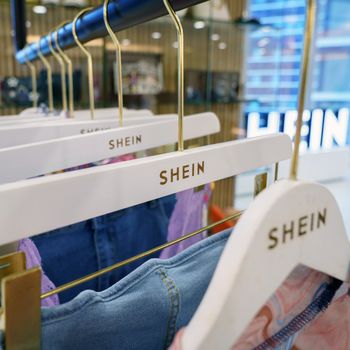 Photo: Ore Huiying/Bloomberg via Getty Images
This is sustainable fashion's nightmare: China-based e-commerce giant Shein is partnering with the parent company of everyone's favorite mid-2000s mall store, Forever 21. The fast-fashion conglomerates plan to "focus on meeting the needs of customers in the U.S. and around the world who enjoy affordable, high-quality fashion," according to the agreement. While they're both known for being outstandingly affordable, claiming they have "high-quality fashion" isn't the most factual.
Shein — known for adding up to 10,000 new items to its app every day — has been in the news for poor working conditions, high levels of toxic chemicals in its clothing, copying independent designers' items, and mishandling customer data. While the low prices and quick turnaround trend items are a TikTok and Gen-Z favorite, an investigation from last October, conducted by the U.K. broadcaster Channel 4, showed that workers receive a base salary of 4,000 yuan per month — roughly $556 — to make 500 pieces of clothing per day; in another factory, workers received the equivalent of four cents per item. Earlier this year, a group of influencers tried to rehabilitate the company's image, but it didn't work out so well. (In a statement to the Cut on June 23, a representative from Shein commented on the brand trip, noting that the influencers' "social-media videos and commentary are authentic." They added: "We look forward to continuing to provide more transparency around our on-demand business model and operations.")
In 2019, Forever 21 filed for bankruptcy and closed over 175 stores in the US and over 350 worldwide. Could this partnership be the one that Forever 21 is looking to save them? Possibly. It's not the first collaboration they've done, but it is the most shocking considering the brands are direct competitors in the fast-fashion space. Forever 21's recent collaborations have included Baby Phat, USPS, Barbie (including everyone else), Alix Earle and Juicy Couture, and, most recently, Barneys New York — the strangest of them all. In an attempt to regain its customer base, a fast-fashion alliance may have seemed like the company's last choice.
As a part of the agreement, Shein could be available in stores at Forever 21's across the country, as well as enabling in-store returns and other initiatives. Shein believes that being available in-stores would make its clothing more accessible to customers and increase its relationships with customers since it has been solely e-commerce up until now and based in China. Marc Miller, CEO of Forever 21's parent company, SPARC Group, said, "By working together, we will provide even more innovative and trendsetting products to fashion enthusiasts around the world." But, by fusing together as two fast-fashion corporations, this seems like a disaster for the work-exploitation and environmental issues, especially since Shein has been under fire for similar issues already.