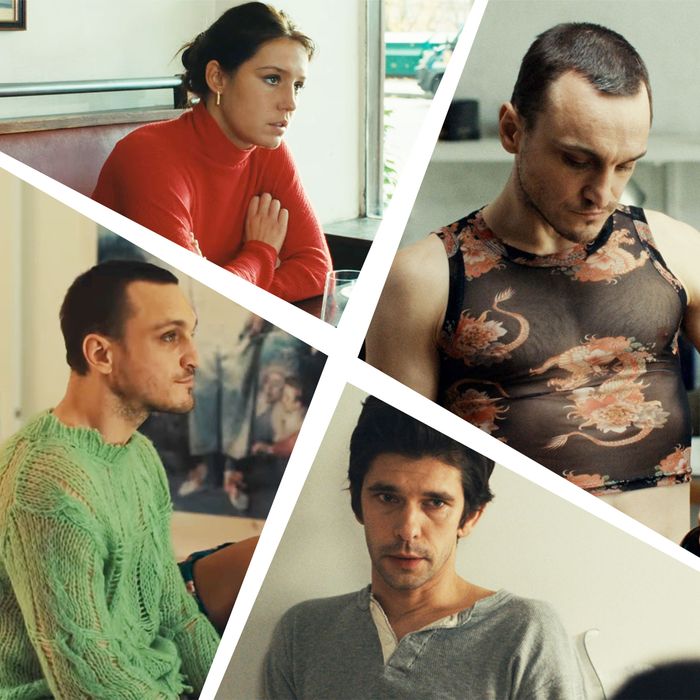 This summer, Barbiecore pink and 1940s menswear have probably clogged up your feed, but an indie film is slowly starting to compete with Barbenheimer's impact on seasonal fashion trends. The discourse that has emerged around Passages is about more than just its precarious plot: Viewers have become deeply invested in what the characters of Ira Sachs's film are wearing while their lives fall apart.
At the start of Passages, we're thrown into the world of fashionable anti-hero Tomas (Franz Rogowski), a director who has just wrapped a movie and becomes annoyed when his husband Martin (Ben Whishaw) refuses to dance with him at the film's wrap party. Instead, a young woman named Agathe (Adèle Exarchopoulos) steps in, and Tomas eventually goes home with her. Tomas's desire for both his husband and his new fling unravels the lives of all three of them. And if that drama at the top of the movie isn't enough to draw you in, the sexy mesh tops would come second.
Tomas doesn't know how to act, but he sure does know how to dress. Sachs and costume designer Khadija Zeggaï collaborated to draw inspiration for each character's wardrobe from films like Luchino Visconti's The Innocent, Jean-Luc Godard's Contempt, and Rainer Werner Fassbinder's Beware of a Holy Whore. "There was a lot of research with Ira for the different directions for each character," says Zeggaï. "What we especially wanted to avoid is for the characters to look like each other. They each needed to have their own identity." Beyond having individual styles, the way that both Agathe and Martin dress is based on who they are in relation to the fuckboy at the center of the love triangle: Agathe often wears red and Martin remains subdued in his looks to make room for Tomas. But as the characters ebb and flow, so too do their wardrobe.
While it's one thing to simply view and appreciate the wardrobes, there's something appealing about wanting to emulate these outfits. With a little help from Zeggaï, you can now successfully shop like Tomas (or Agathe or Martin, depending on how loud you want to be). Chaotic love triangles sold separately.
Tomas
Tomas takes up too much space in relationships and in his personal style. This is why he feels like the center of the film; he often flaunts his physique in sexy mesh tops, vibrant pants, and plenty of animal print. He chaotically moves through life and looks good doing it, leaving little room for others. Zeggaï and Sachs wanted to be sure that his attitude would go hand in hand with his wardrobe.
"He's someone who doesn't have any rules," says Zeggaï. "The same way that he helps himself to people, he helps himself to clothes." Tomas might steal clothes from the closets of his lovers and friends, and since he's a director, he probably receives a lot of fashion gifts too. "I don't think that he goes shopping like I do. I don't think that he goes to stores. He's given things," says Zeggaï.
Zeggaï didn't hold back on mixing men's and women's clothes for Tomas. In fact, most of what Rogowski wears, except for the tuxedo and shearling jacket seen at the end of the film, is womenswear. While part of the mixing of gendered clothing has to do with Tomas' sexuality and desire being split between a man and a woman, it was also a practical and sexy choice for Rogowski's body. Specifically with the dragon mesh tank top, Zeggaï says, "I told myself that the crop top would be super-sexy on him, but also kind of bestial for Tomas to wear. It would be a way for him to be naked or to have something printed on his skin. It's like a tattoo."
Sachs deliberately dressed Tomas in that rave-worthy top for the most inappropriate situation: meeting Agathe's parents. "I didn't have the idea to have Franz wear the crop top at that particular moment because it was shocking. I think that's why Ira wanted to do it," says Zeggaï. "Agathe's parents are very middle-class French parents with principals, and they find themselves faced with this boy who's dressed as a girl. So for them, it's really shocking."
When it came to the shredded green sweater, "Ira wanted Tomas to wear something pretentious. And I told myself that this sweater is sexy and beautiful, but it's also audacious and not easy to wear," says Zeggaï. Is that enough to convince you to buy the same one? If not, here's another option that might be a little easier to pull off.
This is the same mesh top that Tomas infamously wears to meet Agathe's parents, though in a long-sleeve version. Hurry and snatch this up for your Halloween costume before it's too late.
While this sweater looks almost exactly like another one Tomas wears in the film, it's available in some more subdued colors.
The jacket that Tomas wears is a custom snakeskin jacket, but we could see him in this one from the Kooples too.
While the original mesh top was thrifted, this top is similar to the one Tomas wears at his wrap party. And because it's a women's top, it will be tighter and cropped for that perfect Tomas look.
These are a pair of pants I'd imagine Tomas splurging on or being gifted, much like Zeggaï said. The costume designer also recalled that his leopard pants were high-waisted like these.
Agathe
When we first meet Agathe, her style feels basic and limited, often only characterized by the abundance of red in her outfits. As Tomas's object of lust, it's no surprise that her wardrobe consists primarily of that color, especially during some of the movie's most dramatic moments. "Ira had precise moments in mind when he wanted Agathe to wear red. When she goes to the editing room and sees Tomas, she's wearing the red jacket; in the nightclub, she's wearing the red and pink top; at the end of the movie, she's wearing red," says Zeggaï. "These are each moments when she's the strongest and when she's at her most seductive."
While her style seems to evolve and settle as she spends more time around Tomas, she still ends up in red at the end, although she's seen in a more grown-up piece, a red turtleneck. "There's a kind of maturity that develops throughout the film with Agathe," says Zeggaï. "Her character transforms."
Agathe is a young school teacher, so she's probably not spending lots of money or time shopping. While the red jacket she wears when visiting Tomas in the editing room is a vintage Kenzo piece from the 1980s, most of the other pieces are either vintage or from Zeggaï's personal collection, though it's not meant to appear as archival. Instead, Agathe would probably browse mainstream stores like Zara, Bershka, and H&M at le Forum des Halles mall, a large shopping center in the center of Paris that has a lot of inexpensive clothing stores for young people. Agathe's wardrobe primarily reflects her relation to Tomas and her state in life, which Zeggaï describes as "lower-middle class, a regular person of modest background with a very beautiful body."
While this might not be the same exact jacket, it's pretty close (and a very good deal).
One of the standout pieces from Agathe's closet could be this exact sweater from H&M, though Zeggaï says the original was thrifted.
This isn't the exact same top, but it's pretty close and will look just as good on any dance floor.
Like most of Agathe's pieces, this dress is simple and not designed by a big brand. While it's not exactly the same, the pattern looks very similar to the dress she wears when she's out to dinner with Tomas.
Martin
Compared with Tomas, Martin is much more subdued, his day-to-day attire far less vibrant. And unlike Tomas, he's probably not going to spend loads of time thinking about his wardrobe. "His clothes have some personality, but they are unassuming, which lets Tomas take all the room," explains Zeggaï. "They're not expensive pieces. In the film, there's a point where he says that he's not going to be able to afford the country house by himself without Tomas, so he's someone who doesn't have a lot of money."
The pieces that Martin wears could consist solely of Uniqlo (some of which Zeggaï confirms did come from the retailer). Because Martin is less concerned with his looks, it makes those first dressed-up moments even stronger, as he goes out to eat with his friends and meets his future lover, Ahmad. "Martin had decided not to suffer and to no longer be in a difficult relationship with Tomas," Zeggaï says of that restaurant scene. "He's made an effort to dress up."
Martin's signature look is a long-sleeve henley, like this one that you can find at Gap.
Agathe is almost always dressed in red, but Martin spends a few moments in this red silk robe (and later, so does Martin's lover, Ahmad).
The silk shirt Martin wears out to dinner is also a women's top. Zeggaï says she had it in her collection for years. She originally wanted Martin to wear lots of kimonos and Japanese designers but decided more minimal looks like these were better for his character.
Even if Martin's floral blazer is a thrifted women's piece, this pattern is close to the original for an almost perfect replication.
One of the more "out there" pieces that Martin wears is a black-and-white striped cardigan, and while this option is probably higher than what he would pay, it's the closest thing that we could find.