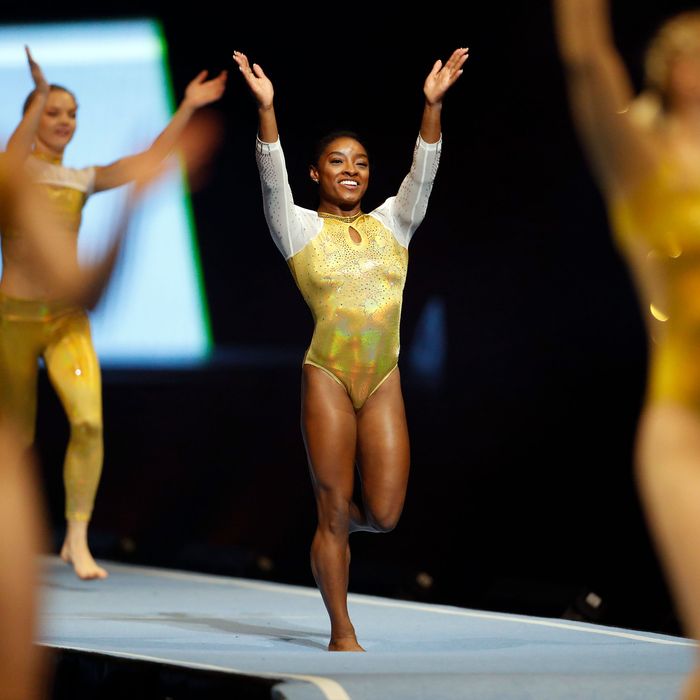 Photo: Scott Strazzante/San Francisco Chronicle via Getty Images
Simone Biles once again made history when she won her eighth U.S. championship on Sunday, breaking the record she previously shared with Alfred Jochim, who won his seventh all-around gold medal in 1933. Biles is the first American gymnast to win eight national titles and, at 26, the oldest.
"I think it feels really special," Biles told NBC after competing and receiving a roaring standing ovation from the crowd. The gymnast made only one notable mistake during her eight routines and ended the competition with 118.45 points, nearly four points more than Shilese Jones, who came in second. "I've been doing it for so long, I feel like I don't think about numbers, I think about my performance. And I think, overall, I hit eight for eight … I guess it's a lucky number this year," Biles said.
Earlier this month Biles took home the gold at the Core Hydration Classic, her first competition since the Tokyo Olympics in 2021, where she withdrew from the team finals in deference to her mental health. "Tears of joy as I make this comeback, surrounded by the love you've shown! thank you for believing in me," Biles wrote in an Instagram post after the event.
There, Biles finished five full points ahead of silver medalist Leanne Wong, and with an all-around score of 59.1, she came in first in vault, balance beam, and floor events; she placed third in an uneven-bars routine. She ended the night with her signature Yurchenko double pike vault, a move that earned her the highest score of the competition, per the New York Times. "It felt really good," Biles said of her return, speaking to NBC Sports after her rotations. "After everything that transpired in Tokyo … I worked on myself. I still do therapy weekly and it's just been so exciting to come out here and have the confidence I had before."
During the games in Tokyo, the seven-time medalist removed herself from several events, with USA Gymnastics initially citing a "medical issue." In her Instagram Stories, however, she subsequently explained that she'd developed a case of the "twisties," a mind-body disconnect that causes athletes to lose spatial awareness while airborne. "I simply got so lost my safety was at risk, as well as the team medal," Biles said. "If you were to look at the pictures and my eyes, you can see how confused I am as to where I am in the air." Her USA teammates went on to take silver in the team finals, with Biles returning to compete in the balance-beam final, in which she won bronze.
As one of the sport's most decorated athletes, Biles's decision to step away from gymnastics to prioritize her well-being and advocate for mental health felt revelatory, particularly in a high-pressure environment that demands athletes power through and press on. "I learned a lot about myself — courage, resilience, how to say 'no' and speak up for yourself, " Biles told the Cut in 2021 of her choice in Tokyo. "I want to see how much I'm capable of, how talented I can be," she said in an interview for USA Today's 2022 Women of the Year series. "Maybe I might push it a little bit more to see." So far, it's looking good — a very warm welcome back to this absolute icon.
This post has been updated.