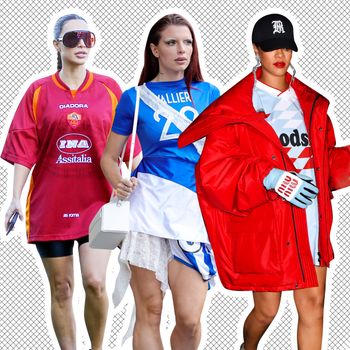 Photo-Illustration: by The Cut; Photos: Getty Images
For more of the Cut's favorite fashion, beauty, and home finds, sign up for the weekly Cut Shop Newsletter.
At the overlapping center of sporty dads, a 10-year-old's wish list, and recent fashion trends lives one anomalous item of clothing: the soccer jersey. (Football jersey for those who aren't American and/or speak fluent Love Island U.K.)
Stylistically speaking, everyone's a footy fan. No longer limited to FIFA fandom, and thanks to the overall growing popularity of soccer in the U.S., soccer jerseys have found their way into our wardrobes far beyond the locker room. (It's also no coincidence that the jersey trend is happening in tandem with the convergence of a few major soccer events: the 2023 FIFA Women's World Cup, the U.S.'s successful bid to co-host the 2026 World Cup, and international soccer star Lionel Messi's recent move to Miami.) They're being worn by celebrities like Bella Hadid, Julia Fox, and Rihanna. They've been on the runway — Balenciaga's 2023 Resort collection and the 3.Paradis 2024 spring/summer collection both featured models in soccer jerseys. Soccer jerseys have received Kim Kardashian's stamp of approval and have been in at least one K-pop music video, BLACKPINK's "Pink Venom." There are even collaborations between soccer teams and high-end design houses, like Dior and Paris Saint-Germain and Stella McCartney's Adidas collection for Arsenal Women's Football Club. Not only are these brands designing the team's jerseys, they're putting out clothing collections inspired by soccer uniforms, swapping out models for footballers.
It's all part of an aesthetic the U.K. calls "blokecore." Soccer jerseys are the cornerstone of this style, which lives at the natural intersection of streetwear and sportswear. Think of it as a more athletic approach to the recently popular dad fashion or the Gen-Z nephew of Adam Sandlercore. Simply pair a (preferably retro) football-club jersey with Adidas Sambas and oversize jeans, et voilà! You, too, can be a British sports bro. For those whose fashion leans more femme, there is blokette, a combination of blokecore and the dainty, naïve coquette aesthetic. Soccer jerseys can work with bitchy little sunglasses and low-rise pants. They are complimented by giant pit vipers and jorts. You can even style them with tear-away pants and no team affiliation or a belted waist and minimal knowledge of the sport. Such is the unexpected versatility of a soccer jersey.
This all begs the obvious question: Must you be a soccer fan to sport a soccer jersey? Or can you just do it for the fit? Football purists would, of course, subscribe to the former. You certainly risk inviting a conversation about allegiances if you wear a jersey emblazoned with Liverpool one day and rival team Manchester United the next. But as we've established, soccer jerseys can be styled in myriad ways. So, accessorize yours with a yellow card and give it out to anyone who questions your outfit choices.
Not sure which team to wear on your top half? Here's a little guide.
For the New Fan
In honor of Lionel Messi's move to the U.S., preorder his 2023-2024 Inter Miami CF jersey and practice your olé, olés.
For the True Fan
For the Fan Who Isn't Afraid to Pick Sides
So long as you're fine with people, say, calling you a gooner, there is no shame in picking an Arsenal jersey in the name of aesthetics.
For the Fan Who Is Afraid to Pick Sides
If choosing sides stresses you out, you can't go wrong with Mia Hamm, one of the most iconic women's soccer players in the sport's history.
For the Blokecore-curious
If you don't want to commit to a jersey, you can ease yourself into the aesthetic with a soccer anthem jacket, like this one for Paris Saint-Germain.
For the Posh Fan
If it's good enough for Victoria Beckham, it's good enough for any of us.
For the Retro Fan
Go the route of Kim Kardashian and sport something vintage, like Ronaldo's 1998 World Cup jersey. Poshmark, Depop, and eBay are a solid place to hunt for retro jerseys. (And "retro Ronaldo jersey" is a solid search term.)
For the Muse