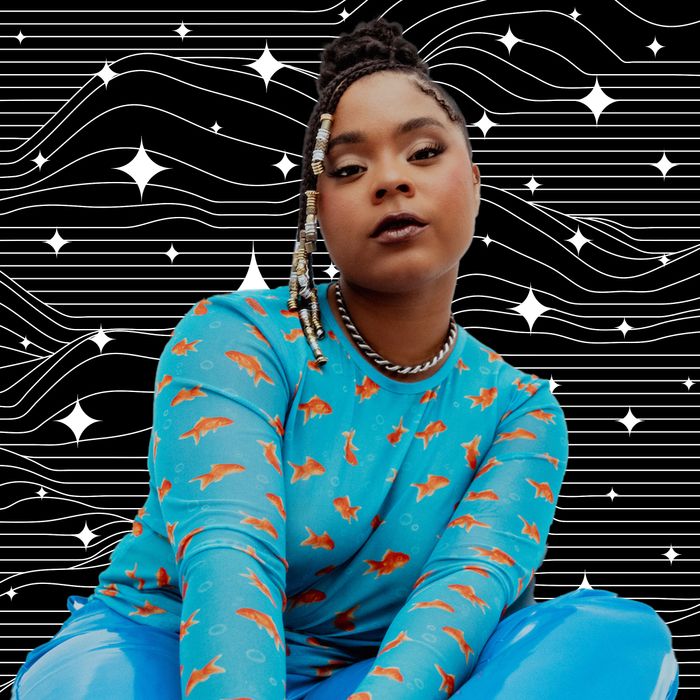 Photo-Illustration: by The Cut; Photo: Daniel Ramos
In April 2023, New York Magazine celebrated "It" girls: who anointed them, what it was like to be them, and where they are now. Follow along as we continue that celebration by interviewing musicians across genres who we think have "It."
If you don't know Tayla Parx's name, you know her pen. At 29, she has three Grammy nominations under her belt and a prolific songwriting career that has produced hits like Ariana Grande's "7 Rings" and Panic! at the Disco's "High Hopes." She has written across genres — pop, R&B, country — and is sought after by artists throughout the music industry. Of course, this means she has everyone's tea, but rest assured — she promises she'll never spill. "I'm a vault," Parx says, "an absolute vault."
Parx is currently working on her third album, Many Moons, Many Suns, which recounts one of the most difficult periods of her life: "I was going through a breakup, I was going through so many things personally, just learning things about myself that were sometimes hard to learn and sometimes a blessing to learn." Her recent single "Something in My Eye" is also about the catharsis of just being in your feelings. "Whatever you're feeling, feel it with your chest," Parx says. Self-acceptance is at the core of her fluid approach to her artistry (she has written more than one bisexual anthem) and her life (she has been playing with gender in her wardrobe for years). "Accepting yourself for whatever it is that you are, and whatever space that you're in," she says, is what it takes to become an "It" girl.
What is an "It" girl?
Anybody who stands in everything that they are —  the "good," the "bad." I put it in quotes because that's always up for interpretation. I think as long as you are standing in what you are, you are an "It" girl.
Who are some musicians you'd classify as "It" girls?
Tierra Whack, FKA Twigs, Corook. Those are all people that are "It." Corook uses they/them pronouns, but all of those artists are really, really inspiring.
"It" girls don't need to have a gender! Do you consider yourself an "It" girl?
I definitely do. I think it's because of the things I described earlier. But also because I have a team of love around me, I've been open to my experiences in life and open to evolving. I've been doing a lot — I'm about to be 30 years old with about 20 years in this industry. So it's been an incredible experience in redefining, to me, every single year what is an "It" girl. The more "It" girls I meet, I'm like, Oh, I respect that.
Who are some musicians or other artists you've looked up to or been inspired by?
Missy Elliott, Joni Mitchell, and Diane Warren are huge inspirations for me. Dolly Parton is a huge inspiration for me. Whether it's the creativity of Missy or the business sense of Dolly, I've been a student of them all over the years. There's always something new that I hear in a song after I've lived an experience. I find myself listening to those songs that I heard growing up but relating to them in new ways.
Do you have any early memories of something you heard or saw that was generative for you?
Growing up, there weren't a lot of women producers and songwriters I could look up to who were also artists that were defining the sound and developing other artists. Missy was really the first of her kind. And then seeing what Erykah Badu did being from Dallas, Texas, you know what I'm saying? Specifically, though, with Missy, I discovered that songwriting was a job and that artists don't always write their own songs. I wouldn't have known that if I wasn't in a deep dive into Aaliyah at the time. Those people who exist in many different worlds allowed me not only to say "Maybe I could do that" but to know I could do it. And to know that I could do it in my own way, the way that they have.
Where do you like to go out?
I like to go to the botanical gardens. I like to go to jazz clubs. I go to the Baked Potato here in L.A., which is so funny and cute, and it's random jazz artists. I travel so much that I usually try to find random little spots. There's a spot in New York called Murphy's and it's a dive bar. I try to find those wherever I'm at. I don't go out much, but when I do go out, I just want to find the vibe.
Where do you like to shop?
I like to do a lot of thrifting. I just came off a long trip to Korea and Tokyo, and I was doing a lot of thrifting there. I've sometimes thrifted outfits right before shows when I'm on tour, and it's something my fans remember. There's also a lot of up-and-coming designers that I really like. Kazclops, who makes headpieces. There's a brand called House of Sunny that I really love. There are so many I love. I wear a lot of vintage from different designers; I like a lot of the vintage Versace pieces. The last one I'll say is Acne. I love, love, love Acne and its shapes.
The items I've worn have been a reflection of my travels. I remember going to Asia for the first time and seeing how gender roles are kind of reversed in the fashion. The men are very pretty, and the girls were wearing baggy pants and all of these different things. It was the first time I could see that shapes of clothes really can tell a story. Wherever I travel, I try to find something about myself in that culture, if that makes sense.
You seem like you're always having fun on the red carpet — I've seen gorgeous dresses and then a Bowser costume.
I call it my Little Bowser fit. It was an incredible experience.
What are some "It" girl essentials every "It" girl must have?
A great moisturizer and a sense of self. Your sense of self shows up throughout your personal style — in the way that you talk, the people that you choose to surround yourself with, the risks that you're willing to take along that evolution. The last thing I would say is a great group of peers and a great group of friends around you. It's not just us on this journey; we always have people around us that are meant to be in our lives or meant to be a lesson in our lives. It's about making sure you're open to all of those experiences.
You seem to have such fulfilling, close relationships in the industry.
Absolutely. It's so nice putting on my songwriter hat after being onstage maybe all year and performing my own music and telling my own story over and over again, and just listening and getting back to it. It's the same thing when we're working on my own projects. With this new album, I was really lucky to collaborate with people I haven't worked with before and build a new type of relationship.
Your work has range, and you've written with and for such a huge variety of artists and genres. How would you describe the common thread in your artistry, if there is one?
The ability to story-tell. With my own artistry, it's always about my personal life or the phase that I'm in. Sometimes the albums come quick; sometimes I take my time. Each album that I put out is a kind of diary to my fans and also to myself. When I listen to these albums back-to-back when I'm 80 years old, I'll be able to see how I changed. My fans will be able to see how I changed and how they've changed along with me.
The other common thread among all of the music is the ability to try to push whatever genre I'm doing. I always call it a gumbo, whether it's pop music or R&B music or alternative pop music, which I love and which only happened because of the attempt to put a gumbo together. You would have to be a student of music to be able to do those things — I think that is the art of songwriting. When I'm creating music, and especially for my own album, I don't have any borders telling me what I can and can't do because I don't have to be in the box of everybody else's fears.
"Gumbo" is such a beautiful way of putting it. So much of contemporary music seems to transcend genre. 
I've always gone to New Orleans — my mom is from Louisiana — and it's the perfect description that I can say. So everybody in the studio that works with me knows that when I'm like, "We gotta make a gumbo today," that means I'm trying to explore, I'm trying to experiment.
Writing for other people must mean you know a lot of people's secrets.
Absolutely. I'm a vault. I'm an absolute vault.
Is trustworthiness important for a songwriter?
That's a huge part of collaboration. In songwriting, you're gonna have to collaborate, meaning people have to trust in you. People have to trust that you're gonna get the job done. People have to trust that you're going to be doing business in a good way. I work with so many different artists; I have to be able to listen to their experiences. It's like a therapy session.
I know you grew up in Dallas. You mentioned your mom is from New Orleans. How, if at all, do your roots influence your music and your approach to your work?
Being from the South, there's no escaping the rhythms that come naturally. There's such a rich DNA to music down there that I couldn't help but bring that into pop music. I can't help but bring that into jazz unless I'm intentionally saying, "This is going to be an exercise to keep out those aspects." And sometimes that's needed, but naturally, for my artistry, it's something I would never shy away from. Also, growing up in L.A., I was exposed to so many different kinds of people. L.A. is really a melting pot.
You've been songwriting for so long, but even before you began songwriting professionally, you were acting. You were the "It" girl of Hairspray! Your movie Spinning Gold came out earlier this year. Of course, things are on pause with the strikes, but do you see yourself getting back into acting?
I started to songwrite when I felt like, early on in my career, I was kind of getting over acting — onscreen anyway. It took a lot of time, and I was not able to be in the studio as much as I wanted and as much as I needed to be able to work on my craft on the music side. Around the age of 17, I decided, Okay, let's still do voice-over, because I still liked acting. But I needed that break from it to be able to now come back into it and actually be inspired by it again. I just did another film at the end of last year, early this year. You will definitely be seeing more of me involved in TV and film, which I'm really excited about.
This interview has been edited and condensed for clarity.