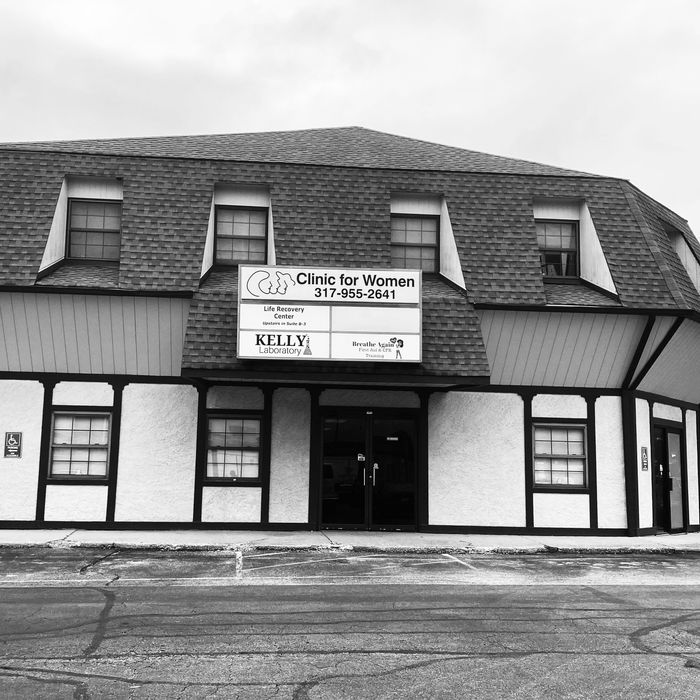 Last month, LaDonna Prince received a letter from the state of Indiana telling her that the abortion clinic she owns could no longer operate after August 1. She felt like an axe had been hanging over her head since the state passed a near-total ban, and now it had finally come down on her. Prince is the director of Clinic for Women, a first-trimester abortion facility in Indianapolis that's been serving patients for more than 40 years. In its final weeks, her team would make sure that no abortion seeker was turned away. "If we had 50 patients in one day, then we started at 6:30 or 7 o'clock in the morning and you got home at 8:30, 9 o'clock at night," she tells me.
Speaking over the phone, Prince sounds exhausted but resolute. She and her staff had known they were working on borrowed time: Soon after the U.S. Supreme Court overturned Roe v. Wade, Indiana became the first state to approve a new law prohibiting abortion throughout pregnancy, with some nearly-impossible-to-use exceptions. The ban went into effect for one week in September 2022 before being put on hold while a legal challenge moved forward. "We were hoping for more time, obviously," Prince says. "But, I mean, we're not delusional. We know we live in a red state and we knew that things would probably not go in our favor." At the end of June, the Indiana Supreme Court issued a ruling that upheld the ban.
Abortion providers filed a last-minute petition asking the court to rehear their legal challenge, however, and that move blocked the law from taking effect as expected this month. Clinic for Women has been tentatively scheduling new patients for medication abortions, but very few of them have come through the doors, according to Prince. She suspects that's because people are under the impression that abortion is currently illegal in Indiana. Clinic for Women will continue to provide abortions until the court makes a decision, likely certifying its original ruling; if that happens, Prince says, the clinic will close its doors permanently.
"It's giving me a lot of anxiety and stress and, to be perfectly honest with you, it just pisses me off," Prince says of the end of abortion access in Indiana. "It's not just for the patients who we serve, but I have a staff that depends on me. This is their livelihood."
Prince started as Clinic for Women's director in 1995. She and her husband purchased the facility from the previous owners a decade later, making it one of the few independent abortion providers owned and operated by a Black woman. She works with a team of around 15 people, most of whom are support staff; the clinic's doctors work on a part-time basis and have full-time jobs elsewhere. While some abortion providers in states with near-total bans have pivoted to offering other services in the aftermath of Dobbs, the move comes with its own set of financial challenges. Clinic for Women has provided other reproductive health services in a limited capacity, including gynecological care, sonograms, STI testing, and birth control, but it does so pro bono or at a severely discounted rate for its low-income-patient population. For that reason, Prince says it would not be sustainable to remain open once the abortion ban takes effect.
She is not giving up on Indiana's patients, however. Prince plans to open a new abortion clinic called Affirmative Care Solutions in Danville, Illinois, about an hour-and-a-half drive from Indianapolis. While some of the Clinic for Women staff is joining her in the new project, a few workers are nearing retirement and others would rather not make the commute. "They love what they do, but at the end of the day, people work to make money. They have responsibilities," Prince says, adding that the Indiana ban has created a situation that is "just so unfair to them as well as myself."
She purchased the Danville property in March because of the town's proximity to the Indiana border, which would allow for the new clinic to continue serving Hoosiers. Following the overturn of Roe, Illinois enacted protections for abortion care and registered one of the largest increases in abortions in the nation, according to the most recent report from #WeCount, which studies shifts in abortion access after Dobbs. Despite Illinois's reputation as a safe haven, though, Prince began facing challenges in opening the new clinic almost immediately. Shortly after news of her plans went public in late March, a group of around 60 anti-abortion protesters showed up for a press conference outside the property. "This is a conservative, pro-life community that wants to support women, that wants to support women who are experiencing crisis pregnancies, that is not interested in killing babies," Illinois Right to Life executive director Mary Kate Zander, who is based in Chicago, said at the time.
Shortly afterward, the City Council in Danville considered an ordinance banning the mailing, delivery, and receiving of abortion pills and other supplies — a measure that Illinois's attorney general has said violates state law. Members of the community showed up to public meetings to express divided opinions about the ordinance. "You should be ashamed. You know this is illegal and this is not going to work," one resident who opposed the measure said at a committee meeting in late April. The ordinance passed by one vote — a tiebreaker cast by Danville's mayor — in early May.
The measure is part of the anti-abortion movement's accelerating post-Roe efforts to declare small towns and cities "sanctuaries" for the "unborn." It remains unclear whether city officials will attempt to enforce it, but Prince says that the clinic won't challenge the measure in court. "They cannot stop us from moving in and providing abortions legally in the state of Illinois," she tells me. "If they wanna have some obscure ordinance on their books that is unenforceable, then so be it." She adds that for every person who opposes the clinic, there's a resident who has made her team feel welcome. And while she didn't expect legislative resistance from city officials, she was not surprised to encounter pushback, either.
"I could call a plumber, and as soon as he finds out what kind of business this is, he says, 'Oh, I'm not gonna come there. I'm not gonna provide you with service.' Okay, fine. You have a great day! I'll call another plumber," Prince says. "People have their own personal beliefs. I'm not interested in what you believe. I just need my toilet fixed."
In May, opposition to the clinic escalated to physical attacks. A 73-year-old anti-abortion activist who crashed his car into the building and attempted to set it on fire was charged in federal court with attempted arson and pleaded no contest. Two weeks later, another person tore down part of the temporary repairs on the back wall of the building. Prince is used to receiving threats and being followed to her home; once, an anti-abortion protester took pictures of her husband and children cutting grass in the front yard and then posted them online. While she says those experiences don't deter her, they still carry weight. "People have been killed doing this work," she says. To ensure her patients and staff will be protected, Prince is investing in repairs and security upgrades for the new clinic, including fencing the property, installing ballistic glass, and setting up security cameras. "Civil servants, police officers, and firemen — that's a dangerous job and you want those folks to be able to go home at night to their families," she says. "Well, so do we."
Like so many other people who work in the abortion space — including independent providers, abortion funds, and practical-support organizations — Prince is facing steep financial challenges. She estimates that getting the clinic up and running will cost well over $1 million. She is working with the clinic's insurance company to see what it can cover, while a GoFundMe to help rebuild the new location has raised a little over $20,000 out of its $500,000 goal.
"We're committed to this work," Prince says, "But we need help." The path to opening Affordable Care Solutions has become more difficult and costly at a moment where access to abortion care is hanging by a thread across the state line, and time is of the essence. She is angry that Indiana lawmakers have interfered with people's ability to make their own health-care choices, and she is angry that she will almost certainly have to close down Clinic for Women after dedicating nearly 30 years to it. But even as she talks about how frustrating it is to navigate the obstacles these two clinics-in-limbo are facing, there's that determination in her voice. Prince will power through it because she's been doing this work for years, because abortion seekers need her to, because there is no other choice.
The Cut offers an online tool you can use to search by Zip Code for professional providers, including clinics, hospitals, and independent OB/GYNs, as well as for abortion funds, transportation options, and information for remote resources like receiving the abortion pill by mail. For legal guidance, contact Repro Legal Helpline at 844-868-2812 or the Abortion Defense Network.