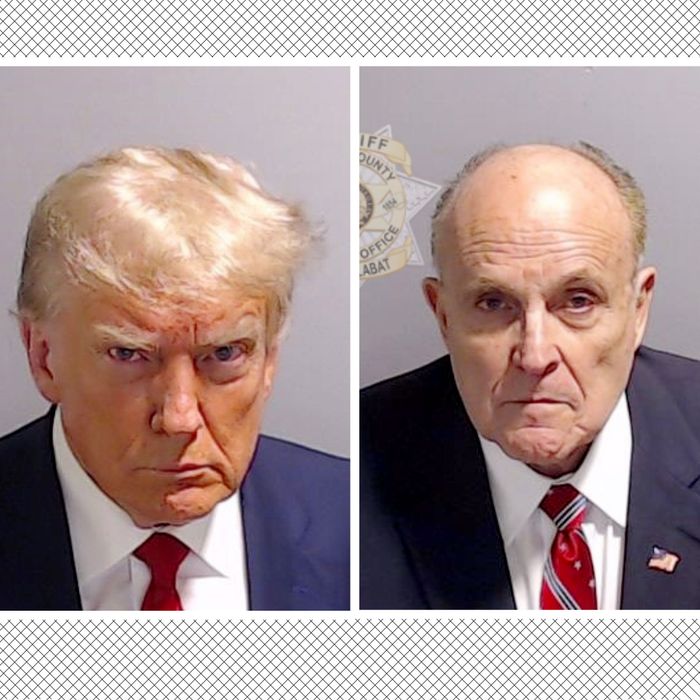 Photo: Fulton County Sheriff's Office via Getty Images
We got the shot! After Donald Trump received four criminal indictments in the span of about as many months — with felony counts across New York, Florida, Washington, D.C., and now Georgia, related to hush money payments to a porn star, hoarding classified documents, and attempting to overturn the 2020 election, to name a few — the former president was booked at the Fulton County Jail in Atlanta on Thursday evening. Soon after, Trump's much-anticipated mug shot, the first of an American president, finally dropped. And well, it looks like someone has been studying at the Tyra Banks school of eye-acting. Brows furrowed against the flash, his flaxen toupee shining, he sulks at the camera, giving what appears to be his best Kubrick stare. In reality, it lands closer to petulant gremlin, if gremlins also wore way-too-long ties.
Shortly after leaving the jail, Trump posted his mug shot to Truth Social with the words "Election Interference!" and "Never Surrender," despite the fact that he, in fact, just did. Still, you can see why he is proud of this photo; it's historic! His team has since started peddling mug-shot merch, while Trump himself has already returned to his summer home and golf course in Bedminster, New Jersey, for a campaign rally there. His 18 co-defendants also had their picture day on Wednesday, including Trump's personal lawyer and former New York City mayor Rudy Giuliani.
Like all the co-defendants, Big Tits Giuliani was released after booking. Sadly, no temporary hair-dye drips from his scalp in his mug shot, but we do get a cocked eyebrow and a tightly clenched jaw — perhaps he's mewing for better definition? One thing's for certain: These two cronies convey so much with a single glance. Even Tyra might applaud.