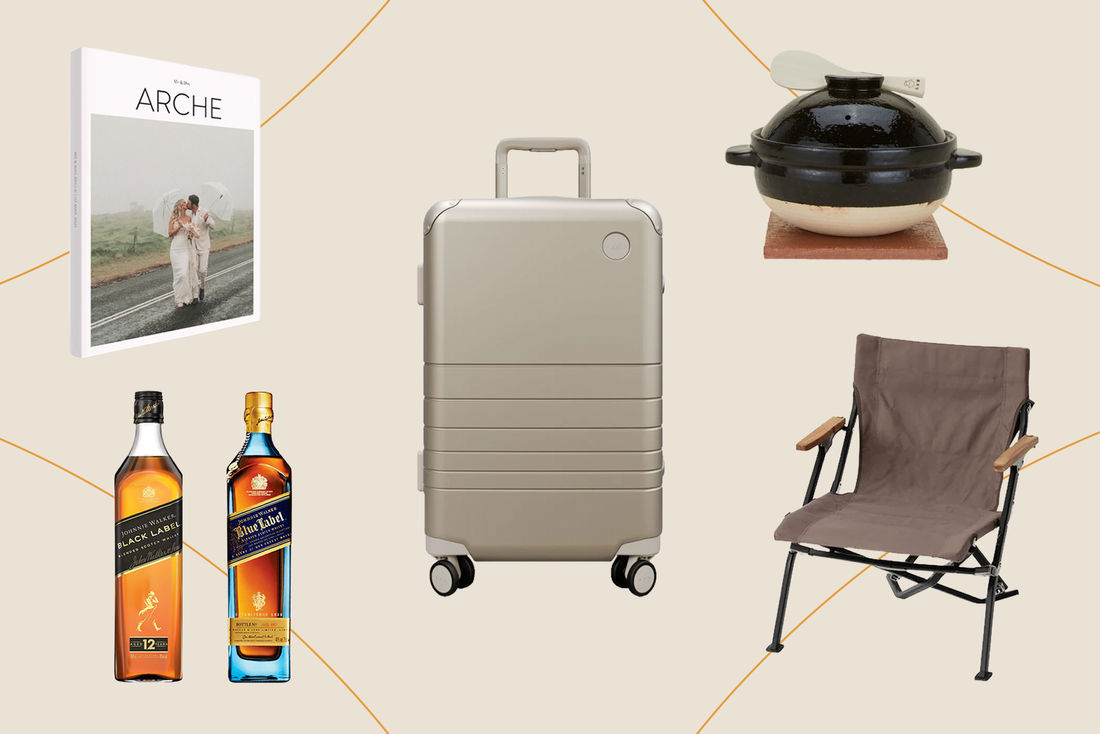 Photo-Illustration: Kelly Millington
Peak wedding season means only one thing: It's time to drop some serious cash on your newlywed pals. These days, a quick Venmo is easy and always appreciated, but a material gift — especially a carefully considered one — goes a long way in showing the couple how much you've been paying attention. Would you rather give them 500 bucks they'll probably spend on groceries or a hyper personalized gift they'll use often and that'll make them think of you each time? The answer seems pretty obvious.
The couple who has everything
This pair might already have all the popular items from every trendy direct-to-consumer brand on the internet, but they probably don't have this: A speaker that displays the lyrics of the song as it's playing. Extra? Yes. Cool? Definitely.
The couple who finds any reason to celebrate
They've been known to break out the champagne for something as mundane as successfully giving their dog a bath. Now, they can cheers in style.
The couple who loves to host
The only things more flawless than their hosting skills are their perfectly-styled charcuterie boards and impeccable bar cart selection. A set of premium Scotches is the perfect way to celebrate them and their frequent guests — Johnnie Walker Black with notes of creamy toffee, sweet fruit, and spice for the adventurer and Johnnie Walker Blue with notes of caramel, hazelnuts, and dark chocolate for the indulger.
The couple who just moved in together
The last thing this couple is likely thinking about for their newlywed home is swapping out their run-of-the-mill toaster oven for this splurge-worthy upgrade — which is why it's the perfect gift. The Japanese-designed appliance steams bread before toasting it so it comes out perfectly moist every single time.
The couple who can't resist a momento
They have a box of keepsakes from their first date and framed photos from throughout their relationship — chances are they'll absolutely love designing a coffee table magazine with all their wedding photos.
The couple who's always traveling
When they spend more time outside of their city than in it, living out of a suitcase is an inconvenient reality. Make their experience more enjoyable — and stylish — with this aluminum carry-on. It's lightweight and durable, but its winning design feature is that every single element has been meticulously color-matched for an ultra sleek look.
The couple who loves to lounge
A couple who spends this much time in bed isn't going to say no to a luxurious linen bedding set. With the soft tones and even softer feel, there's a good chance they'll never leave their bedroom now.
The couple who enjoys spending time outdoors
Get a pair of these foldable chairs for the couple who's always kicking back on the campground, the beach, or even just their back patio. The Japanese design means it's sturdy and comfortable, all while being nice to look at (see: natural wood armrests).
The couple who cooks together
If they spend their evenings cooking together, they likely already have the usual kitchenware culprits, like a dutch oven and a nice nonstick pan. Add a donabe to their arsenal — it's both versatile enough for everyday use but novel enough to get experimental with.
The couple who are already parents
You might not be able to indulge them in a child-less vacation, but you can treat them to the next best thing: An upgraded coffee situation. This automatic espresso machine brews coffee to rival fresh coffee shop drinks and is conveniently efficient to make their hectic mornings that much easier.
This advertising content was produced in collaboration between Vox Creative and our sponsor, without involvement from Vox Media editorial staff.