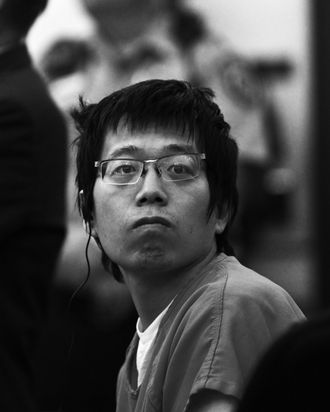 Tailei Qi, who is accused of shooting his professor, Zijie Yan, made his first appearance at the Orange County Courthouse on August 29.
Photo: Peter Zay/Anadolu Agency via Getty Images
For about three hours on Monday afternoon, students, faculty, and staff at the University of North Carolina at Chapel Hill found themselves under lockdown after reports of an active shooter on campus. They soon learned that Dr. Zijie Yan, an associate professor in the Department of Applied Physical Sciences, had been fatally shot in a lab and that the suspect, Tailei Qi, was a graduate student who worked with the professor.
Police told reporters that they found Qi's car on campus and arrested him about 90 minutes after the incident. Though Qi, 34, has been charged with first-degree murder, Yan's loved ones and the broader UNC community are mourning and trying to understand why the professor was targeted.
Here's what we know.
Yan and Qi knew each other.
Yan is originally from Hubei Province in central China. According to his biography on UNC's site, Yan began working at the school in 2019 after earning his Ph.D. in materials engineering from Rensselaer Polytechnic Institute. His research interests included optical trapping and manipulation, holography, microfluidics, and nanomaterials, according to the New York Times. Officials say Qi is a Chinese citizen living in the United States on a visa. He joined a research group run by Yan in January 2022, according to an archived university web page, and the two men co-authored at least two articles together.
Police said in a news conference that on Monday afternoon, Qi "went directly to the victim" at UNC's Caudill Labs, shot him, and then left. The campus then went into full lockdown as police arrived and began searching for the shooter. Police said they are still looking for the 9-mm. handgun they believe Qi used to shoot Yan, and that they do not yet have a motive for the shooting but are continuing to investigate. "We want to ensure that we gather every piece of evidence to determine exactly what happened here today and why it happened," UNC Police Chief Brian James said.
Qi is in custody and has been charged with first-degree murder.
Police said Qi was arrested without incident near his home in a residential neighborhood, about 1.5 miles away from the lab where the shooting took place. Qi appeared in court on Tuesday with a public defender and an interpreter. He was charged with first-degree murder and possession of a gun on education property. Qi didn't enter a plea and the judge held him without bond until his next court appearance, scheduled for September 18.
If convicted, Qi faces a minimum sentence of life in prison without parole for the murder charge and up to two years in prison for the gun charge. Although the death penalty is legal in North Carolina, Jeff Nieman, the district attorney for Chatham and Orange counties, said his office will not seek it.
Classes are canceled until Thursday.
The UNC campus was eerily quiet in the wake of the shooting on Tuesday and on Wednesday, according to Axios. The university's student newspaper produced a stirring cover showing the messages of concern and fear that parents, friends, and other loved ones sent students and staff during the lockdown.
UNC chancellor Kevin Guskiewicz said in a statement that the university will ring its bell tower in Yan's honor on Wednesday. "He was a beloved colleague, mentor, and a friend to so many on our campus, and a father to two young children," he said. Classes are canceled until Thursday.