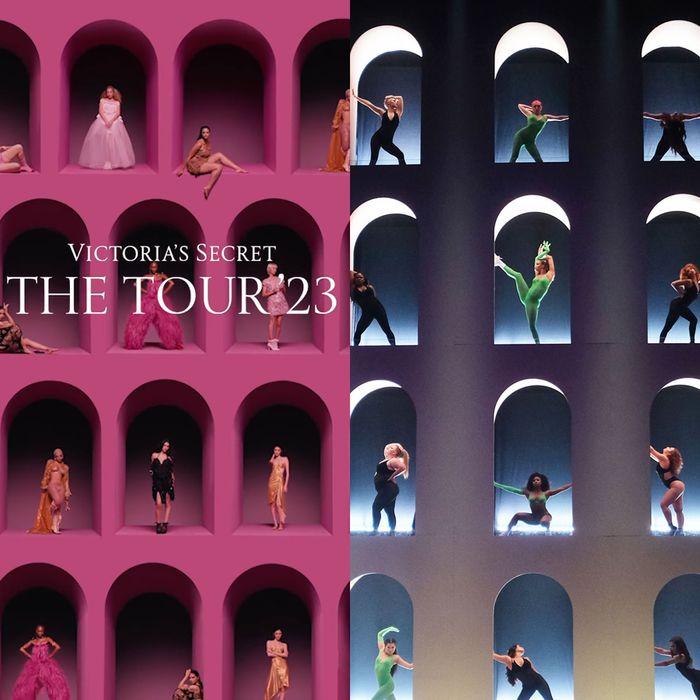 Photo: Victoria's Secret/Getty Images
Victoria's Secret is getting called out by the internet … again. This time, it's because of comparisons between the backdrop for Rihanna's Savage X Fenty 2019 fashion show and the backdrop for the trailer of the upcoming Victoria's Secret "runway show." (It'll actually be a short film.) While the window staging isn't anything new — it's had a long history in Broadway shows, photo shoots, and more — in this case, it's the fact that Victoria's Secret and Savage X Fenty are direct competitors that has social media's eyebrows raised. (Victoria's Secret responded to the Cut's request for a comment stating, "The brand was inspired by the stunning architecture on set at the Corberó Space in Barcelona where the Tour was filmed.") But the similarities go beyond the windows.
When Rihanna started her lingerie brand, it filled a niche: lingerie for all bodies, genders, and people. At the time, Victoria's Secret's marketing and designs fell short in these areas. The lingerie brand has been regularly called out for the lack of inclusivity in its annual fashion show, which was canceled in 2019. Take, for example, the time in 2018 when Victoria's Secret's former "chief architect" Ed Razek refused to hire trans women for its shows: "Shouldn't you have transsexuals in the show? No. No, I don't think we should. Well, why not? Because the show is a fantasy. It's a 42-minute entertainment special. That's what it is. It is the only one of its kind in the world, and any other fashion brand in the world would take it in a minute, including the competitors that are carping at us. And they carp at us because we're the leader," Razek said to Vogue. He quit in August 2019, a few days after Victoria's Secret hired an openly trans model for the first time.
That same year, the New York Times revealed that Victoria's Secret's chief executive, Leslie H. Wexner, had connections to convicted sex offender Jeffrey Epstein. Wexner stepped down in 2020. In 2021, Victoria's Secret announced its rebrand with what it called the "VS Collection," featuring ten women of varying bodies and ages. And since then, it's been trying to shed the image it was built off of: thinness and whiteness.
"The way Rihanna saw a business opportunity because a brand literally shot themselves in the foot doesn't get talked about enough," a tweet read in response to the similarities of the shows. "I strongly believe VS hasn't been able to recover because Savage X exists. Mind you they're the same price point."
It makes sense why Victoria's Secret's latest trailer would inspire eye rolls from people. It's just the latest page in its rebrand for a market that Savage X Fenty has revolutionized. However, we are curious what its show on September 26 will be like. If you want to tune into Victoria's Secret's show, it'll be airing on Amazon Prime (just like, ahem, the Savage X Fenty shows).