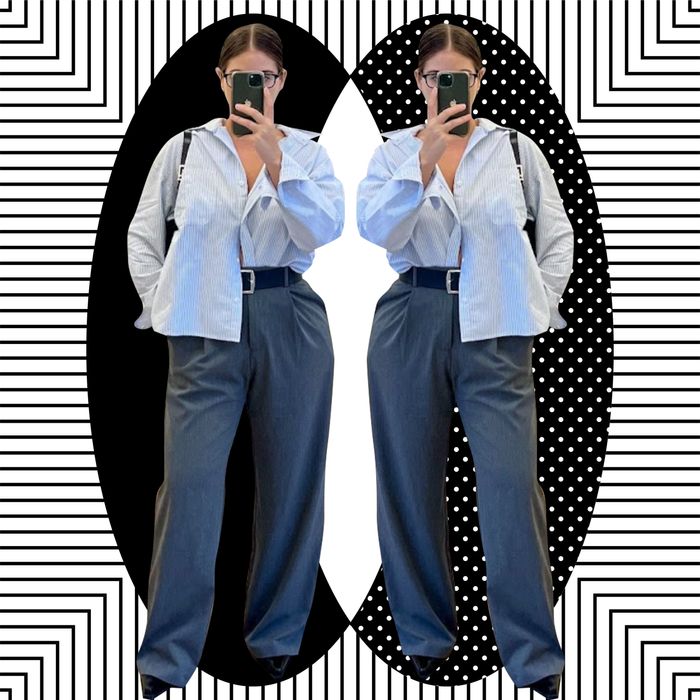 Photo-Illustration: by The Cut; Photo: Joanna Nikas
For more of the Cut's favorite fashion, beauty, and home finds, sign up for the weekly Cut Shop Newsletter.
This morning, Spring and Mott streets (wrapping around the corner of the block) were lined with women and girls hoping to try on a look from Matilda Djerf's brand, Djerf Avenue. The brand — described as Swedish, non-seasonal, ready-to-wear — opened a pop-up at 21 Spring Street showcasing the brand, which gained huge popularity online, for the first time. Some had taken off work and some had waited from the early morning to be at the front of the line. Inside, Djerf, with her perfect blowout, buzzed with excitement and waited for people to arrive. Ahead of the event, we tried on some of the looks in different sizes.
Joanna Nikas, deputy style editor
Fit: Roomy. I got a large in the pants (and I am a size 6-8) and they were baggy, in a good way. I had to belt them and add a little heel so they weren't dragging on the New York City streets. The top was also baggy and boxy, but featured a slit in the back, which allowed me to tuck in part of it and give my waist some definition without it looking bulky. I might have passed by it in a store because of the boxiness. Each detail was well thought out and the material felt really great, especially for the price point.
Would you buy it? Yes to the pants, maybe to the top.
Chinea Rodriguez, shopping writer
Fit: I have to preface this by saying I'm not a mini-skirt girl. I'm newly a maxi-skirt girl, so when I saw this mini I was a little worried. Minis tend not to cover anything but this one fit perfectly and was so flattering. I got a medium, which I usually get. The fit was comfy and not too tight, even sitting down. It also didn't ride up in the back, which is my main concern. The tee is a small, it was flattering and form-fitting but still stretchy so it didn't feel too tight. These were basically a little out of my comfort zone but didn't feel or look like it at all.
Would you buy it? Yes.
Bianca Nieves, senior shopping editor
Fit: My first two Djerf Avenue pieces pass with flying colors. I'm a fan of the thick 100 percent cotton material the shorts are made out of. Other boxer shorts I own tend to be on the thinner side, which isn't necessarily bad (in comparison the Breezy Shorts allows them to hold their oversized shape without looking unflattering). I got them in a size small. Both the fit around the waist and the length of the shorts is true to size for a petite five-foot-three girl like me. As for the blazer, I know I'll be using it a ton come fall. I got a size medium and it's oversized enough where I can use a comfortable hoodie underneath it without looking bulky — a problem I usually face when it comes to purchasing blazers while having very broad shoulders.
Would you buy it? Yes.
Hanna Flanagan, shopping writer/editor
Fit: These pants look and feel much more expensive than they actually are. The lightweight material creates an effortless drape and relaxed silhouette that's so comfortable, but they're still tailored enough to wear to the office. Ms. Djerf says they'll be "your go-to pant for every occasion," and she's not wrong. I've had them for less than a week and have already worn them twice. My only complaint? I took my true size (small) and they are a bit too short for my five-foot-eight frame. If you're tall or have long legs, you might want to size up. The shirt, however, fits like a dream. (I took a size medium.) It's boxy, a little stiff, and super flattering. I especially love the fact that it hits at my waist, since most of my loose-fitting button-ups are extra long. The happy medium between cropped and oversized makes it so easy to style.
Would you buy it? Yes.
Danya Issawi, fashion writer
Fit: This blazer is truly going to be a forever blazer for me. The weight of the jacket is substantial without feeling heavy — it just sits nicely on the shoulders and feels more expensive than it is/than the materials used. I got my true-to-size medium and it fits a bit oversized, which I love in a blazer, but still feels structured enough to be flattering. I got a large in the pants but wish I would've sized up. They fell a little short on my tallish frame and fit like tailored trousers, which you'll love if that's your thing, but I typically like a long, slouchy pant. Both items are incredibly easy to style and great basics for me to have in my closet.
Would you buy it? Yes (but size up in the pants).
Danielle Cohen, blogger
Pieces: These pants are not really my style, but they do seem to fit the way they're advertised: snug up top and flare below the knee. I'm five-foot-four and the mediums felt too long, like there was too much fabric for a chic pooling pant bottom. Also, they got dirty just walking to my lobby. Still, the material was comfortable and sturdy, and they have a nice corporate polish to them. The tank would be perfect under pretty much any layer, but fair warning: It's sheer and the strap shape shows nearly all the bras I tried on with it.
Would you buy it? Probably not, unless the tank top was on sale.
Brooke LaMantia, shopping writer
Fit: Everyone I know raves about how good these pieces are, and I have to say, I wholeheartedly agree. I'm a huge button-up person, but this top really stood out to me because of its details, like its shorter, boxier cut and the slit in the back. As for the miniskirt: my God! I am in love! It truly feels like the perfect skirt, as in I would wear it to work, out for drinks, walking around the city; you name it, and I'll do it. I'm normally a size 10 in pants, but I got an XL in the skirt (I like looser things, okay?), and I'm so glad I did. It's not tight at all, but it sits low on my waist and is a comfortable length. Overall, it's a win.
Would you buy it? An easy yes. And I'm glad I sized up in the bottoms.