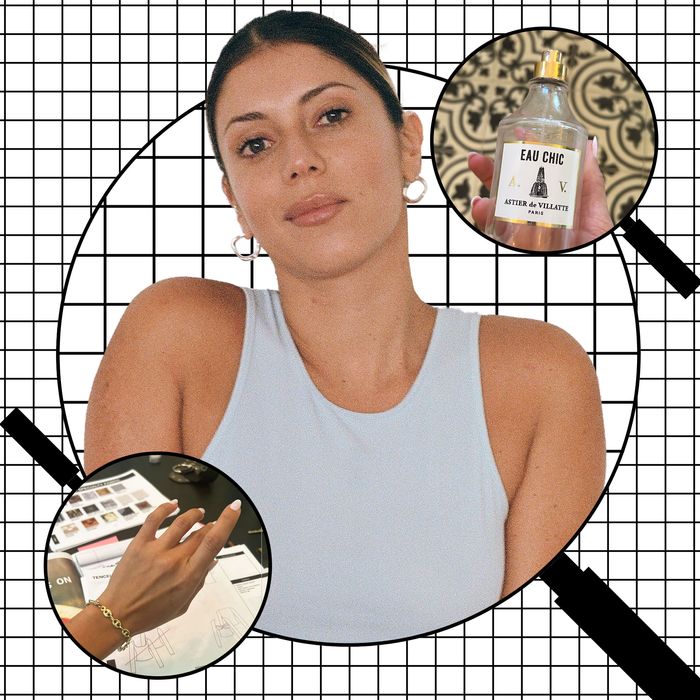 Photo-Illustration: by The Cut; Photos: Alexia Elkaim
For more of the Cut's favorite fashion, beauty, and home finds, sign up for the weekly Cut Shop Newsletter.
Miaou designer Alexia Elkaim is a thrifting expert. For her, shopping is all about the in-person experience, to get a better feel of the quality and to see if she can score a better deal. Her thrift finds snowball into research about the context of a piece and eventually inspiration for her brand's collections.
Her biggest advice for thrifting? Focus. "I like to shop by myself. If you're serious about it, go alone, bring headphones," she recommends. "Also, stay away from synthetic fabrics, since they don't age well."
Her meticulous approach to shopping complements her motto for good style — less is more. "It's always a good idea to think about whether or not you need that extra piece you're putting on," Elkaim shares. "There's a difference between you wearing clothes and the clothes wearing you. You can tell when it is someone's personal style because it's not forced and it's effortless in a way."
Below, see where Elkaim got the pieces that made it into her curated wardrobe.
Where did you get your signature scent?
I don't stray too far away from my notes. Eau Duelle is by Diptyque, and those are the candles that I buy. It's gourmand, which means it smells like food. It is sweet, but it has notes of tobacco in it. I'm a social smoker, so it goes with my scent. A few months ago, I was in a furniture store called Nickey Kehoe and it had this perfume. It smelled so amazing, like the pillow of a really nice hotel in Italy, like a vine of jasmine and hot men. It's so fresh, and I sometimes mix it.
Where did you get your favorite item to layer?
My SPF primer is from Charlotte Tilbury. I wear it with everything. I go to the store and get one of each. I like that I can wear it in the summer or winter and at the end of the night it doesn't feel like too much. I also like that it's creamy, because I have dry skin. I'm not a big makeup person, but I can put it on and then put on a highlighter or lipliner.
Where did you get your favorite piece of clothing?
My brand, Miaou. I was just in Europe, and I only packed Miaou for the first time. The Imogene is the piece I love to wear with anything because it dresses up an outfit. I wear it with baggy pants, basketball shorts, and ballet flats; booty shorts; or a long skirt. It becomes a focal point for the silhouette, and it's the nice and easy piece that I've worn the most this summer.
Where did you get what is on your nightstand?
I bought my purple-velvet-covered journal in Mexico City. I try to buy something from every place I go, and we went to this really beautiful bookstore there. I thought it was decadent and chic. We were in Roma Norte a few days into the new year, and I wanted to start the year with a journal. I use it for my dreams, journaling, and manifestations. It's been really good for me.
Where did you get the item you splurged on the most?
I got my 3 Araki Polaroids at Yvon Lambert in Paris. I keep them in my apartment there. I have all his books, and I hope to one day work with him. The shop had a stack of them, and I was just there for hours figuring out which ones I wanted. They're on my fireplace mantel, but I think I'm going to put them in my room because they feel quite intimate.
Where did you get the item you wear the most?
My Karl Kani vintage jeans are from Pretty Box in Paris. They're really baggy, and I wear them all the time. They're dressy in a way. They're not like your average Levi's; they have a metallic plaque on the pocket and so many amazing details. They feel really expensive and elevated.
Where did you get your favorite pair of shoes?
Berlin. My first pair of boxing shoes were Christian Lacroix; they're colorful and kind of funky, but I wish they were more muted. Then my friend who styles for Miaou found them in Berlin and brought them back, and I wear them all the time. I wore them to a festival in Paris and the sole came off, so I had to fix it with a piece of gum, and I just got them repaired today. I love them so much.
Where did you get the inanimate object that brings you the most joy?
My little wood elephant is from Paris. I was at a flea market, and my friend was trying to buy all these figures but the seller didn't speak English, so I was trying to bargain, and he congratulated me for doing such a good job with the elephant. He said it would bring me really good luck, so I keep it in my apartment in a visible place so I can look at it anytime.
Where do you get your favorite gifts to give?
Flea markets in Paris and the Nicky Kehoe store in Los Angeles. I gift candles; they have really beautiful matchboxes too. Depending on how close you are to the person, they have really beautiful linen table settings and napkin rings. They have cute vases there as well.