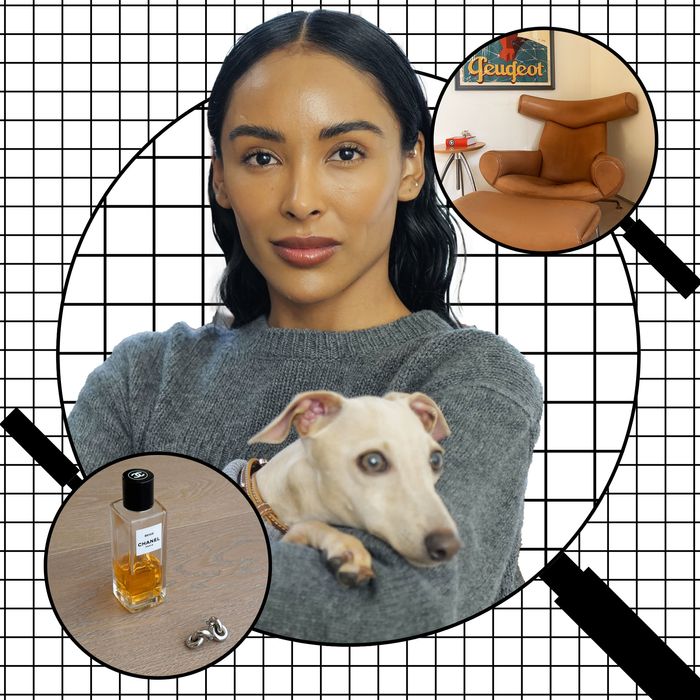 Photo-Illustration: by The Cut; Photos: Mandy Madden Kelley
For more of the Cut's favorite fashion, beauty, and home finds, sign up for the weekly Cut Shop Newsletter.
"Style is all about having something timeless, durable, and of quality," Mandy Madden Kelley explains over Zoom. You'll see that reflected in her carefully curated Instagram feed. Drawing décor and style inspiration from Le Corbusier, Charlotte Perriand, and Dieter Rams, the Pagerie founder and CEO is a minimalist through and through.
While she's mastered the art of online shopping with no returns, she does love the in-store experience. Some of her favorite spots are on Melrose: The Row, Acne Studios, and John Elliott, which she explains are more like experiences than stores.
Below, see where Kelley got the pieces that made it into her curated wardrobe.
Where did you get the inanimate object that brings you the most joy?
My Hans Wegner chairs are from Modernica. All of the pieces I collect are vintage pieces. That specific piece is so dear to my heart because I have been looking for it for years and I specifically wanted one that still had the original leather on it. When you buy vintage furniture, it's been recovered and refurbished, and this was still in its raw state. It's beautiful because even if the leather is not perfect, you're seeing all the little stories that it's built over the years.
It's exactly what design should do. It's enduring, it's timeless, it's relevant. It's minimal. It can really complement any space that you're in. It's a piece of art.
Where did you get your nightstand?
B&B Italia. We couldn't find the right side tables for a year and a half, and having the right ones was important to us. So Kevin and I said to ourselves, "We're just going to have no side table until we find what we want instead of settling for just anything." One day, there was a huge sale at B&B Italia, and we walked in there and saw these side tables and instantly knew. It was the best purchase we made for our bedroom because they shape the whole room. They're minimal and such a rich, natural taupe color, and I find it relaxing. The finish is really beautiful, too. It's almost like a beautiful lacquered jewelry box.
I always have a candle and hand cream on my nightstand. I love the Officine Buly hand creams. They're so chic and aesthetically pleasing.
Where did you get your favorite piece of clothing?
My Lalita Lamb Shearling-Trim Jacket from Acne Studios. It was a piece that I had been eyeing for so long, but I never wanted to pull the plug and purchase it because it was a huge investment. I kept driving past the window at Acne Studios and seeing it every day for the next three months and I just could not get myself to make that investment. Then I had to attend Paris Fashion Week, and I had the honor of going to see the Chanel show. I thought it was going to be a real winter in Paris, and I needed to be wearing something warm that was going to look good with all my garments. I didn't have anything like that in my closet, and that's when I was able to finally make that investment. I wore it almost every day after I purchased it. I definitely don't have buyer's remorse.
What's your nighttime routine?
For my nighttime routine, I always have a hibiscus or chamomile tea. I watch an episode of a show with my husband. Then, I go upstairs and do my skin-care routine. I spend ten minutes doing a lymphatic-drainage facial massage because our bodies retain so much water and our hormones make things fluctuate. I use my hands and the Vintner's Daughter oil.
Where did you get the item you wear the most?
The bag I created for my brand, Pagerie. It's special because our brand identity is surrounded around this idea of the female form and celebrating it. The pear shape is not only mimicking the female body, but it's also this beautiful contrast of this masculine energy because it's so minimal and strong but also this feminine energy because it has sensual curvatures. I sketched out the shape of a pear bag and sent it to our designer, and they loved the idea and turned that into an electronic sketch. It was important that it was minimal and the shape was the main focus when you looked at the item. We eventually added the latch so that it was practical. That's also very important for us, because design shouldn't just be beautiful. Our artisans have produced some of the most beautiful handbags, and this was a project they almost gave up on because of the shape. We had to use 3-D printers to create the shape, and you have to stretch the leather by hand to fit the body.
What do you keep in your bag?
I have a little cardholder. I try not to keep a big wallet. I typically have a notepad with me. When you attend business meetings, having a physical notepad is so much better. It creates more of a connect with the person you're talking to than pulling up your laptop. I have a cosmetic bag with lip balm and a facial spray to refresh my face, hand sanitizer. I even have this little speaker from YSL! My friends make fun of me, but I can't tell you how many time it's saved the day. It can blast music no matter where you are.
Where did you get your signature scent?
Chanel. It took a really long time to find a scent that reflected who I was. I was traveling and tried a few scents at the airport and I tried this. My friends think it's funny my favorite scent is Beige, because, of course, it couldn't be more accurate. It's my favorite color! When I smelled the scent, it was powerful. It wasn't overwhelming, but it was still fresh and had floral notes. When you walk into a room, you feel confident, and it was that balance I always talk about between masculine and feminine energy, and that's how this scent made me feel.
Where did you get the item you splurged on the most?
The REN dressing table from Poltrona Frau, designed by Neri&Hu, was a gift from my husband for my birthday. Having pieces that elevate my mood and inspire me in my space is so important. It's the perfect design. I like Dieter Rams: Ten Principles of Design, and I keep it at my desk because it's everything I believe in. The last thing he mentions is "Good design is as little design as possible." That's so powerful and how I try to think about the things in my life. My husband decided to surprise me, and he wouldn't let me go in the bedroom all day. When I came back, my jaw dropped when I saw it!
Where did you get your favorite pair of shoes?
The Row. I have them in nylon and cream suede. I still wear them! They're versatile and go with anything. I love them so much that I kept wearing them in the summer too. That's why I bought the nylon pair.