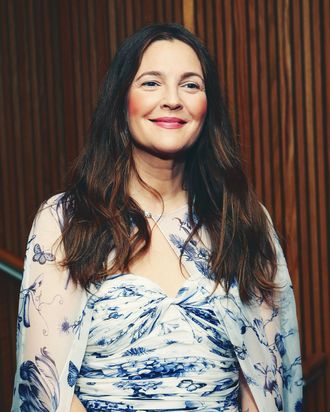 Photo: Kevin Mazur/Getty Images for TIME
Two days after Drew Barrymore was rushed offstage during a talk at the 92nd Street Y following a brief encounter with an alleged stalker, the man was arrested after showing up outside her Hamptons farmhouse, TMZ reports. According to law enforcement, Chad Michael Busto went door-to-door until he found Barrymore's home, where police eventually took him into custody. Thankfully, Barrymore was not there at the time.
On Monday, as part of the 92nd Street Y's Recanati-Kaplan talks, Barrymore was in the middle of a conversation with actor and singer Reneé Rapp when Busto shouted the talk-show host's name. "Oh my God, yes, hi!" Barrymore responded. After identifying himself, Busto walked to the edge of the stage and replied: "You know who I am. I need to see you at some point while I'm in New York."
In a video of the incident obtained by TMZ, security personnel can be seen stopping Busto at the stage while Rapp puts her arm around Barrymore and escorts her off the stage; a member of the 92nd Street Y security team removed the man from the venue.
In the days since he crashed Barrymore's talk, strange details have emerged about Busto. According to the Santa Monica Daily Press, someone by his name was arrested in California back in 2009 after (allegedly) breaking into a Greyhound bus station. The outlet reports that Busto has also had numerous arrests in Georgia, Minnesota, Florida, and Wisconsin for disorderly conduct and trespassing, among other things. A man going by the same name was also arrested in Myrtle Beach in 2017 with witnesses saying he'd been exposing himself in the ocean.
Following Monday's 92nd Street Y encounter, some social-media users have alleged that Busto has been known to target other female celebrities, including Amber Heard. The Daily Beast reports that a "C. Michael Busto" joined a fan forum for the actor earlier this year, only to get booted and banned for "sexual harassment," "threats," and "stalking." The outlet adds that Busto, or someone using that name, has repeatedly proposed to Heard via Twitter (or X, if you buy that) and may once have been "removed" from a Walmart after he confronted multiple customers to tell them about it.
Barrymore and Rapp, appeared unharmed and returned to the stage a few minutes after Busto's interruption. "I have a new definition of your sexiness," Barrymore told Rapp. "It's that level of protectiveness." No arrests were made in connection to that incident, an NYPD representative confirmed to The Hollywood Reporter. Law enforcement says there is an "ongoing investigation" into the Hamptons incident, though the charges against Busto are presently unknown.

This article has been updated.