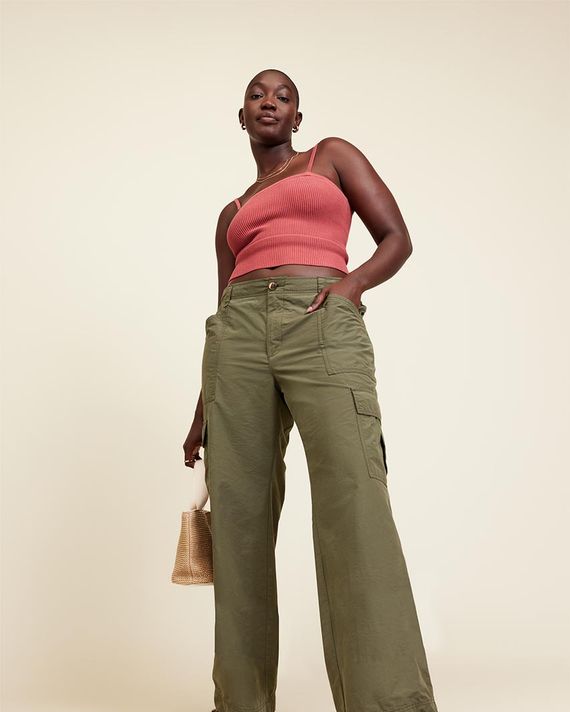 Oh, the glorious Y2K era. Who would've thought we'd be longing for the fashion choices of our teenage selves? But here we are, unapologetically embracing the resurgence of everything aughts-inspired. From cargo pants that could fit half your belongings to those ever-so-sexy low-rise bottoms, we're diving headfirst into the abyss of nostalgia. Double-layered tanks and psychedelic prints are back with a vengeance, proving that even the most questionable trends can make a triumphant return. And let's not forget the pièce de résistance — wide belts that serve no practical purpose but feel oh-so-damn stylish! So, let's channel our inner Lizzie McGuire and embrace this quirky, borderline outrageous, and undeniably fun way of dressing. Because if we can't laugh at our fashion choices from the past, then what's the point of it all?
Cargo Pants
Try to show us a low-rise cargo pant we're not obsessed with. These are everything with spaghetti strap tanks, frilled blouses, peplum tops, and more.
Double-Layer Tank
Ah, yes — the era when one top was never good enough. Two at minimum. No questions.
Asymmetrical Hem Dress
Catch us begging our parents to let us wear this to the middle school dance in the early 2000s, complete with frosted makeup and a piece-y (rhinestone adorned!) up-do.
Low-Rise Jeans
From the low-rise waist to the bootcut legs to the letdown hems, these jeans nearly give us PTSD (except we're obsessed again).
Ruched Mini Skirt
Floucy and sweet, a ruched skirt was a must-have, and once again, is all we want to wear with a little top for cocktails with our girlfriends.
Denim Top
Grab your denim maxi skirt with this cropped top à la Britney and Justin's iconic couple moment — forever and always goals. Bonus points for a matching mini bag and wide bedazzled choker.
Cargo Shorts
We told you, cargo everything. Lizzie would have totally rocked these with a fitted print top and colorful sandals.
Asymmetrical Ruffle Top
The ultimate meeting-up-with-friends-at-the-movies look unquestionably involved an asymmetrical top like this, with bootcut jeans and your best (read: only) designer bag.
UGG Boots
Classic chestnut UGG boots? Please and thank you — though we're so here for the 2020 platform version.
Patent Leather Top
It's giving Zenon Girl of the 21st Century, whether paired with low-rise jeans, a ruched jersey skirt, or the coordinated trousers.
Square-Neck Camisole
The most versatile Y2K-style top there ever was, ideally paired with the matching cardigan and skirt.
Wide Belt
This is fully one of those belts you can recklessly throw on over any dress or layered top situation and fasten loosely across your hip bones.
Peplum Tube Top
This little number with your cargo pants or shorts? The cutest.
This advertising content was produced in collaboration between Vox Creative and our sponsor, without involvement from Vox Media editorial staff.